Effects of Feeding Frequency on the Lying Behavior of Dairy Cows in a Loose Housing with Automatic Feeding and Milking System
1
Department of Agricultural and Environmental Sciences, Università degli Studi di Milano, 20133 Milano, Italy
2
Farm Technology Group, Wageningen University & Research, Droevendaalsesteeg 1, 6708PB Wageningen, The Netherlands
3
Department of Environmental Science and Policy, Università degli Studi di Milano, 20133 Milano, Italy
*
Author to whom correspondence should be addressed.
Received: 10 December 2018 / Revised: 24 March 2019 / Accepted: 24 March 2019 / Published: 28 March 2019
Simple Summary
Feeding management in modern dairy farms is becoming increasingly important economically and technologically as well as concern for the comfort and welfare of dairy cows. Automatic feeding systems enable more frequent delivery of fresh feed to dairy cows compared to conventional feeding systems and, in combination with automatic milking systems, provide cows more freedom to determine individual critical behavioral activities (feeding, lying, and milking). This study examined the effects of feed delivery frequency on behavior of lactating dairy cows in an automatic feeding and milking system. The results highlight a potential negative effect of high frequency (11 times per day) feed delivery compared to low frequency (six times per day) on lying behavior. This indication can improve feeding management and the productivity and welfare of lactating dairy cows.
Abstract
Management systems in modern dairy farms is an important issue in relation to animal comfort and welfare. The objective of this study was to determine the effect of feed delivery frequency on the behavior patterns, visits to an automatic milking system (AMS) and on milk production of lactating dairy cows. The study was conducted on a commercial dairy farm with automatic feeding and milking systems. Feeding treatments consisted of two different frequencies, high feed delivery frequency (11 deliveries per day) and low feed delivery frequency (six deliveries per day). Lying behavior of 20 dairy cows was electronically monitored. The results obtained showed that 11 deliveries per day feed delivery frequency decreases the number of long-duration lying bouts, which may indicate that a very high feeding frequency disturbs the cows during their resting periods and thus influences both animal comfort and milk production. High feeding frequency may disturb the duration of lying bouts and alter the pattern of lying behavior throughout the day, affecting mainly the lying time during the 60 min before and following the provision of fresh feed. Delivering feed at a low frequency allow cows to distribute more evenly their lying time over the course of the day and improve their utilization of an AMS.
View Full-Text
►

▼

Figures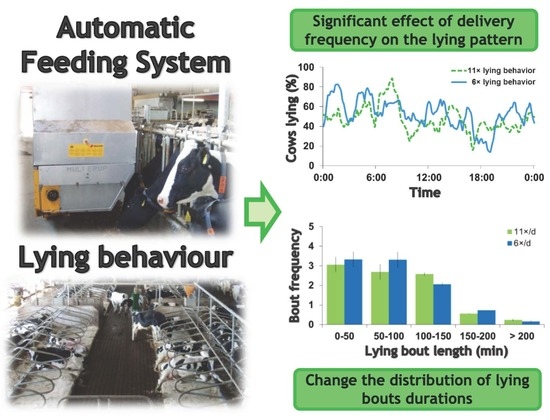 Graphical abstract
This is an open access article distributed under the
Creative Commons Attribution License
which permits unrestricted use, distribution, and reproduction in any medium, provided the original work is properly cited (CC BY 4.0).

Share & Cite This Article
MDPI and ACS Style
Mattachini, G.; Pompe, J.; Finzi, A.; Tullo, E.; Riva, E.; Provolo, G. Effects of Feeding Frequency on the Lying Behavior of Dairy Cows in a Loose Housing with Automatic Feeding and Milking System. Animals 2019, 9, 121.
Note that from the first issue of 2016, MDPI journals use article numbers instead of page numbers. See further details here.
Related Articles
Comments
[Return to top]