Dietary Verbascoside Influences Gut Morphology and the Expression of α-Transducin and α-Gustducin in the Small Intestine of Weaned Piglets Exposed to n-6 Polyunsaturated Fatty Acids-Induced Oxidative Stress
Department of Health, Animal Science and Food Safety, University of Milan, Via Celoria 10, 20133 Milan, Italy
*
Author to whom correspondence should be addressed.
Received: 24 October 2018 / Revised: 30 December 2018 / Accepted: 6 January 2019 / Published: 10 January 2019
(This article belongs to the Section
Pig
)
Simple Summary
In recent years, feed interventions with natural antioxidants have grown because oxidative stress is linked to the development of several diseases in pigs. Weaning is one of the most stressful events in pig breeding, inducing physiological, environmental, and social changes. These cause intestinal disorder, inflammation and oxidative stress that result in reduced pig health and growth. Previous data reported that dietary supplementation with a natural extract containing verbascoside positively affects piglets' health and welfare by reducing oxidative stress parameters. This study shows that verbascoside protects the gastrointestinal tract from oxidative stress and may have an appetite-stimulatory effect by modulating gastrointestinal taste receptors' related protein expression.
Abstract
Reducing oxidative stress is an important goal in post-weaning piglets; previous studies have reported that verbascoside decreases oxidative stress in piglets. The effect of verbascoside on gut morphology and α-transducin and α-gustducin expression in weaned piglets fed high dosages of sunflower oil, inducing oxidative stress, was evaluated. A diet with 9% sunflower oil (T1), the same diet supplemented with 5 mg of verbascoside/kg feed (T2) and a diet containing starch (control—CTR) were employed. Histology, histometry, histochemistry, immunofluorescence and Western blot analyses were performed on the piglets' small intestine. In the T1 group, apical erosion was observed and villi height was lower than in other groups. The mucin profile was acidic in goblet cells of both the T1 and T2 groups. However, it was both neutral and acidic in the CTR group. Dietary treatments did not affect α-gustducin expression. Otherwise, the expression of α-transducin in the duodenum was lower (
p
< 0.01) in the T1 groups than in the other groups. The colocalization of α-transducin with chromogranin A and ghrelin revealed that the endocrine cells were immunopositive for both ghrelin and α-transducin. Overall, these results provide new insights into gut sensory perception in piglets and contribute to understanding how feed ingredients such as fat and polyphenols may be involved in gustatory signal transduction.
View Full-Text
►

▼

Figures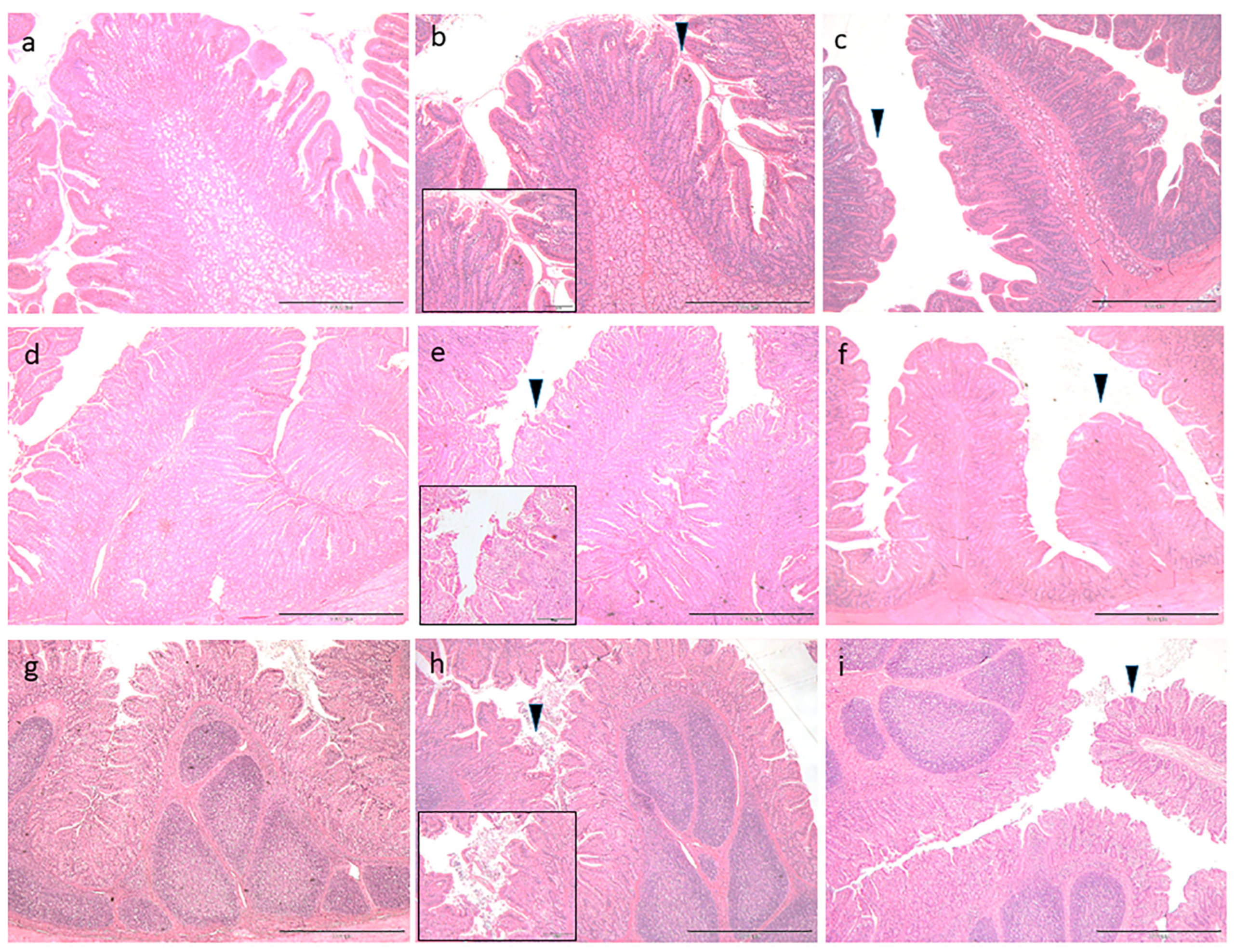 Figure 1
This is an open access article distributed under the
Creative Commons Attribution License
which permits unrestricted use, distribution, and reproduction in any medium, provided the original work is properly cited (CC BY 4.0).

Share & Cite This Article
MDPI and ACS Style
Rossi, R.; Corino, C.; Modina, S.; Di Giancamillo, A. Dietary Verbascoside Influences Gut Morphology and the Expression of α-Transducin and α-Gustducin in the Small Intestine of Weaned Piglets Exposed to n-6 Polyunsaturated Fatty Acids-Induced Oxidative Stress. Animals 2019, 9, 20.
Note that from the first issue of 2016, MDPI journals use article numbers instead of page numbers. See further details here.
Related Articles
Comments
[Return to top]