Age-Dependent Expression of MyHC Isoforms and Lipid Metabolism-Related Genes in the Longissimus Dorsi Muscle of Wild and Domestic Pigs
1
Veterinary Faculty, Institute of Preclinical Sciences, University of Ljubljana, Gerbičeva 60, 1000 Ljubljana, Slovenia
2
Agricultural Institute of Slovenia, Hacquetova ulica 17, 1000 Ljubljana, Slovenia
*
Author to whom correspondence should be addressed.
Received: 7 December 2018 / Revised: 16 December 2018 / Accepted: 19 December 2018 / Published: 28 December 2018
(This article belongs to the Section
Pig
)
Abstract
This study aimed to compare age-dependent changes in the relative expression of genes encoding myosin heavy chain (MyHC) isoforms and selected lipid metabolism-related genes in the longissimus dorsi muscle of wild pigs (WPs) and domestic pigs (DPs). Muscles sampled from postnatal day one as well as three-week-old and two-year-old animals were used in quantitative polymerase chain reaction (qPCR) assays, histological evaluations of succinate dehydrogenase (SDH) activity, and intra-myofiber lipid (IMFL) assessment. Expression of the MyHC isoforms displayed the most extensive age- and breed-dependent changes within the first three postnatal weeks. The
MyHCembry
level decreased significantly faster in the WPs than in the DPs. The relative
MyHC-I
and
-IIa
expression was significantly higher in the WPs, and
MyHC-IIb
was substantially higher in the DPs. The differences in
MyHC
expression corroborated the number of SDH-positive myofibers and IMFLs. Expression of the peroxisome proliferator-activated receptor gamma coactivator 1 alpha (PGC-1α), peroxisome proliferator-activated receptor gamma (PPARγ) and lipoprotein lipase (LPL) genes displayed only age-related variations. In summary, the evidence is provided for accelerated postnatal myofiber transformation directed towards oxidative myofibers in WPs. The SDH activity/staining intensity largely reflected the expression of MyHCs, and not genes involved in lipid uptake and utilization.
View Full-Text
►

▼

Figures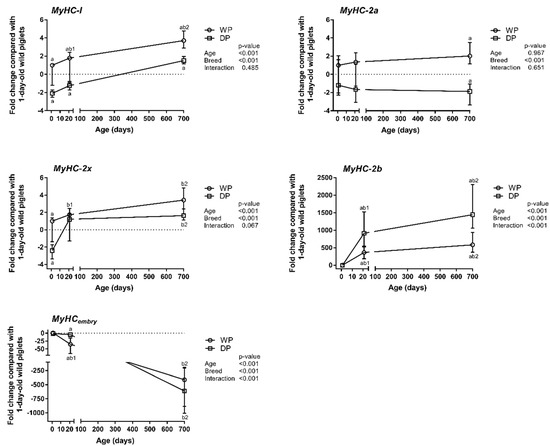 Figure 1
This is an open access article distributed under the
Creative Commons Attribution License
which permits unrestricted use, distribution, and reproduction in any medium, provided the original work is properly cited (CC BY 4.0).

Share & Cite This Article
MDPI and ACS Style
Vrecl, M.; Cotman, M.; Uršič, M.; Čandek-Potokar, M.; Fazarinc, G. Age-Dependent Expression of MyHC Isoforms and Lipid Metabolism-Related Genes in the Longissimus Dorsi Muscle of Wild and Domestic Pigs. Animals 2019, 9, 10.
Note that from the first issue of 2016, MDPI journals use article numbers instead of page numbers. See further details here.
Related Articles
Comments
[Return to top]