Practical Physical and Behavioral Measures to Assess the Socialization Spectrum of Cats in a Shelter-Like Setting during a Three Day Period
1
Shelter Research and Development, Community Outreach, American Society for the Prevention of Cruelty to Animals (ASPCA®), 50 Stone Ridge Drive, Florence, MA 01062, USA
2
Shelter Research and Development, Community Outreach, American Society for the Prevention of Cruelty to Animals (ASPCA®), P.O. Box 408, Little Silver, NJ 07739, USA
3
Shelter Research and Development, Community Outreach, American Society for the Prevention of Cruelty to Animals (ASPCA®), 520 Eighth Avenue, 7th Floor, New York, NY 10018, USA
4
Shelter Research and Development, Community Outreach, American Society for the Prevention of Cruelty to Animals (ASPCA®), 3201 SW Winding Way, Palm City, FL 34990, USA
5
Veterinary Outreach, Community Outreach, American Society for the Prevention of Cruelty to Animals (ASPCA®), P.O. Box 1144, Orchard Park, NY 14127, USA
6
Shelter Research and Development, Community Outreach, American Society for the Prevention of Cruelty to Animals (ASPCA®), P.O. Box 4323, Arlington, VA 22204, USA
7
Shelter Research and Development, Community Outreach, American Society for the Prevention of Cruelty to Animals (ASPCA®), 1216 32nd Street, Oakland, CA 94608, USA
*
Author to whom correspondence should be addressed.
Received: 10 September 2013 / Revised: 12 December 2013 / Accepted: 12 December 2013 / Published: 18 December 2013
Simple Summary
Animal welfare organizations accept large numbers of cats with no known history. Because shelters are often highly stressful environments for cats, it is likely to be difficult to differentiate a frightened cat that is socialized to humans from a feral cat that is not. However, this distinction can help channel cats into appropriate dispositions. We conducted structured assessments to measure various behaviors and their potential to distinguish socialization levels. Our results show that a specific set of behaviors are only exhibited by more socialized cats. Many cats needed time to adjust to the shelter-type setting to show these socialized behaviors.
Animal welfare organizations routinely accept large numbers of cats with unknown histories, and whose backgrounds vary from well-socialized pets to cats that have had little or no contact with humans. Agencies are challenged with making the determination of socialization level in a highly stressful environment where cats are often too frightened to show typical behaviors. A variety of structured behavioral assessments were conducted in a shelter-like environment, from intake through a three day holding period, on cats from the full range of socialization as reported by their caregivers. Our results show that certain behaviors such as rubbing, playing, chirping, having the tail up or being at the front of the cage were found to be unique to More Socialized cats. While not all more socialized cats showed these behaviors, cats that did were socialized. Assessing the cats throughout the three day period was beneficial in eliciting key behaviors from shyer and more frightened cats. These results will be used in future work to develop an assessment tool to identify the socialization status of cats as a standardized guide for transparent and reliable disposition decisions and higher live release rates for cats in animal shelters.
View Full-Text
►

▼

Show Figures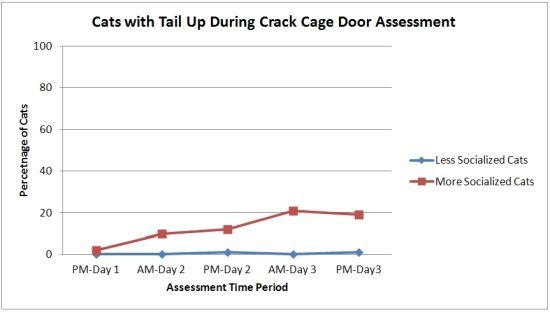 Graphical abstract

MDPI and ACS Style
Slater, M.; Garrison, L.; Miller, K.; Weiss, E.; Makolinski, K.; Drain, N.; Mirontshuk, A. Practical Physical and Behavioral Measures to Assess the Socialization Spectrum of Cats in a Shelter-Like Setting during a Three Day Period. Animals 2013, 3, 1162-1193.
Show more citation formats
Show less citations formats