Gold Bead Implantation in Acupoints for Coxofemoral Arthrosis in Dogs: Method Description and Adverse Effects
Department of Companion Animal Clinical Sciences, Norwegian School of Veterinary Science, P.O. Box 8146 Dep., 0033 Oslo, Norway
*
Author to whom correspondence should be addressed.
Received: 31 May 2012 / Revised: 24 August 2012 / Accepted: 29 August 2012 / Published: 4 September 2012
Simple Summary
Traditional acupuncture uses needles inserted at certain acupuncture points. Gold bead implantation at acupuncture points is used in acupuncture intended to relieve pain in certain diseases. The method of gold implantation is not well described in the literature. We describe the technique of implanting 24-karat gold beads around the joints of dogs with degenerative joint disease due to chronic hip dysplasia. The method is safe and fairly easy to perform under anesthesia. It has few serious side effects, as long as bead-deposition within the joint is avoided. There is some aggravation of discomfort during the first two weeks after treatment as well as bleeding and synovial leakage during treatment.
Gold bead implantation has been used for years as an alternative method to improve function in chronic joint disease both in humans and dogs. The aims of the present study were to describe the technique of implanting 24-karat gold beads around the hip joints of dogs with chronic hip dysplasia, and to record any side effects or complications of such treatment. A prospective placebo-controlled double-blinded clinical trial was performed. Eighty dogs were randomly allocated to treatment or placebo, with 38 in the gold implantation group and 42 in the placebo group, and followed intensely for six months. The implantation technique was simple to perform, using fluoroscopy and with the dogs under inhalation anesthesia for about 30 minutes. Adverse effects, measured as pain or discomfort, were seen for a period of up to four weeks in 15 of the dogs in the gold implantation group, compared to six dogs in the placebo group. During implantation, a technical difficulty occurred as 82% of the dogs showed leakage of blood and/or synovia from the needles. The dogs in the gold implantation group were radiographed 18 months later. Of the 30 dogs that were radiographed at both inclusion and 24 months, 80% (24 dogs) showed a deterioration of the coxofemoral arthrosis, the other six had stable disease evaluated by radiography. Migration of gold beads was only observed in one dog.
View Full-Text
►

▼

Show Figures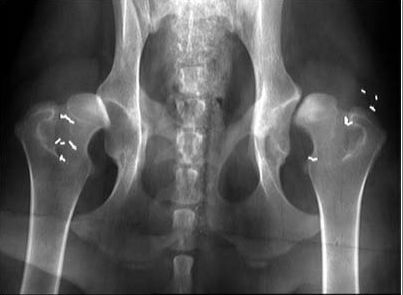 Graphical abstract

MDPI and ACS Style
Jæger, G.T.; Stigen, Ø.; Devor, M.; Moe, L. Gold Bead Implantation in Acupoints for Coxofemoral Arthrosis in Dogs: Method Description and Adverse Effects. Animals 2012, 2, 426-436. https://doi.org/10.3390/ani2030426
AMA Style
Jæger GT, Stigen Ø, Devor M, Moe L. Gold Bead Implantation in Acupoints for Coxofemoral Arthrosis in Dogs: Method Description and Adverse Effects. Animals. 2012; 2(3):426-436. https://doi.org/10.3390/ani2030426
Chicago/Turabian Style
Jæger, Gry T., Øyvind Stigen, Morten Devor, and Lars Moe. 2012. "Gold Bead Implantation in Acupoints for Coxofemoral Arthrosis in Dogs: Method Description and Adverse Effects" Animals 2, no. 3: 426-436. https://doi.org/10.3390/ani2030426