Dairy Cows Activity under Heat Stress: A Case Study in Spain
1
Centro de Tecnología Animal CITA-IVIA, Polígono La Esperanza, 100, 12400 Segorbe, Castellón, Spain
2
Instituto de Ciencia y Tecnología Animal, Universitat Politècnica de València, Camino de Vera s/n, 46022 Valencia, Spain
3
Departamento de Producción Animal y Salud Pública, Facultad de Veterinaria y Ciencias Experimentales, Universidad Católica de Valencia San Vicente Martir, Guillem de Castro 94, 46001 Valencia, Spain
*
Author to whom correspondence should be addressed.
Academic Editors: María Dolores Fernández Rodríguez, Manuel Ramiro Rodríguez Rodríguez and Joaquim Orlando Lima Cerqueira
Received: 30 June 2021
/
Revised: 30 July 2021
/
Accepted: 2 August 2021
/
Published: 4 August 2021
Simple Summary
Heat stress is a major problem for dairy cattle welfare, and it has several implications for milk production. In this work, automatic sensors were used to monitor cows' activity. Different behaviors were recorded for 40 animals at different heat stress conditions. The main aim of the study was to use automatic sensors to identify behavior changes caused by heat stress on dairy cows. All behaviors studied were affected by environmental conditions. Animals adapted to heat stress by modifying their behavior, and automatic sensors provided valuable information in this regard. These findings might be the early development of an automatic early warning system for heat stress based on the behavioral modifications of dairy cattle.
Heat stress plays a role in livestock production in warm climates. Heat stress conditions impair animal welfare and compromise the productive and reproductive performance of dairy cattle. Under heat stress conditions, dairy cattle modify their behavior. Thus, the assessment of behavior alterations can be an indicator of environmental or physiological anomalies. Moreover, precision livestock farming allows for the individual and constant monitoring of animal behavior, arising as a tool to assess animal welfare. The purpose of this study was to evaluate the effect of heat stress on the behavior of dairy cows using activity sensors. The study was carried out in Tinajeros (Albacete, Spain) during the summer of 2020. Activity sensors were installed in 40 cows registering 6 different behaviors. Environmental conditions (temperature and humidity) were also monitored. Hourly data was calculated for both animal behavior and environmental conditions. Temperature and Heat Index (THI) was calculated for each hour. The accumulated THI during the previous 24 h period was determined for each hour, and the hours were statistically classified in quartiles according to the accumulated THI. Two groups were defined as Q4 for no stress and Q1 for heat stress. The results showed that animal behavior was altered under heat stress conditions. Increasing THI produces an increase in general activity, changes in feeding patterns and a decrease in rumination and resting behaviors, which is detrimental to animal welfare. Daily behavioral patterns were also affected. Under heat stress conditions, a reduction in resting behavior during the warmest hours and in rumination during the night was observed. In conclusion, heat stress affected all behaviors recorded as well as the daily patterns of the cows. Precision livestock farming sensors and the modelling of daily patterns were useful tools for monitoring animal behavior and detecting changes due to heat stress.
View Full-Text
►

▼

Show Figures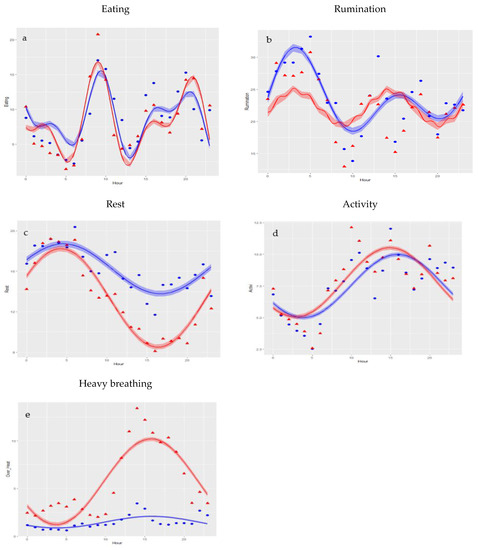 Figure 1
This is an open access article distributed under the
Creative Commons Attribution License
which permits unrestricted use, distribution, and reproduction in any medium, provided the original work is properly cited.

MDPI and ACS Style
Ramón-Moragues, A.; Carulla, P.; Mínguez, C.; Villagrá, A.; Estellés, F. Dairy Cows Activity under Heat Stress: A Case Study in Spain. Animals 2021, 11, 2305. https://doi.org/10.3390/ani11082305
AMA Style
Ramón-Moragues A, Carulla P, Mínguez C, Villagrá A, Estellés F. Dairy Cows Activity under Heat Stress: A Case Study in Spain. Animals. 2021; 11(8):2305. https://doi.org/10.3390/ani11082305
Chicago/Turabian Style
Ramón-Moragues, Adrián, Patricia Carulla, Carlos Mínguez, Arantxa Villagrá, and Fernando Estellés. 2021. "Dairy Cows Activity under Heat Stress: A Case Study in Spain" Animals 11, no. 8: 2305. https://doi.org/10.3390/ani11082305
Note that from the first issue of 2016, MDPI journals use article numbers instead of page numbers. See further details
here
.