Glutamate Supply Reactivates Ovarian Function while Increases Serum Insulin and Triiodothyronine Concentrations in Criollo x Saanen-Alpine Yearlings' Goats during the Anestrous Season
1
Unidad Regional Universitaria de Zonas Áridas, Universidad Autónoma Chapingo, Bermejillo, Durango 35230, Mexico
2
Instituto de Estudios de Posgrado, Universidad de Córdoba, 14014 Córdoba, Spain
3
Departamento de Ciencias Médico Veterinarias, Universidad Autónoma Agraria Antonio Narro, Torreón, Coahuila 27054, Mexico
4
Facultad de Agricultura y Veterinaria, Universidad Autónoma de San Luis Potosí, San Luis Potosí 78321, Mexico
5
Instituto de Ciencias Agrícolas, Universidad Autónoma de Baja California, Mexicali 21705, Mexico
6
Instituto Tecnológico de Torreón, Torreón Coahuila 27170, Mexico
*
Author to whom correspondence should be addressed.
Received: 26 December 2019 / Revised: 30 January 2020 / Accepted: 30 January 2020 / Published: 2 February 2020
Simple Summary
We evaluated the potential supplementation effect of glutamate upon reactivation of ovarian function and serum concentrations of insulin (INS) and triiodothyronine (T3) during the anestrous season in goats. Intravenous glutamate supply in yearling goats with a high level of very seasonal dairy goat breeds positively affected the reactivation of ovarian function during the anestrus season, which was positively linked to increases in both INS & T3 across time. Results denote the potential role of glutamate as a modulator not only of ovarian function, but also metabolic hormone synthesis. Such findings could be important in the design of reproductive strategies to attenuate seasonal reproduction in dairy goats, and may also embrace potential translational applications.
The possible effect of glutamate supplementation upon ovarian reactivation and serum concentrations of insulin (INS) and triiodothyronine (T3) in anestrous yearling goats was evaluated. Goats (n = 32, 12 mo., 26° North, 1117 m) with a similar live weight (LW) and body condition score (BCS) were blood sampled twice per week for two weeks (2 × 1 week × 2 weeks) to confirm the anestrus status (<1 ng P4/mL; RIA). Thereafter, goats were randomly assigned to either 1) Glutamate (GLUT; n = 16, LW = 27.1 ± 1.09 kg, 3.5 ± 0.18 units, IV-supplemented with 7 mg of glutamate kg
−1
LW), or 2) Control (CONT; n = 16; LW = 29.2 ± 1.09 kg; BCS = 3.5 ± 0.18, IV saline). During the treatment period, 16 goats (eight/group) were blood sampled twice per week for six weeks. Such serum samples (2 × 1 week × 6 weeks) were quantified by their P4 content to evaluate the ovarian-luteal activity, whereas a sample subset (1 × 1 week × 6 weeks) was used to quantify their INS & T3 content to evaluate their metabolic status. Neither LW (28.19 kg;
p
> 0.05) nor BCS (3.51 units;
p
> 0.05) differed between treatments. Goats depicting ovarian reactivation favored the GLUT group (50 vs. 12.5%;
p
< 0.05). Neither INS (1.72 ± 0.15 ng mL
−1
) nor T3 (2.32 ± 0.11 ng mL
−1
) differed between treatments, yet a treatment x time interaction regarding INS & T3 concentration across time favored (
p
< 0.05) the GLUT group. The results unveil exogenous glutamate as an interesting modulator not only of ovarian reactivation, but of metabolic hormone synthesis.
View Full-Text
►

▼

Show Figures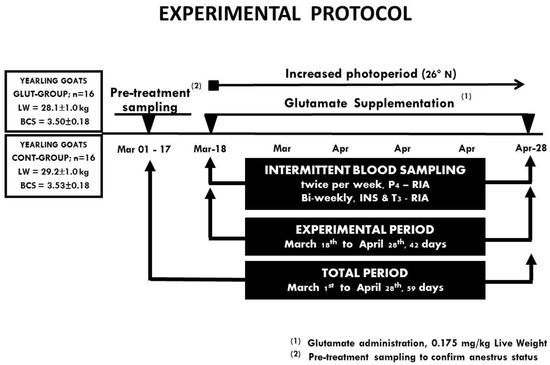 Figure 1
This is an open access article distributed under the
Creative Commons Attribution License
which permits unrestricted use, distribution, and reproduction in any medium, provided the original work is properly cited

MDPI and ACS Style
Meza-Herrera, C.A.; Vergara-Hernández, H.P.; Paleta-Ochoa, A.; Álvarez-Ruíz, A.R.; Veliz-Deras, F.G.; Arellano-Rodriguez, G.; Rosales-Nieto, C.A.; Macias-Cruz, U.; Rodriguez-Martinez, R.; Carrillo, E. Glutamate Supply Reactivates Ovarian Function while Increases Serum Insulin and Triiodothyronine Concentrations in Criollo x Saanen-Alpine Yearlings' Goats during the Anestrous Season. Animals 2020, 10, 234.
Show more citation formats
Show less citations formats
Note that from the first issue of 2016, MDPI journals use article numbers instead of page numbers. See further details
here
.