Could Dietary Black Soldier Fly Meal Inclusion Affect the Liver and Intestinal Histological Traits and the Oxidative Stress Biomarkers of Siberian Sturgeon (
Acipenser baerii

) Juveniles?

1

Department of Agricultural, Forest and Food Sciences, University of Torino, Largo P. Braccini 2, 10095 Grugliasco, Italy

2

Veterinary Medical Research Institute for Piedmont, Liguria and Aosta Valley, Via Bologna 148, 10154 Torino, Italy

3

Department of Veterinary Sciences, University of Torino, Largo P. Braccini 2, 10095 Grugliasco, Italy

4

Department of Chemistry, Biology and Biotechnology, University of Perugia, Via Elce di Sotto 8, 06123 Perugia, Italy

5

Institute of Sciences of Food Production, National Research Council, Largo P. Braccini 2, 10095 Grugliasco, Italy

*

Author to whom correspondence should be addressed.

Received: 19 December 2019 / Revised: 10 January 2020 / Accepted: 13 January 2020 / Published: 16 January 2020
Simple Summary
Insect meal is a suitable alternative to fishmeal (FM) in aquaculture feed. In recent years, numerous authors have studied the effects of insect meal as a substitute for fishmeal on fish growth performance, while only a few papers investigated its influence on the physiology and morphology of the digestive system and the oxidative status. The present study evaluated the effects of dietary highly defatted Hermetia illucens larva meal (H) inclusion and a vegetable protein based diet (VEG) on histological traits of liver and distal intestinal and oxidative stress biomarkers of liver and kidney in Siberian sturgeon juveniles. The results show that both the VEG and the H diets did not influence the liver and gut histology, but the highest inclusion level of H led to changes in oxidative stress biomarkers. Overall, these findings highlighted the possibility to include up to 18.5% of H as FM replacement in Siberian sturgeon diets without affecting the health status of fish.
The trial investigates if a highly defatted
Hermetia illucens
larva meal (H) at two dietary inclusion levels and a vegetable protein based diet (VEG) influences the normal gut and liver histology and the oxidative stress biomarkers in liver and kidney of Siberian sturgeon juveniles. Fish were fed four diets: one control diet (H0) containing 70% of fishmeal (FM), two diets including 18.5% (H185) and 37.5% (H375) of highly defatted H in substitution for 25% and 50% of FM, and one vegetable protein based diet (VEG). At the end of a growth trial, 12 fish per treatment were sacrificed by over-anaesthesia to collect 12 liver and 5 distal intestine samples for histological analyses, as well as 12 liver and kidney samples for biochemical analyses. The H and VEG diets did not significantly affect the histology of liver and distal intestine, but alterations of the oxidative stress biomarkers were detected at the highest inclusion level of H (37.5%). In order to avoid unfavorable effects on the fish health, an inclusion level up to 18.5% of H is recommended for Siberian sturgeon juveniles.
View Full-Text
►

▼

Show Figures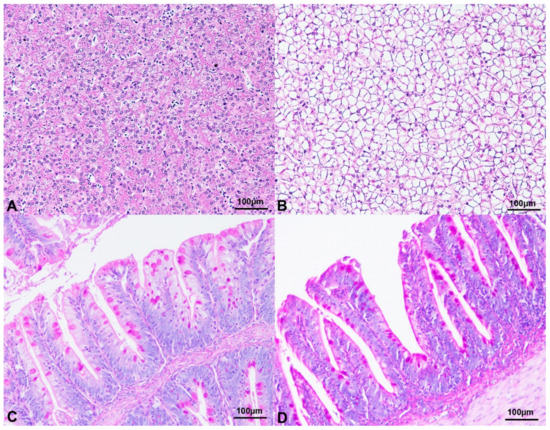 Figure 1
This is an open access article distributed under the
Creative Commons Attribution License
which permits unrestricted use, distribution, and reproduction in any medium, provided the original work is properly cited

MDPI and ACS Style
Caimi, C.; Gasco, L.; Biasato, I.; Malfatto, V.; Varello, K.; Prearo, M.; Pastorino, P.; Bona, M.C.; Francese, D.R.; Schiavone, A.; Elia, A.C.; Dörr, A.J.M.; Gai, F. Could Dietary Black Soldier Fly Meal Inclusion Affect the Liver and Intestinal Histological Traits and the Oxidative Stress Biomarkers of Siberian Sturgeon (Acipenser baerii) Juveniles? Animals 2020, 10, 155.
Show more citation formats
Show less citations formats
Note that from the first issue of 2016, MDPI journals use article numbers instead of page numbers. See further details
here
.