Effects of Birth Weight and Postnatal Nutritional Restriction on Skeletal Muscle Development, Myofiber Maturation, and Metabolic Status of Early-Weaned Piglets
1
Institute of Animal Nutrition, Sichuan Agricultural University, No.211 Huimin Road, Wenjiang District, Chengdu 611130, Sichuan, China
2
Department of Animal Science, Aarhus University, DK-8830 Tjele, Denmark
*
Authors to whom correspondence should be addressed.
Received: 24 October 2019 / Revised: 12 January 2020 / Accepted: 15 January 2020 / Published: 16 January 2020
Simple Summary
Light weaning weight piglets have slow post-weaning growth performance and require longer days to reach slaughter weight. Birth weight and early postnatal nutrient intake are the main factors contributing to light weaning weight. Our results suggested that intrauterine growth-retarded (IUGR) piglets fed adequately during the suckling period do not catch up with the same muscle growth and development compared with normal birth weight piglets. Postnatal early nutritional restriction resulted in impaired skeletal muscle growth and delayed myofiber maturation of the piglets.
Piglets with light weaning weight commonly have a slow post-weaning growth rate due to impaired skeletal muscle development. Therefore, the present study aimed to investigate the impact of birth weight and nutrient intake on skeletal muscle development, myofiber maturation, and metabolic status of early-weaned piglets. Twelve pairs of normal birth weight and intrauterine growth-retarded (IUGR) piglets (seven days old) were randomly assigned to receive adequate nutrient intake or restricted nutrient intake for 21 days. Serum and muscle samples were collected for further analysis. The results indicated that muscle weight, cross-sectional areas, and muscular glycogen were lower (
p
< 0.05) in both IUGR and restricted fed piglets. Nutrient restriction decreased the contents of RNA, the RNA to DNA ratio, and the percentages of myosin heavy chain (MyHC) IIx (
p
< 0.05), whereas increased the activity of β-hydroxy-acyl-CoA-dehydrogenase (HAD), the ratio of HAD to citrate synthase, as well as the percentages of MyHC I (
p
< 0.05). In addition, nutrient restriction significantly decreased muscular glycogen, mRNA levels of fatty acid transport protein 1, cationic amino acid transporter 1, and glucose transporter 4 in IUGR piglets compared with the other groups (
p
< 0.05). The results of the present study showed that IUGR impaired skeletal muscle growth and disturbed the hormone and mRNA expression of genes related to energy metabolism, which led to a more severe energy deficit when receiving postnatal nutritional restriction. Postnatal nutritional restriction resulted in delayed myofiber maturation of the piglets, which may be associated with the transformation of MyHC isoform and the change of metabolic status.
View Full-Text
►

▼

Show Figures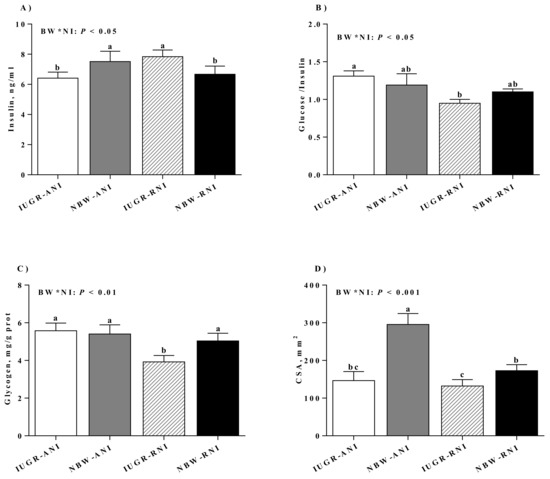 Figure 1
This is an open access article distributed under the
Creative Commons Attribution License
which permits unrestricted use, distribution, and reproduction in any medium, provided the original work is properly cited

MDPI and ACS Style
Hu, L.; Peng, X.; Han, F.; Wu, F.; Chen, D.; Wu, D.; Feyera, T.; Zhang, K.; Che, L. Effects of Birth Weight and Postnatal Nutritional Restriction on Skeletal Muscle Development, Myofiber Maturation, and Metabolic Status of Early-Weaned Piglets. Animals 2020, 10, 156.
Show more citation formats
Show less citations formats
Note that from the first issue of 2016, MDPI journals use article numbers instead of page numbers. See further details
here
.