Low Concentration of Antibiotics Modulates Gut Microbiota at Different Levels in Pre-Weaning Dairy Calves
1
State Key Laboratory of Animal Nutrition, College of Animal Science and Technology, China Agricultural University, Beijing 100193, China
2
College of Animal Science and Technology, Henan University of Science and Technology, Luoyang 471003, China
*
Author to whom correspondence should be addressed.
Received: 1 October 2018 / Revised: 21 November 2018 / Accepted: 22 November 2018 / Published: 27 November 2018
Abstract
The aim of this study was to investigate the effect of feeding milk replacer (MR) with two different antibiotics treatments on the gut microbiota of pre-weaning calves. Twelve (12) Holstein male calves at 1-day-old were randomly assigned to: milk replacer without antibiotics (CON), milk replacer plus low cocktail of antibiotics (LCA) concentration (penicillin 0.024 mg/L, streptomycin 0.025 mg/L, tetracycline 0.1 mg/L, ceftiofur 0.33 mg/L), and milk replacer plus a low concentration of single antibiotic (LSA; ceftiofur 0.33 mg/L). All the calves were harvested at 35-day-old, and the digesta from the ileum and colon was collected in addition to fecal samples. Samples were analyzed by 16S rRNA gene using Illumina MiSeq platform. Results showed that there were significant differences among treatments in the ileum, where LCA significantly reduced the relative abundance of Enterobacteriaceae (
P
= 0.02) especially
Escherichia-coli
(
P
= 0.02), while LSA significantly reduced the relative abundance of
Comamonas
(
P
= 0.02). In the colon and rectum, LSA treatment was significantly enriched with the class
Bacilli
, whereas the control group was significantly enriched with
Alloprevotlla
(
P
= 0.03). However, at the family level in the rectum LCA and LSA significantly reduced the relative abundance of Acidaminococcaceae (
P
= 0.01). Moreover, at the genera level in the colon, LSA significantly increased
Prevotellaceae_Ga6A1_ group
(
P
= 0.02), whereas in the rectum both of treatments reduced the relative abundance of
Phascolarctobacterium
(
P
= 0.01). In conclusion, the overall low cocktail of antibiotics concentration induced changes at different taxonomic levels; specifically the decrease in
Escherichia-coli
which might subsequently reduce the incidences of diarrhea in calves.
View Full-Text
►

▼

Figures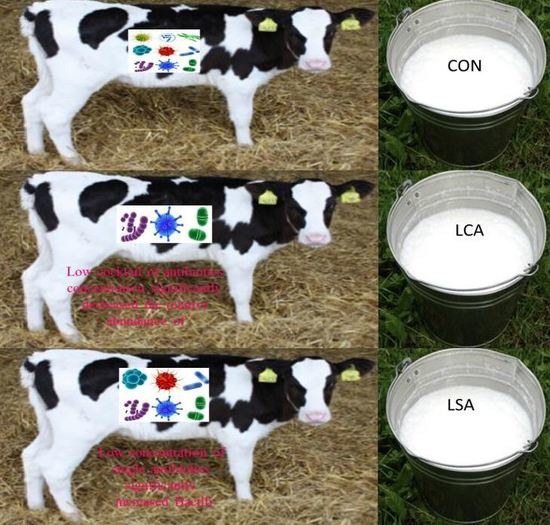 Graphical abstract
This is an open access article distributed under the
Creative Commons Attribution License
which permits unrestricted use, distribution, and reproduction in any medium, provided the original work is properly cited (CC BY 4.0).

Share & Cite This Article
MDPI and ACS Style
Yousif, M.H.; Li, J.-H.; Li, Z.-Q.; Maswayi Alugongo, G.; Ji, S.-K.; Li, Y.-X.; Wang, Y.-J.; Li, S.-L.; Cao, Z.-J. Low Concentration of Antibiotics Modulates Gut Microbiota at Different Levels in Pre-Weaning Dairy Calves. Microorganisms 2018, 6, 118.
Note that from the first issue of 2016, MDPI journals use article numbers instead of page numbers. See further details here.
Related Articles
Comments
[Return to top]