Open Access This article is
freely available
re-usable
Article
Glas Journal
: Deep Mappings of a Harbour or the Charting of Fragments, Traces and Possibilities
Department of Geography, Maynooth University, Rhetoric House, Maynooth, County Kildare, Ireland
Academic Editor: Les Roberts
Received: 3 June 2015 / Accepted: 2 September 2015 / Published: 18 September 2015
Abstract
: With reference to a hybrid ethnographic project entitled

Glas Journal

(2014–2016), this article invites readers to reflect on the cultural mapping of spaces we intimately inhabit. Developed with the participation of local inhabitants of Dún Laoghaire Harbour, Ireland,

Glas Journal

seeks to explore the maritime environment as a liminal space, whereby the character of buildings and an area's economic implications determine our relationship to space as much as our daily spatial rhythms and feelings of safety. Deep mapping provides the methodological blueprint for

Glas Journal

. In order to create a heteroglossic narrative of place and belonging, I will contextualise the project with references to seminal works in the visual arts, literature, film and geography that emotionally map spaces. Chronotopes of the threshold will be used to elaborate on spatial and cultural phenomena that occur when crossings from public to private and interior to exterior take place. Touching upon questions such as "What is a space of protection?", "Who am I in it?", and "Who is the Other?", this article traces forms of liquid mapping that do not strive to conquer but rather to gain insight into the inner landscapes that are reflected in outer space.
Keywords:
interdisciplinary border crossings; cultural landscapes; everyday life; psycho-geography; place-making and belonging
Readings of spaces and places in terms of emotion go hand in hand with the creation of maps that function like a visual memory-cloth and concern issues like the personal, the underground, belonging, and longing. Here emotional mapping extends itself by going deeper, to become, indeed, deep mapping, and, in that sense, map-making becomes world-making.
This article introduces Glas Journal: A Deep Mapping of Dún Laoghaire Harbour (2014–2016), an ongoing deep mapping project of an Irish maritime environment that engages with its inhabitants' intimate routines and their attachments to the artificially built harbour landscape of Dún Laoghaire. Funded by the Irish Research Council as a postdoctoral project, Glas Journal hopes to reveal "unexpected" biographies of a specific harbour environment by investigating how the residents and workers of the given spaces between two piers relate to the sea as a border space and to the harbour as a space of protection. It is a visio-cultural cartography and will here be integrated into a broader examination of artistic forms of mapping that take place in the visual arts, literature and film, and which explore ambivalent affections, such as love and hate relationships, moments of transition, historical shifts, and the emergence of new identities in a spatial context.
Mixed ethnographic and artistic research methods are used to understand how a harbour is a shared space for a diverse set of inhabitants. Glas Journal involves individual and group participatory workshops that will be held at particular locations. The participants are invited to create site-specific hand-made journals about their living and work experiences, their everyday routines and habitats, and emotional attachments to places. The multiplicity of these stories, the particularities of place-based attachments, and the common themes emerging from the participatory workshops, will reveal a "place ballet" [1] based on people's feelings of attachment to "their" harbour.
To emphasise notions of belonging that may be found in a maritime environment and that support the perception of the harbour as a liminal, in-between space, a scenographic installation of Dún Laoghaire's two harbour arms, the West Pier and the East Pier, leading from the open sea to land will be set up in the former Mariners' Church, which now houses the Maritime Museum of Ireland. Site-specific books, which stand for various harbour locations along the seafront and are almost lined up like rosary pearls, as suggested in Figure 1, will then be put onto the representational harbour structure as if they are reference points on a map.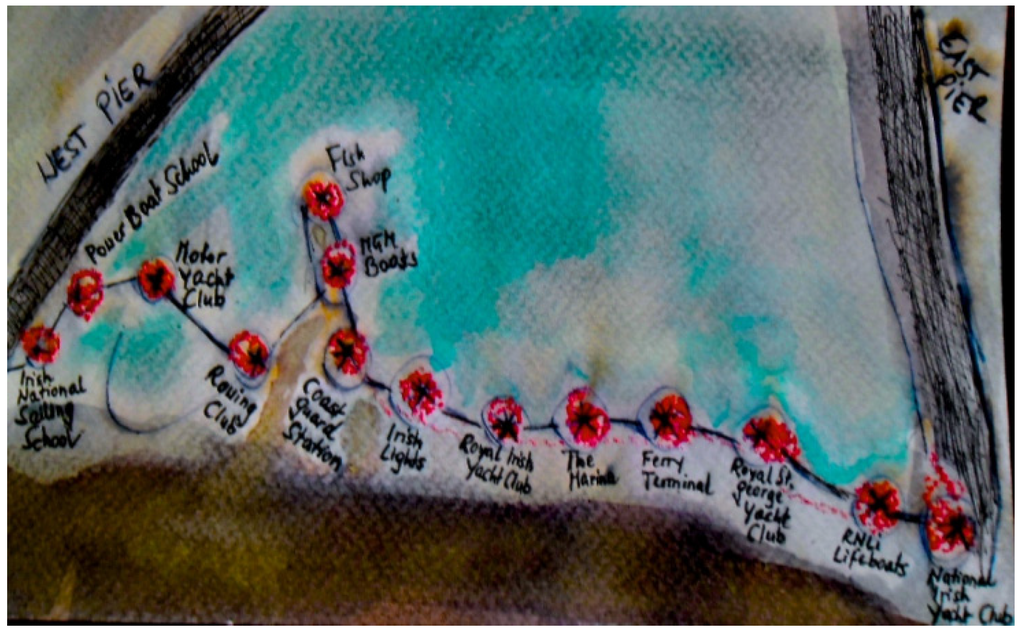 Conflicts of Interest
The author declares no conflict of interest.
© 2015 by the authors; licensee MDPI, Basel, Switzerland. This article is an open access article distributed under the terms and conditions of the Creative Commons Attribution license (http://creativecommons.org/licenses/by/4.0/).