Reproductive Senescence in Drones of the Honey Bee (
Apis mellifera

)

Department of Entomology & Plant Pathology, NC State University, Raleigh, NC 27695, USA

*

Author to whom correspondence should be addressed.

Received: 17 April 2018 / Revised: 21 May 2018 / Accepted: 18 July 2018 / Published: 8 January 2019
Abstract
In the face of high proportions of yearly colony losses, queen health and fecundity has been a major focus of industry and research. Much of the reproductive quality of the queen, though, is a function of the mating success and quality of the drones (males). Many environmental factors can negatively impact drone semen quality, but little is known about factors that impact the drones' ability to successfully mate and deliver that semen, or how widely drones vary. In our study, we observed the daily variation in honey bee drone reproductive quality over time, along with a number of morphological traits. Drones were reared in cages in bank colonies, and 20 individuals were dissected and measured daily. The number of viable spermatozoa in the seminal vesicles was zero at emergence and reached an average maximum of 7.39 ± 0.19 million around 20 days of life. Decline in spermatozoa count occurred after day 30, though viability was constant throughout life, when controlling for count. Older drones had smaller wet weights, head widths, and wing lengths. We predict that this is likely due to sampling bias due to a differential lifespan among larger, more reproductively developed drones. Our study shows that drones are more highly variable than previously suggested and that they have a significant variation in reproductive physiology as a function of age.
View Full-Text
►

▼

Figures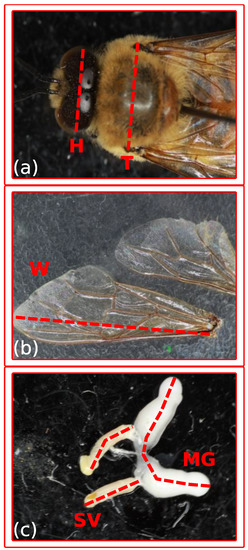 Figure 1
This is an open access article distributed under the
Creative Commons Attribution License
which permits unrestricted use, distribution, and reproduction in any medium, provided the original work is properly cited (CC BY 4.0).

Share & Cite This Article
MDPI and ACS Style
Metz, B.N.; Tarpy, D.R. Reproductive Senescence in Drones of the Honey Bee (Apis mellifera). Insects 2019, 10, 11.
Note that from the first issue of 2016, MDPI journals use article numbers instead of page numbers. See further details here.
Related Articles
Comments
[Return to top]