Tailoring Nutritional Advice for Mexicans Based on Prevalence Profiles of Diet-Related Adaptive Gene Polymorphisms
1
Department of Molecular Biology in Medicine, Civil Hospital of Guadalajara "Fray Antonio Alcalde", Hospital #278, Col. El Retiro, Guadalajara 44280, Jalisco, Mexico
2
Health Sciences Center, University of Guadalajara, Guadalajara 44340, Jalisco, Mexico
*
Author to whom correspondence should be addressed.
Academic Editors: Ahmed El-Sohemy and José M. Ordovás
Received: 12 September 2017 / Revised: 6 November 2017 / Accepted: 8 November 2017 / Published: 10 November 2017
Abstract
Diet-related adaptive gene (DRAG) polymorphisms identified in specific populations are associated with chronic disorders in carriers of the adaptive alleles due to changes in dietary and lifestyle patterns in recent times. Mexico's population is comprised of Amerindians (AM) and Mestizos who have variable AM, European (EUR) and African genetic ancestry and an increased risk of nutrition-related chronic diseases. Nutritional advice based on the Mexican genome and the traditional food culture is needed to develop preventive and therapeutic strategies. Therefore, we aimed to provide a prevalence profile of several DRAG polymorphisms in the Mexican population, including Central West (CW) Mexico subpopulations. Geographic heat maps were built using ArcGIS10 (Esri, Redlands, CA, USA) software, based on the published data of the
MTHFR
C677T (rs1801133),
ABCA1
Arg230Cys (rs9282541),
APOE
T388C (rs429358)/C526T (rs7412),
LCT
C-13910T (rs4988235) polymorphisms and
AMY1
copy number variation (CNV). Also, new data obtained by allelic discrimination-real-time polymerase chain reaction (RT-PCR) assays for the
MTHFR
,
ABCA1
, and
APOE
polymorphisms as well as the
AMY1
CNV in the CW Mexico subpopulations with different proportions of AM and EUR ancestry were included. In the CW region, the highest frequency of the
MTHFR
677T,
ABCA1
230C and
APOE
ε4 adaptive alleles was observed in the AM groups, followed by Mestizos with intermediate AM ancestry. The
LCT
-13910T allele frequency was highest in Mestizos-EUR but extremely low in AM, while the
AMY1
diploid copy number was 6.82 ± 3.3 copies. Overall, the heat maps showed a heterogeneous distribution of the DRAG polymorphisms, in which the AM groups revealed the highest frequencies of the adaptive alleles followed by Mestizos. Given these genetic differences, genome-based nutritional advice should be tailored in a regionalized and individualized manner according to the available foods and Mexican traditional food culture that may lead to a healthier dietary pattern.
View Full-Text
►

▼

Figures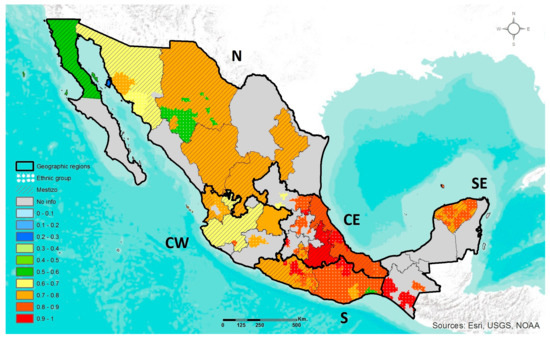 Figure 1
This is an open access article distributed under the
Creative Commons Attribution License
which permits unrestricted use, distribution, and reproduction in any medium, provided the original work is properly cited (CC BY 4.0).

Share & Cite This Article
MDPI and ACS Style
Ojeda-Granados, C.; Panduro, A.; Gonzalez-Aldaco, K.; Sepulveda-Villegas, M.; Rivera-Iñiguez, I.; Roman, S. Tailoring Nutritional Advice for Mexicans Based on Prevalence Profiles of Diet-Related Adaptive Gene Polymorphisms. J. Pers. Med. 2017, 7, 16.
Note that from the first issue of 2016, MDPI journals use article numbers instead of page numbers. See further details here.
Related Articles
Comments
[Return to top]