Abyssal Peridotite as a Component of Forearc Mantle: Inference from a New Mantle Xenolith Suite of Bankawa in the Southwest Japan Arc
1
Department of Earth Sciences, Kanazawa University, Kanazawa 920-1192, Japan
2
Gemological Institute of America (GIA) Tokyo Godo Kaisha, Tokyo 110-0016, Japan
3
Saitama Museum of Natural History, Nagatoro 1417-1, Nagatoro-machi, Chichibu-gun, Saitama 369-1305, Japan
*
Author to whom correspondence should be addressed.
Received: 5 September 2018 / Revised: 14 November 2018 / Accepted: 15 November 2018 / Published: 21 November 2018
Abstract
Lithology and petrologic nature of the forearc mantle have been left unclear due to the very limited sampling to date. Here, we present petrological data on a forearc peridotite suite obtained as xenoliths in an alkali basalt dike (7.5 Ma) from the Bankawa area in the Southwest Japan arc for our better understanding of the forearc mantle. The host alkali basalt is of asthenosphere origin, and passed through a slab window with slight chemical modification by the slab-derived component. The Bankawa peridotite suite is comprised of lherzolites, which contain various amounts of secondary phlogopite and were metasomatized to various degrees. The least metasomatized lherzolite exhibits Fo
91
of olivine, Cr/(Cr + Al) = 0.3 of chromian spinel, and depletion of middle to light rare-earth elements in clinopyroxene, and is overall similar to an abyssal lherzolite. It had originally formed at the proto-Pacific Ocean and then was trapped at a eastern margin of Eurasian continent by initiation of subduction. The forearc mantle peridotite formed as a residue of proto-arc magma formation is depleted harzburgite as represented by the peridotites obtained from the forearc seafloor, but can be less depleted abyssal peridotite if being devoid of partial melting or reaction with magmas after entrapment.
View Full-Text
►

▼

Figures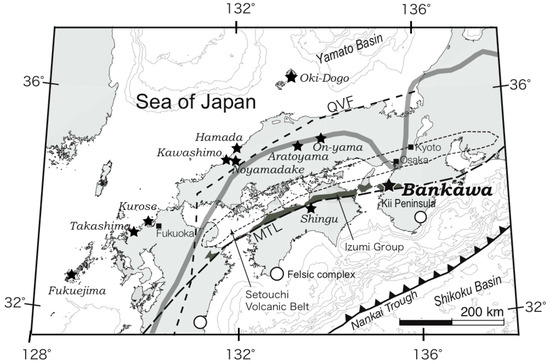 Figure 1
This is an open access article distributed under the
Creative Commons Attribution License
which permits unrestricted use, distribution, and reproduction in any medium, provided the original work is properly cited (CC BY 4.0).

Share & Cite This Article
MDPI and ACS Style
Arai, S.; Tamura, A.; Miura, M.; Seike, K. Abyssal Peridotite as a Component of Forearc Mantle: Inference from a New Mantle Xenolith Suite of Bankawa in the Southwest Japan Arc. Minerals 2018, 8, 540.
Note that from the first issue of 2016, MDPI journals use article numbers instead of page numbers. See further details here.
Related Articles
Comments
[Return to top]