Variability in the Water Footprint of Arable Crop Production across European Regions
1
Flemish Institute for Technological Research (VITO), 2400 Mol, Belgium
2
Leibniz Centre for Agricultural Landscape Research (ZALF), 15374 Müncheberg, Germany
3
Institute of Meteorology, University of Natural Resources and Life Sciences, 1180 Vienna, Austria
4
Global Change Research Institute, The Czech Academy of Sciences, 61300 Brno, Czech Republic
5
Department of Agrosystems and Bioclimatology, Mendel University in Brno, 61300 Brno, Czech Republic
6
National Agricultural and Food Centre, Soil Science and Conservation Research Institute, Bratislava 82713, Slovakia
7
Wageningen Environmental Research (Alterra), 6700 AA Wageningen, The Netherlands
8
Consiglio per la Ricerca in Agricoltura e L'analisi Dell'economia Agraria, Unità di Ricerca per i Sistemi Colturali degli Ambienti Caldo-Aridi, 70125 Bari, Italy
9
Department of Agrifood Production and Environmental Sciences (DISPAA), University of Florence, 50155 Florence, Italy
10
Norwegian Institute of Bioeconomy Research (NIBIO), 1431 Ås, Norway
11
Faculty of Agriculture, University of Novi Sad, Novi Sad 21000, Serbia
12
Earth Science Institute of Slovak Academy of Science, Bratislava 84005, Slovakia
13
Natural Resources Institute Finland (Luke), 31600 Jokioinen, Finland
14
Estonian Crop Research Institute, Tallinn Technical University, Jõgeva 48309, Estonia
15
Department of Meteorology, Faculty of Aeronautics and Astronautics, Istanbul Technical University, 34469 Istanbul, Turkey
16
Faculty of Agriculture, University of Belgrade, Zemun-Belgrade 11080, Serbia
17
Meteorological and Hydrological Service, Zagreb 10000, Croatia
18
Energy, Environment & Water Research Center, The Cyprus Institute, Nicosia 2121, Cyprus
*
Author to whom correspondence should be addressed.
Academic Editor: Ashok K. Chapagain
Received: 24 October 2016 / Revised: 11 December 2016 / Accepted: 31 January 2017 / Published: 8 February 2017
Abstract
Crop growth and yield are affected by water use during the season: the green water footprint (WF) accounts for rain water, the blue WF for irrigation and the grey WF for diluting agri-chemicals. We calibrated crop yield for FAO's water balance model "Aquacrop" at field level. We collected weather, soil and crop inputs for 45 locations for the period 1992–2012. Calibrated model runs were conducted for wheat, barley, grain maize, oilseed rape, potato and sugar beet. The WF of cereals could be up to 20 times larger than the WF of tuber and root crops; the largest share was attributed to the green WF. The green and blue WF compared favourably with global benchmark values (R
2
= 0.64–0.80; d = 0.91–0.95). The variability in the WF of arable crops across different regions in Europe is mainly due to variability in crop yield (
= 45%) and to a lesser extent to variability in crop water use (
= 21%). The WF variability between countries (
= 14%) is lower than the variability between seasons (
= 22%) and between crops (
= 46%). Though modelled yields increased up to 50% under sprinkler irrigation, the water footprint still increased between 1% and 25%. Confronted with drainage and runoff, the grey WF tended to overestimate the contribution of nitrogen to the surface and groundwater. The results showed that the water footprint provides a measurable indicator that may support European water governance.
View Full-Text
►

▼

Figures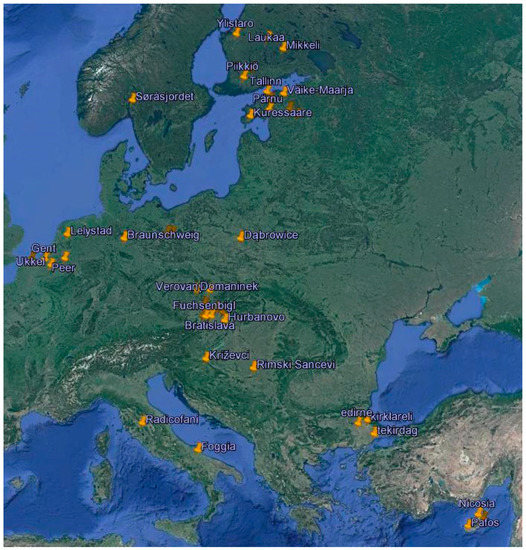 Figure 1
This is an open access article distributed under the
Creative Commons Attribution License
which permits unrestricted use, distribution, and reproduction in any medium, provided the original work is properly cited (CC BY 4.0).

Share & Cite This Article
MDPI and ACS Style
Gobin, A.; Kersebaum, K.C.; Eitzinger, J.; Trnka, M.; Hlavinka, P.; Takáč, J.; Kroes, J.; Ventrella, D.; Marta, A.D.; Deelstra, J.; Lalić, B.; Nejedlik, P.; Orlandini, S.; Peltonen-Sainio, P.; Rajala, A.; Saue, T.; Şaylan, L.; Stričevic, R.; Vučetić, V.; Zoumides, C. Variability in the Water Footprint of Arable Crop Production across European Regions. Water 2017, 9, 93.
Note that from the first issue of 2016, MDPI journals use article numbers instead of page numbers. See further details here.
Related Articles
Comments
[Return to top]