The Effect of Climatic and Non-climatic Factors on Groundwater Levels in the Jinghuiqu Irrigation District of the Shaanxi Province, China
1
School of Environmental Science and Engineering, Chang'an University, Xi'an 710054, China
2
Key Laboratory of Subsurface Hydrology and Ecological Effects in Arid Region, Ministry of Education, Chang'an University, Xi'an 710054, China
3
Institute of Water and Development, Chang'an University, Xi'an 710054, China
4
River Engineering Technology Research Center of Shaanxi Province, Xi'an 710000, China
*
Author to whom correspondence should be addressed.
Received: 17 March 2019 / Revised: 19 April 2019 / Accepted: 5 May 2019 / Published: 7 May 2019
Abstract
A chronic decline of the groundwater levels has become one of the hot issues affecting groundwater resources management. The rising global temperature, the high frequency of extreme weather (higher temperature and stronger evaporation, heavy or less rainfall), and unreasonable management policies have become important driving factors, causing a dynamic change in groundwater levels, in many regions. This study aims to explore the impact of climate and non-climate factors on groundwater levels in the Jinghuiqu irrigation district. The climatic phases were defined by rainfall anomalies, and the Mann–Kendall trend test statistic (M–K test) and Sen's slope method were used to statistically analyze the influence of temperature (1950–2017) and rainfall (1980–2017) on the groundwater level. The results showed that: (1) Dry, normal, and wet phases occurred alternately, including two normal, two wet, and one dry periods (Wet 1980–1984; Normal 1985–1996; Dry 1997–2002; Wet 2003–2011; Normal 2012–2017). (2) The groundwater levels in the dry phase, decreased significantly by 0.62 m/year (
p
< 0.05), and the groundwater levels in the wet phases did not have a complete recovery, due to the excessive extraction of groundwater. Meanwhile, extreme weather became an important signal to reflect the change of groundwater levels. (3) The groundwater levels decreased significantly in the west and northwest (
p
< 0.05), but not in the southeast, due to the regional difference of groundwater extraction, which is the primary factor resulting in a chronic decline of groundwater levels. (4) Besides human activities, temperature had a higher correlation with groundwater levels (
p
< 0.05), which indicated that the potential impact of climate change on groundwater levels should not be ignored while setting groundwater resource management policies for a sustainable cycle of atmosphere–land–water.
View Full-Text
►

▼

Figures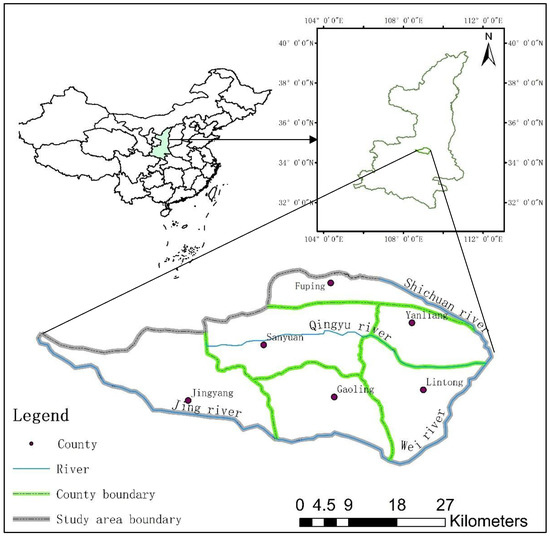 Figure 1
This is an open access article distributed under the
Creative Commons Attribution License
which permits unrestricted use, distribution, and reproduction in any medium, provided the original work is properly cited (CC BY 4.0).

Share & Cite This Article
MDPI and ACS Style
Zhao, Z.; Jia, Z.; Guan, Z.; Xu, C. The Effect of Climatic and Non-climatic Factors on Groundwater Levels in the Jinghuiqu Irrigation District of the Shaanxi Province, China. Water 2019, 11, 956.
Note that from the first issue of 2016, MDPI journals use article numbers instead of page numbers. See further details here.
Related Articles
Comments
[Return to top]