Response of Physiological Indicators to Environmental Factors under Water Level Regulation of Paddy Fields in Southern China
1
Zhejiang Institute of Hydraulics and Estuary, Hangzhou 310020, China
2
School of Water Conservancy, North China University of Water Resources and Electric Power, Zhengzhou 450045, China
3
State Key Laboratory of Hydrology-Water Resources and Hydraulic Engineering, Nanjing Hydraulic Research Institute, Nanjing 210029, China
4
Research Center of Fluid Machinery Engineering and Technology, Jiangsu University, Zhenjiang 212013, China
*
Author to whom correspondence should be addressed.
Received: 10 October 2018 / Revised: 25 November 2018 / Accepted: 26 November 2018 / Published: 3 December 2018
Abstract
Agricultural water level control is the key to the combined control of water-saving irrigation and controlled drainage. It is easy to observe and master in farmland practice, and has important theoretical and practical significance. In this paper, a systematic study on stomatal regulation and photosynthetic-evapotranspiration coupling mechanism, as well as the effect of meteorological environmental factors on photosynthetic-evapotranspiration coupling mechanism of paddy rice in drought and flooding conditions was conducted by taking paddy field's water level as a regulation indicator of paddy rice's irrigation and drainage. Results showed that net photosynthetic rate (Pn) and evapotranspiration rate (Tr) had quadratic and linear relationship with stomatal conductance (Gs), respectively. The responding range of Gs in drought condition was lower than that in flooding condition. Drought stress aggravated the photosynthetic stomatal limitation of rice leaves at noon, and partial closure of stomata was the main reason resulting in the reduction of Pn suffering from drought at noon. Change curve of paddy rice's leaf temperature difference (ΔT) showed a W or V type daily change curve and its change rule was rightly contrary to that of Tr. Pn had quadratic curve relationships with photosynthetically active radiation (PAR) and surrounding CO
2
concentration (Cs) both in the morning and in the afternoon, Pn had quadratic curve relationships in the morning and linear relationships in the afternoon with air temperature (Ta), respectively. Tr showed linear relationships with PAR, Ta, relative air humidity (RH) and barometric pressure saturation deficit (VPD).
View Full-Text
►

▼

Figures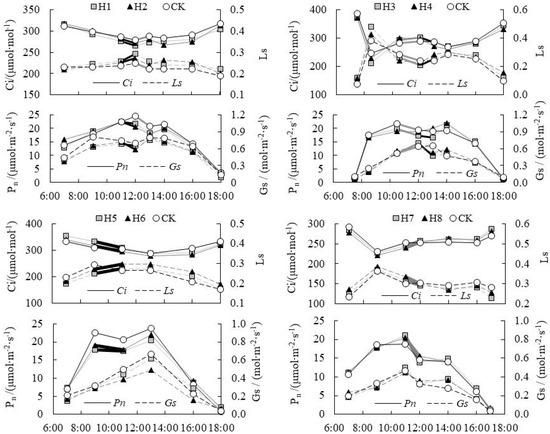 Figure 1
This is an open access article distributed under the
Creative Commons Attribution License
which permits unrestricted use, distribution, and reproduction in any medium, provided the original work is properly cited (CC BY 4.0).

Share & Cite This Article
MDPI and ACS Style
Xiao, M.; Li, Y.; Lu, B.; Miao, Z. Response of Physiological Indicators to Environmental Factors under Water Level Regulation of Paddy Fields in Southern China. Water 2018, 10, 1772.
Note that from the first issue of 2016, MDPI journals use article numbers instead of page numbers. See further details here.
Related Articles
Comments
[Return to top]