Open Access This article is
freely available
re-usable
Article
Spatiotemporal Trend Analysis of PM2.5 Concentration in China, 1999–2016
1
Computer Network Information Center, Chinese Academy of Sciences, Beijing 100190, China
2
University of Chinese Academy of Sciences, Beijing 100049, China
3
National & Local Joint Engineering Lab for Big Data Analysis and Computing Technology, Beijing 100190, China
4
School of Energy and Environmental Engineering, University of Science and Technology Beijing, Beijing 100083, China
*
Author to whom correspondence should be addressed.
Received: 12 July 2019 / Accepted: 8 August 2019 / Published: 12 August 2019
Abstract
:
China is experiencing severe PM2.5 (fine particles with a diameter of 2.5 μg or smaller) pollution problem. Little is known, however, about how the increasing concentration trend is spatially distributed, nor whether there are some areas that experience a stable or decreasing concentration trend. Managers and policymakers require such information to make strategic decisions and monitor progress towards management objectives. Here, we present a pixel-based linear trend analysis of annual PM2.5 concentration variation in China during the period 1999–2016, and our results provide guidance about where to prioritize management efforts and affirm the importance of controlling coal energy consumption. We show that 87.9% of the whole China area had an increasing trend. The drastic increasing trends of PM2.5 concentration during the last 18 years in the Beijing–Tianjin–Hebei region, Shandong province, and the Three Northeastern Provinces are discussed. Furthermore, by exploring regional PM2.5 pollution, we find that Tarim Basin endures a high PM2.5 concentration, and this should have some relationship with oil exploration. The relationship between PM2.5 pollution and energy consumption is also discussed. Not only energy structure reconstruction should be repeatedly emphasized, the amount of coal burned should be strictly controlled.
Keywords:
PM
2.5
pollution; spatiotemporal trend analysis; energy consumption; pixel-based linear trend analysis
2. Materials and Methods
2.1. PM Concentration Data
Satellite-retrieved data are very suitable for studying spatiotemporally continuous distribution characteristics of PM concentrations. The PM datasets we use in this paper were inversed by van Donkelaar et al. based on multiple satellite data (MISR, MODIS and SeaWiFS), simulation model (GEOS-Chem) and ground-based sun photometer (AERONET) observations. The resultant global 10-km resolution PM estimates have a long time span, from 1999 to 2016, and have been effectively applied on national and regional scales [
8
,
12
,
14
,
25
,
26
]. The dataset can be downloaded from Battelle Memorial Institute and the Center for International Earth Science Information Network (CIESIN)/Columbia University (
http://beta.sedac.ciesin.columbia.edu/data/set/sdei-global-annual-gwr-pm2-5-modis-misr-seawifs-aod
). Data for China are extracted from the global dataset using the open-source Geospatial Data Abstraction Library (GDAL).
2.2. Pixel Based Trend Analysis
The PM concentration data are in in a geospatial raster format. Trend analysis of PM concentration in China from 1999 to 2016 would form a large amount of calculation for personal computers. To facilitate raster data processing, all raster files are segmented based on a grid tessellation. The grid tessellation has the same coordinate system as the PM data, and segments in each grid are 1000 × 1300 raster arrays. Then, pixel-based trend analysis of segments of all years at the same grid location are processed in a three-step procedure.
First, extract pixel values of all years at the same location.
Then, linear least-squares regression is calculated using scipy. Among it, x is the vector of years in order, y is a vector of corresponding PM values for each year. Slope, intercept, rvalue, pvalue and stderr are calculated for each pixel location.
At last, results for each pixel size location are spatially aggregated into an array, and are stored as a raster file with coordinate system information.
After linear regression was calculated for segments in all grids, all segments of slope, intercept, rvalue, pvalue and stderr were recombined, respectively, to form complete raster data for the Chinese region. All maps in this paper are generated in ArcGIS10.2, URL:
http://www.esrichina-bj.cn/softwareproduct/ArcGIS/
.
3. Results and Discussion
3.1. Trend Analysis of PM Concentrations during 1999–2016
For the 18-year study period, the PM levels in China have increased by 48%, and area percentage with PM < 10 μg/m decreased from 56.4% to 39.4% (
Figure 1
). The annual average concentrations of PM had the highest of 18.68 μg/m in 2007 and the lowest of 11.48 μg/m in 2000, showing a general increase in recent years.
The whole time period can be divided into three phases in light of the distinctive characteristics in the PM concentration trend. The years 2007 and 2012 are the turning points. In the first phase (from 1999 to 2007, designated as Phase I), the annual average concentrations increased at an annual change of 7.10% per year. The severe particulate matter (PM) pollution increase problem is probably closely linked to rapid economic growth in China. In contrast, the second phase (from 2007 to 2012, named as Phase II), displayed a distinct decreasing concentration trend with a rate of −2.75%. In this period, the 29th Olympic Games were held in Beijing in 2008, and this may have led to some air pollution control measures to be implemented [
27
]. During the third phase (from 2012 to 2016, named as Phase III), the annual concentrations showed a fluctuation trend (
Figure 1
). As air pollution in China has become particularly serious, it caused a great deal of attention of both the government and local residents. On 29 February 2012, China issued a newly revised "Environmental Air Quality Standard", which increased the monitoring index of fine particulate matter (PM). In addition, a nationwide monitoring network was established in January 2013.
3.2. Spatial Distribution Analysis of PM Concentration Trend
Areas with positive values of slope are considered as contributing to PM increase and they account for about 87.9% of the entire country. Among them, marked upward PM concentration trends are evidenced in the eastern parts of the country, including the southern part of the Beijing–Tianjin–Hebei region, the western part of the Shandong province, and the Three Northeastern Provinces, which includes the Heilongjiang, Jilin and Liaoning provinces.
3.3. Relationship with Energy Consumption
We all know that human activity can be a main reason for generating PM. In general, high PM concentration has been attributed to socio-demographic factors, such as population growth, economy and specific exploitation activities like commercial coal exploration [
34
].
Being a proxy for air pollution emission from anthropogenic sources, energy consumption, especially coal combustion, could be considered one of predictors that may be used to explain variations of PM concentrations across Mainland China. So, in order to analyze the possible relationship of the ambient air pollution with the emission patterns, a short evaluation of the National Bureau of Statistics of China is presented here.
From
Figure 6
a, we can see that PM concentration has a positive relationship with coal consumption (r = 0.78,
p
= 0.0001).
Figure 6
b shows the time variation of coal consumption and annual PM concentration. From it, we can see that coal consumption had a stable increase during 1999 and 2013, and decreased slightly since 2013. While from 2007 there was no obvious increase in PM concentration, but a fluctuation status was exhibited. This was accompanied by a huge energy structure reconstruction effort. As shown in
Figure 6
c, the percentage of natural gas and renewables accounting for the total energy consumption began to increase. From 2011, the increased speed became faster, up to 1.34%/year (during 2011–2016). However, only cutting down the proportion of coal in energy consumption is not enough. We should reduce energy consumption and improve the efficiency of coal utilization, such as developing coal to substitute the natural gas (coal-to-SNG) industry [
35
].
4. Conclusions
We used recently updated annual average PM gridded data to study the spatial and temporal trend at 1 km resolution from 1999 to 2016. PM concentrations throughout most areas of Mainland China have increased during the period 1999–2016, but there are still some areas where PM concentration levels are stable or showing a downward trend. Such trends are analyzed to inform air quality management and policies. Mitigation efforts need to be strengthened in areas where PM concentrations are strongly increasing, including the Beijing–Tianjin–Hebei region, Shandong province, and the Three Northeastern Provinces. Oil exploitation work should take emission control and dust prevention measures in Tarim. For the energy control measures, not only energy structure reconstruction should be repeatedly emphasized, the amount of coal burned also should be strictly controlled.
Author Contributions
Conceptualization, X.W. and H.S.; Formal analysis, J.Z.; Methodology, J.Z.; Supervision, Y.D. and Y.Z.; Writing—original draft, J.Z.; Writing—review & editing, W.C.
Funding
This research was funded by the National Key Research and Development Plan under Grant No. 2017YFC1601504 and the Natural Science Foundation of China under Grant No. 61836013.
Acknowledgments
The authors would like to thank Socioeconomic Data and Applications Center for sharing data.
Conflicts of Interest
The authors declare no conflict of interest.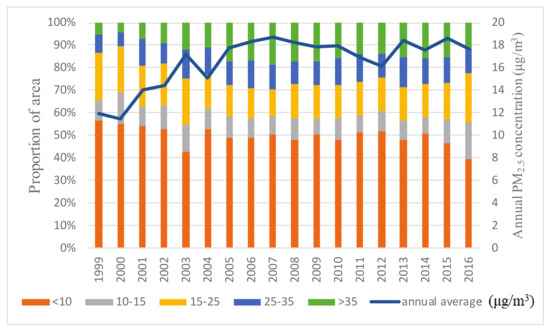 Figure 1. Trend analysis of annual average PM concentrations during 1999–2016 for China. In order to make the analysis straightforward, annual mean PM concentrations were categorized sequentially into five grades according to WHO air quality guidelines. WHO air quality guidelines have four standards, including one air quality guideline (<10 μg/m) and three interim targets, which are 10–15 μg/m, 15–25 μg/m, 25–35 μg/m respectively. In this paper, we add another guideline, of which PM concentration values are larger than 35 μg/m. The cumulative proportion of areas of each concentration range were calculated).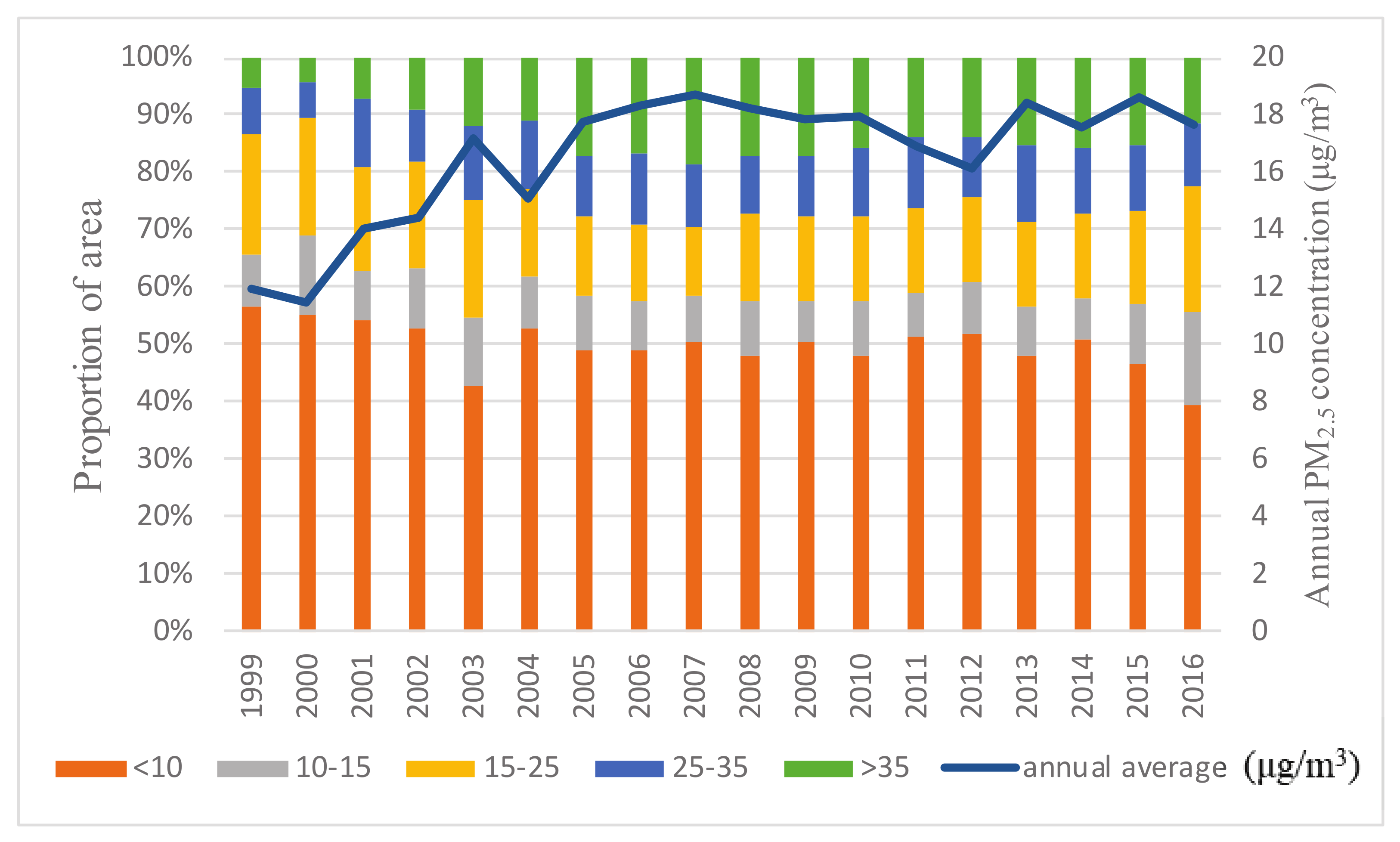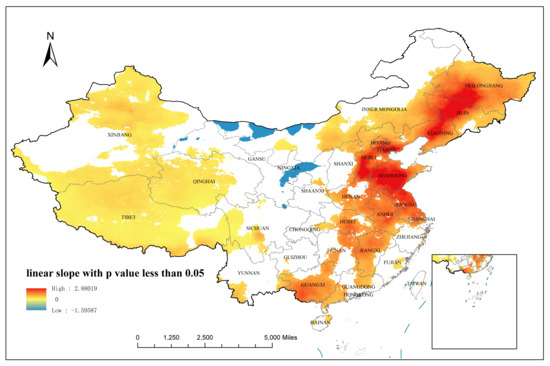 Figure 2. Geographic distribution of trend analysis of PM concentration in China during 1999–2016 (areas of increasing trend in red, and decreasing trend in blue).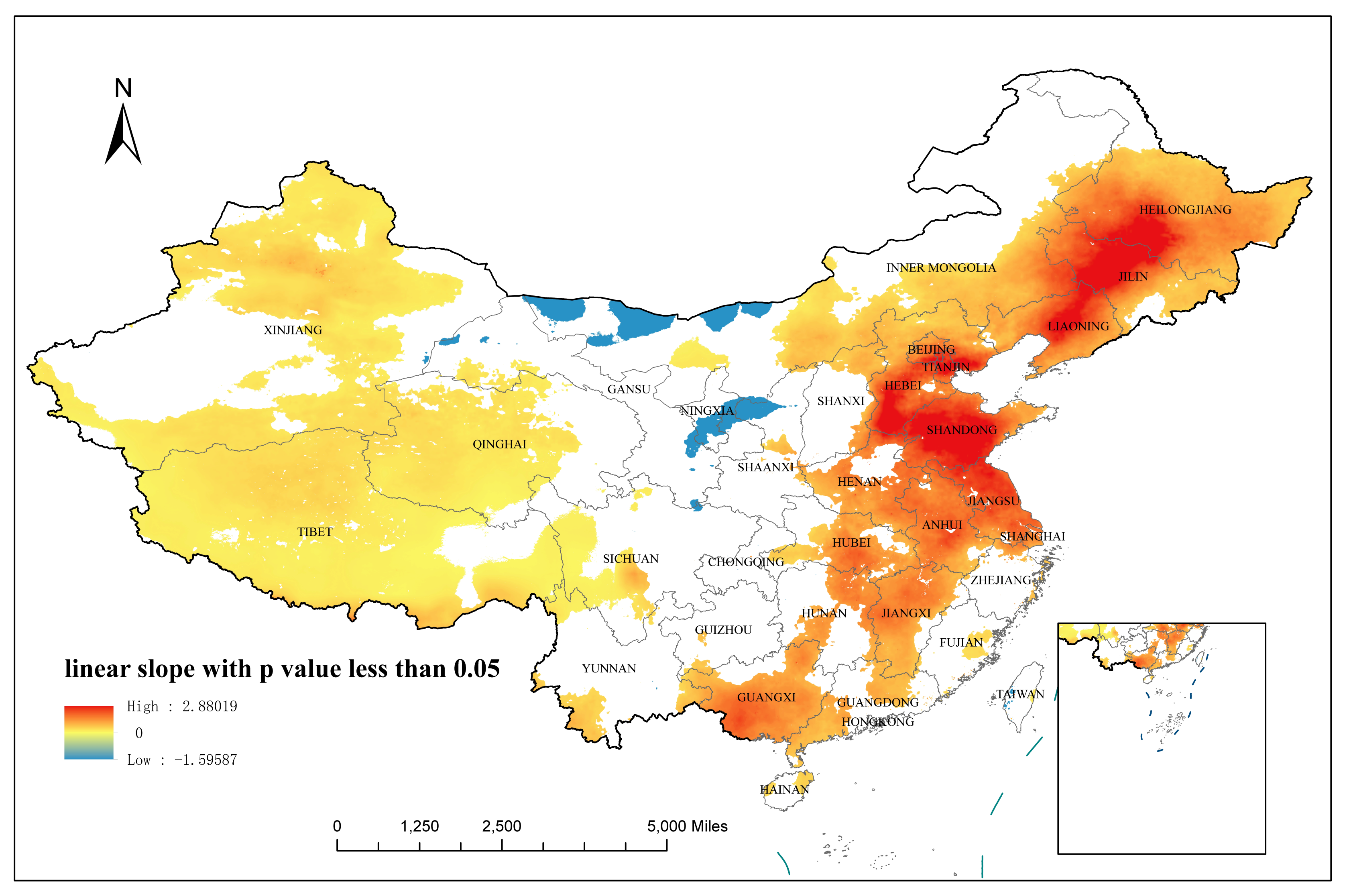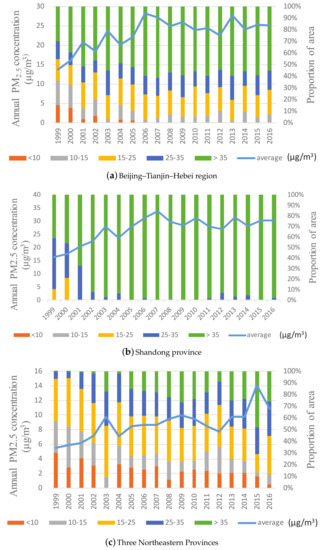 Figure 3. Trend analysis of annual average PM2.5 concentrations during 1999–2016 for regions ((a) Beijing–Tianjin–Hebei region. (b) Shandong province. (c) Three Northeastern Provinces.)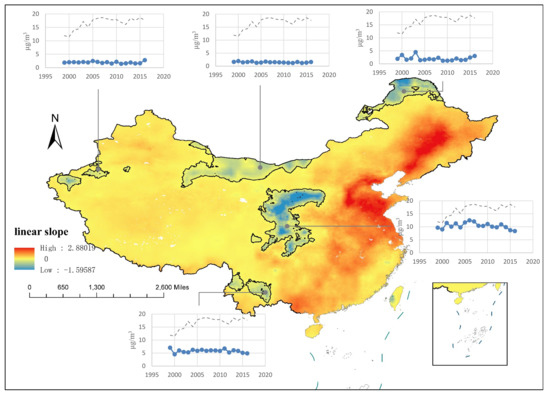 Figure 4. Trajectories of annual PM concentration values over regions of the negative trend (the gray dashed lines are national annual average PM concentration values, and the blue lines are annual average PM concentration values for the corresponding regions).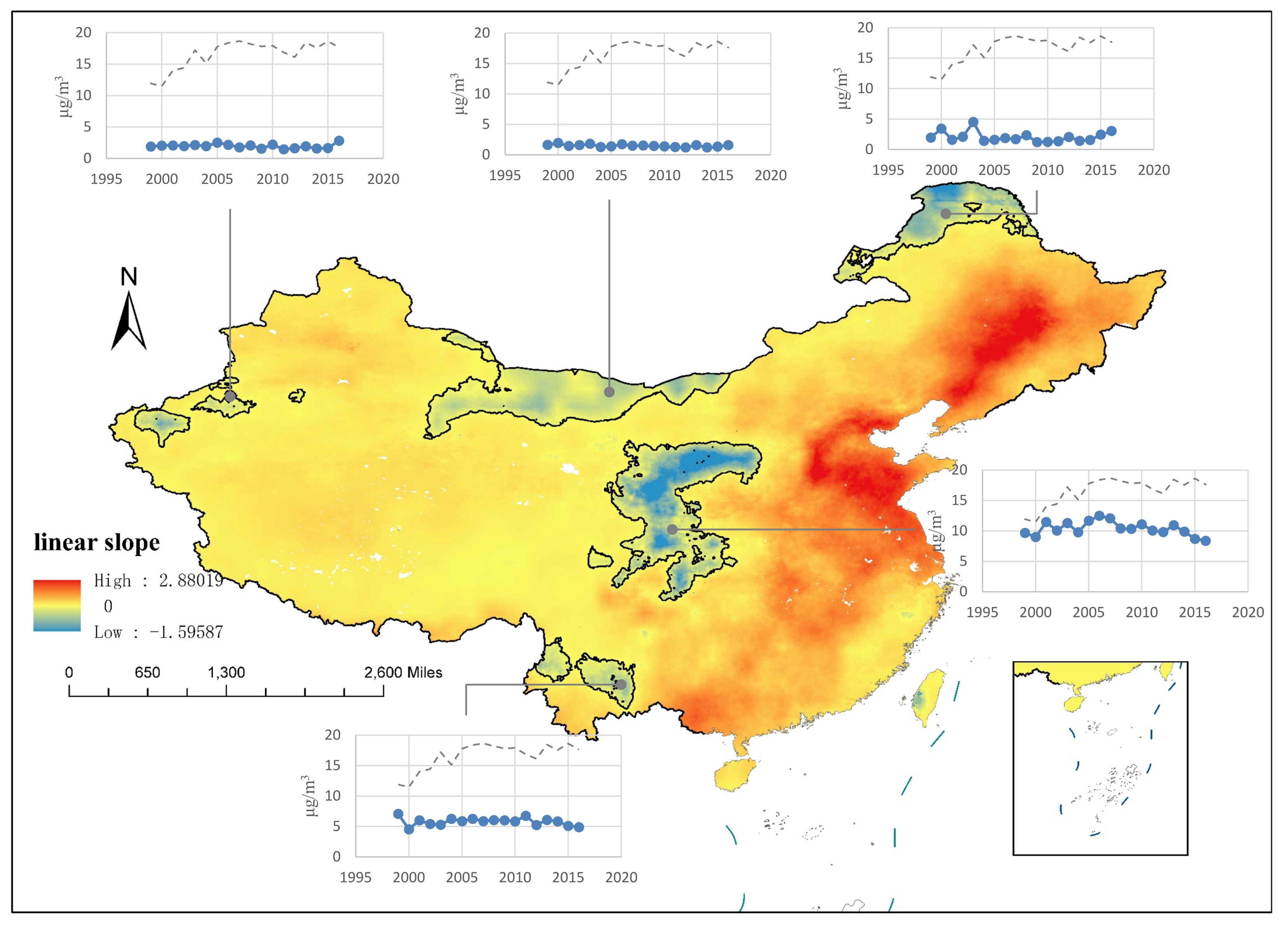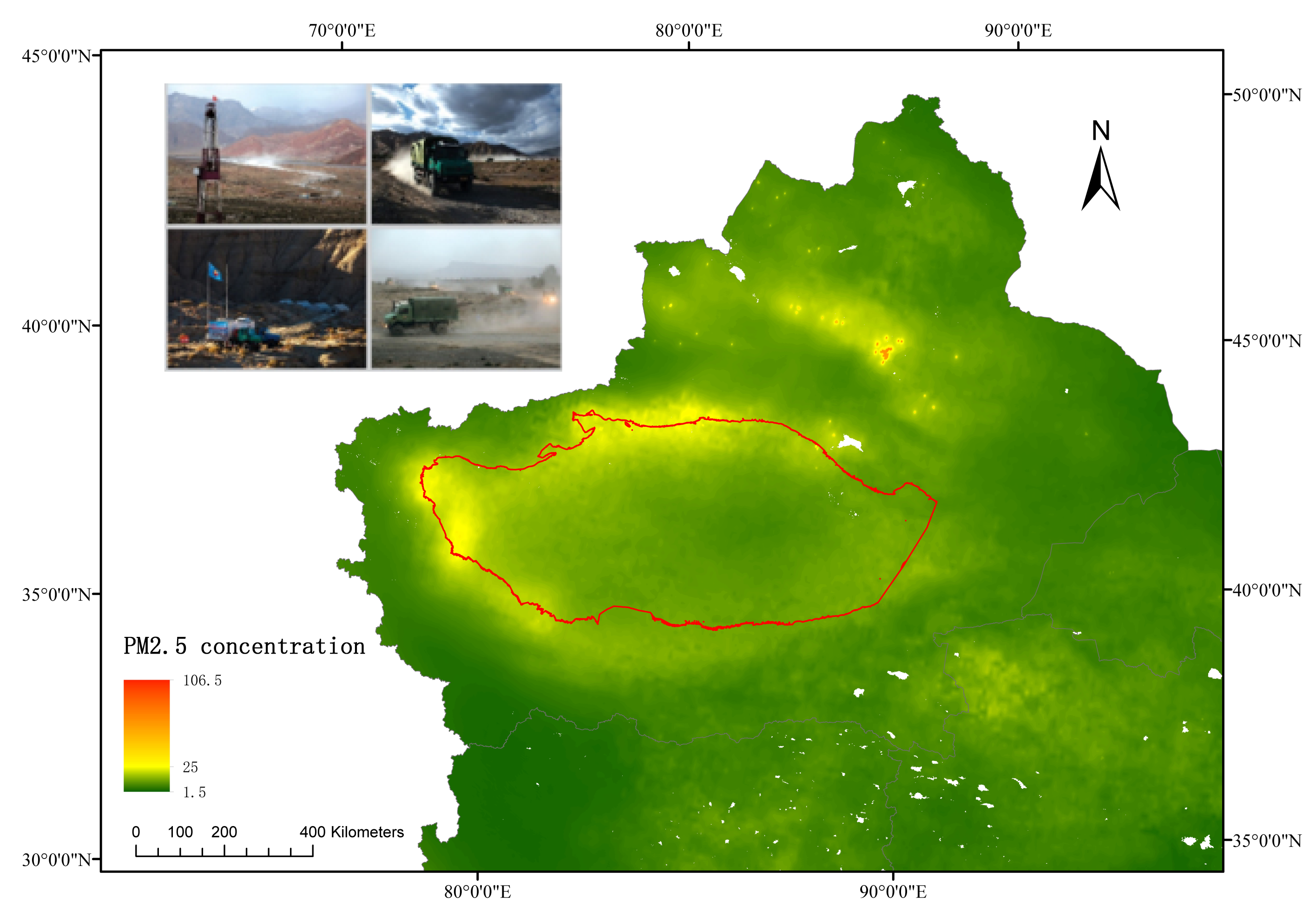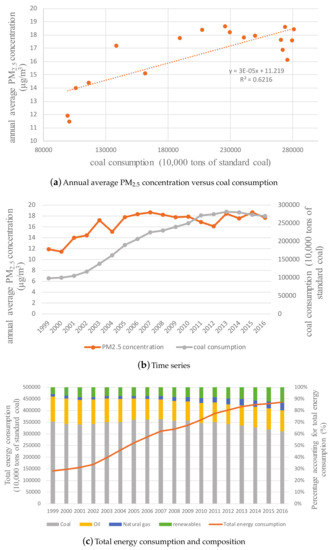 Figure 6.
Relationship of annual average PM
2.5
concentration to coal consumption. ((
a
) Scatterplot of annual average PM
2.5
concentration versus annual coal consumption with linear regression lines. (
b
) Time series of average PM
2.5
concentration and coal consumption for each year. (
c
) Total energy consumption and composition of China from 1999 to 2016 [
36
]).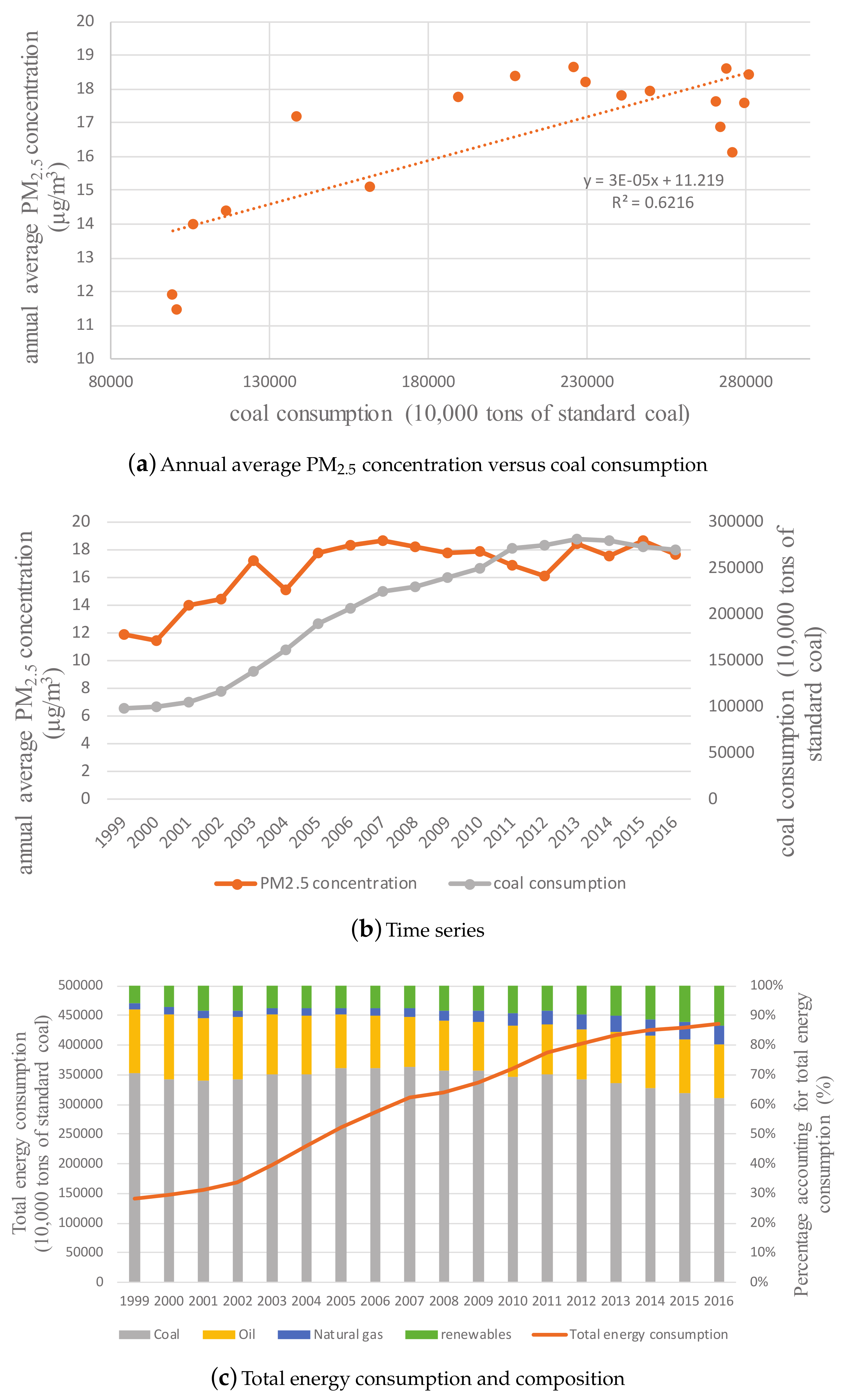 © 2019 by the authors. Licensee MDPI, Basel, Switzerland. This article is an open access article distributed under the terms and conditions of the Creative Commons Attribution (CC BY) license (http://creativecommons.org/licenses/by/4.0/).