Non-Coding RNAs and Endometrial Cancer
1
Department of Obstetrics and Gynaecology, Misericordia Hospital Grosseto, Usl Sud-Est Toscana, 58100 Grosseto, Italy
2
Department of Obstetrics and Gynaecology, San Camillo-Forlanini Hospital, 00152 Rome, Italy
3
Department of Pediatric Surgery and Urology, San Camillo-Forlanini Hospital, 00152 Rome, Italy
4
Unit of Forensic Toxicology (UoFT), Department of Anatomical Histological, Forensic and Orthopedic Sciences, Sapienza University of Rome, 00185 Roma, Italy
5
Department of Obstetrics and Gynaecology, Santa Maria alla Gruccia Hospital Valdarno, Usl Sud-Est Toscana, 52025 Montevarchi, Italy
6
Department of Urology, San Camillo-Forlanini Hospital, 00152 Rome, Italy
7
Department of Urology, Misericordia Hospital Grosseto, Usl Sud-Est Toscana, 58100 Grosseto, Italy
8
Institute of Molecular Biology and Pathology, Italian National Research Council, 00185 Rome, Italy
9
Unit of Human Microbiome, Bambino Gesù Children's Hospital, IRCCS, 00165 Rome, Italy
10
Unit of Parasitology, Bambino Gesù Children's Hospital, IRCCS, 00165 Rome, Italy
*
Author to whom correspondence should be addressed.
Received: 21 January 2018 / Revised: 13 March 2018 / Accepted: 27 March 2018 / Published: 29 March 2018
Abstract
Non-coding RNAs (ncRNAs) are involved in the regulation of cell metabolism and neoplastic transformation. Recent studies have tried to clarify the significance of these information carriers in the genesis and progression of various cancers and their use as biomarkers for the disease; possible targets for the inhibition of growth and invasion by the neoplastic cells have been suggested. The significance of ncRNAs in lung cancer, bladder cancer, kidney cancer, and melanoma has been amply investigated with important results. Recently, the role of long non-coding RNAs (lncRNAs) has also been included in cancer studies. Studies on the relation between endometrial cancer (EC) and ncRNAs, such as small ncRNAs or micro RNAs (miRNAs), transfer RNAs (tRNAs), ribosomal RNAs (rRNAs), antisense RNAs (asRNAs), small nuclear RNAs (snRNAs), Piwi-interacting RNAs (piRNAs), small nucleolar RNAs (snoRNAs), competing endogenous RNAs (ceRNAs), lncRNAs, and long intergenic ncRNAs (lincRNAs) have been published. The recent literature produced in the last three years was extracted from PubMed by two independent readers, which was then selected for the possible relation between ncRNAs, oncogenesis in general, and EC in particular.
View Full-Text
►

▼

Figures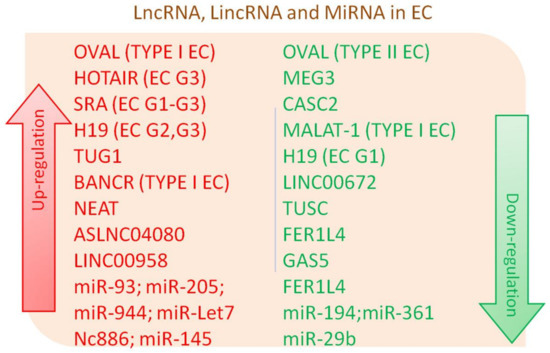 Figure 1
This is an open access article distributed under the
Creative Commons Attribution License
which permits unrestricted use, distribution, and reproduction in any medium, provided the original work is properly cited (CC BY 4.0).

Share & Cite This Article
MDPI and ACS Style
Vallone, C.; Rigon, G.; Gulia, C.; Baffa, A.; Votino, R.; Morosetti, G.; Zaami, S.; Briganti, V.; Catania, F.; Gaffi, M.; Nucciotti, R.; Costantini, F.M.; Piergentili, R.; Putignani, L.; Signore, F. Non-Coding RNAs and Endometrial Cancer. Genes 2018, 9, 187.
Note that from the first issue of 2016, MDPI journals use article numbers instead of page numbers. See further details here.
Related Articles
Comments
[Return to top]