Valproic Acid Inhibits Proliferation and Reduces Invasiveness in Glioma Stem Cells Through Wnt/β Catenin Signalling Activation
1
School of Medicine and Surgery, University of Milano-Bicocca, via Cadore 48, 20900 Monza, Italy
2
NeuroMI, Milan Center of Neuroscience, Department of Neurology and Neuroscience, University of Milano-Bicocca, San Gerardo Hospital, via Pergolesi, 20900 Monza, Italy
3
Ph.D. Program in Neuroscience, University of Milano-Bicocca, via Cadore 48, 20900 Monza, Italy
4
Department of Neurology and Neurosurgery, Montreal Neurological Institute and Hospital, McGill University, Montreal, QC H3A 2B4, Canada
5
International Center for Digestive Health, University of Milano-Bicocca, 20126 Milano, Italy
6
Schools of Medicine and Dentistry, University of Plymouth, Plymouth, Devon PL6 8BT, UK
7
Liver Center, Section of Digestive Diseases, Yale University School of Medicine, New Haven, CT 06510, USA
*
Author to whom correspondence should be addressed.
†
These authors contributed equally to this work.
Received: 19 September 2018 / Revised: 17 October 2018 / Accepted: 22 October 2018 / Published: 26 October 2018
Abstract
Glioblastoma is the most common malignant brain tumour in adults. The failure of current therapies can be ascribed to glioma stem cells (GSCs), which can rapidly repopulate the tumour following the initial treatment. The study of histone deacetylase inhibitors, such as valproic acid (VPA), is becoming an attractive field in cancer research. However, the exact mechanisms underlying its anti-cancer effect remain to be elucidated due to its pleiotropic effects on several cell-signalling pathways. Ingenuity Pathway Analysis (IPA) bioinformatics analysis was performed on genome-wide data regarding GSCs methylome to identify the signalling pathways mainly affected by methylation changes induced by VPA. Real time PCR and luciferase reporter assay were used to better investigate VPA effects on Wnt/β-catenin signalling pathway. VPA effect on GSC proliferation was evaluated by 3-(4,5-Dimethylthiazol-2-yl)-2,5-Diphenyltetrazolium Bromide (MTT) and Trypan blue assays. Finally, VPA impact on GSC motility was demonstrated by Boyden chamber assay and further confirmed evaluating the expression levels or localisation, through western blot or immunofluorescence, of Twist1, Snail1, E-Cadherin and N-Cadherin. The bioinformatics analyses performed on GSCs methylome highlighted that Wnt/β-catenin signalling was affected by the methylation changes induced by VPA, which could influence its activation status. In particular, we pointed out a general activation of this pathway after VPA exposure, which was accompanied by an inhibitory potential on GSCs proliferation. Finally, we also proved VPA's ability to inhibit GSCs invasion through Snail1 and Twist1 downregulation and E-Cadherin relocalisation. VPA treatment may represent a new, interesting therapeutic approach to affect GSC proliferation and motility, but further investigations are certainly needed.
View Full-Text
►

▼

Figures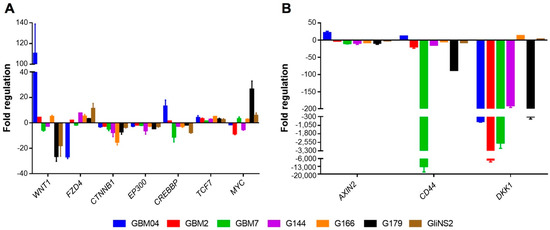 Figure 1
This is an open access article distributed under the
Creative Commons Attribution License
which permits unrestricted use, distribution, and reproduction in any medium, provided the original work is properly cited (CC BY 4.0).

Share & Cite This Article
MDPI and ACS Style
Riva, G.; Cilibrasi, C.; Bazzoni, R.; Cadamuro, M.; Negroni, C.; Butta, V.; Strazzabosco, M.; Dalprà, L.; Lavitrano, M.; Bentivegna, A. Valproic Acid Inhibits Proliferation and Reduces Invasiveness in Glioma Stem Cells Through Wnt/β Catenin Signalling Activation. Genes 2018, 9, 522.
Note that from the first issue of 2016, MDPI journals use article numbers instead of page numbers. See further details here.
Related Articles
Comments
[Return to top]