Chromosome Painting in Neotropical Long- and Short-Tailed Parrots (Aves, Psittaciformes): Phylogeny and Proposal for a Putative Ancestral Karyotype for Tribe Arini
1
Programa de Pós-Graduação em Genética e Biologia Molecular, Universidade Federal do Pará, Belém, Pará 66075-110, Brazil
2
Laboratório de Cultura de Tecidos e Citogenética, SAMAM, Instituto Evandro Chagas, Ananindeua, Pará 67030-000, Brazil
3
Cambridge Resource Centre for Comparative Genomics, Cambridge CB3 0ES, UK
4
Programa de Pós-Graduação em Genética e Biologia Molecular, Universidade Federal do Rio Grande do Sul, Porto Alegre, Rio Grande do Sul 91509-900, Brazil
5
Programa de Pós-Graduação em Ciências Biológicas, Laboratório de Diversidade Genética Animal, Universidade Federal do Pampa, São Gabriel, Rio Grande do Sul 97300-162, Brazil
6
Faculdade de Ciências Naturais, Instituto de Ciências Exatas e Naturais, Universidade Federal do Pará, Belém, Pará 66075-110, Brazil
*
Author to whom correspondence should be addressed.
Received: 9 August 2018 / Revised: 2 October 2018 / Accepted: 4 October 2018 / Published: 10 October 2018
Abstract
Most Neotropical Psittacidae have a diploid number of 2n = 70, and a dichotomy in chromosome patterns. Long-tailed species have biarmed macrochromosomes, while short-tailed species have telo/acrocentric macrochromosomes. However, the use of chromosome painting has demonstrated that karyotype evolution in Psittacidae includes a high number of inter/intrachromosomal rearrangements. To determine the phylogeny of long- and short-tailed species, and to propose a putative ancestral karyotype for this group, we constructed homology maps of
Pyrrhura frontalis
(PFR) and
Amazona aestiva
(AAE), belonging to the long- and short-tailed groups, respectively. Chromosomes were analyzed by conventional staining and fluorescent in situ hybridization using whole chromosome paints of
Gallus
gallus
and
Leucopternis albicollis
. Conventional staining showed a karyotype with 2n = 70 in both species, with biarmed macrochromosomes in PFR and telo/acrocentric chromosomes in AAE. Comparison of the results with the putative avian ancestral karyotype (PAK) showed fusions in PFR of PAK1p/PAK4q (PFR1) and PAK6/PAK7 (PFR6) with a paracentric inversion in PFR6. However, in AAE, there was only the fusion between PAK6/7 (AAE7) with a paracentric inversion. Our results indicate that PFR retained a more basal karyotype than long-tailed species previously studied, and AAE a more basal karyotype for Neotropical Psittacidae analyzed so far.
View Full-Text
►

▼

Figures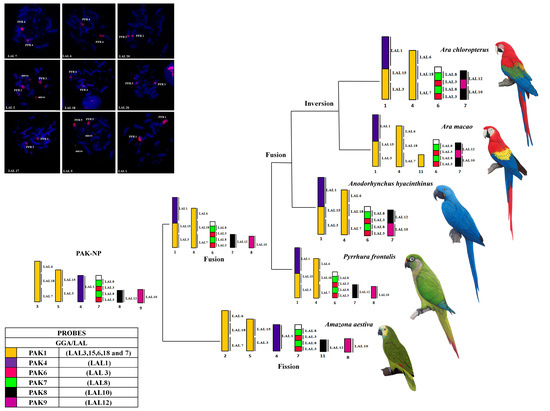 Graphical abstract
This is an open access article distributed under the
Creative Commons Attribution License
which permits unrestricted use, distribution, and reproduction in any medium, provided the original work is properly cited (CC BY 4.0).

Share & Cite This Article
MDPI and ACS Style
Furo, I.D.O.; Kretschmer, R.; O'Brien, P.C.M.; Pereira, J.C.; Garnero, A.D.V.; Gunski, R.J.; Ferguson-Smith, M.A.; De Oliveira, E.H.C. Chromosome Painting in Neotropical Long- and Short-Tailed Parrots (Aves, Psittaciformes): Phylogeny and Proposal for a Putative Ancestral Karyotype for Tribe Arini. Genes 2018, 9, 491.
Note that from the first issue of 2016, MDPI journals use article numbers instead of page numbers. See further details here.
Related Articles
Comments
[Return to top]