Identification of Transposable Elements Contributing to Tissue-Specific Expression of Long Non-Coding RNAs
1
Department of Electrical Engineering and Bioscience, Faculty of Science and Engineering, Waseda University, 55N-06-10, 3-4-1, Okubo Shinjuku-ku, Tokyo 169-8555, Japan
2
Computational Bio Big-Data Open Innovation Laboratory (CBBD-OIL), National Institute of Advanced Industrial Science and Technology (AIST), 63-520, 3-4-1, Okubo Shinjuku-ku, Tokyo 169-8555, Japan
3
Graduate School of Frontier Sciences, University of Tokyo, 5-1-5 Kashiwanoha, Kashiwa, 277-8562 Chiba, Japan
4
Artificial Intelligence Research Center (AIRC), National Institute of Advanced Industrial Science and Technology (AIST), 2-3-26, Aomi, Koto-ku, Tokyo 135-0064, Japan
5
Institute for Medical-oriented Structural Biology, Waseda University, 2-2, Wakamatsu-cho, Shinjuku-ku, Tokyo 162-8480, Japan
6
Graduate School of Medicine, Nippon Medical School, 1-1-5, Sendagi, Bunkyo-ku, Tokyo 113-8602, Japan
*
Author to whom correspondence should be addressed.
Received: 30 November 2017 / Revised: 24 December 2017 / Accepted: 28 December 2017 / Published: 9 January 2018
Abstract
It has been recently suggested that transposable elements (TEs) are re-used as functional elements of long non-coding RNAs (lncRNAs). This is supported by some examples such as the human endogenous retrovirus subfamily H (HERVH) elements contained within lncRNAs and expressed specifically in human embryonic stem cells (hESCs), as required to maintain hESC identity. There are at least two unanswered questions about all lncRNAs. How many TEs are re-used within lncRNAs? Are there any other TEs that affect tissue specificity of lncRNA expression? To answer these questions, we comprehensively identify TEs that are significantly related to tissue-specific expression levels of lncRNAs. We downloaded lncRNA expression data corresponding to normal human tissue from the Expression Atlas and transformed the data into tissue specificity estimates. Then, Fisher's exact tests were performed to verify whether the presence or absence of TE-derived sequences influences the tissue specificity of lncRNA expression. Many TE–tissue pairs associated with tissue-specific expression of lncRNAs were detected, indicating that multiple TE families can be re-used as functional domains or regulatory sequences of lncRNAs. In particular, we found that the antisense promoter region of L1PA2, a LINE-1 subfamily, appears to act as a promoter for lncRNAs with placenta-specific expression.
View Full-Text
►

▼

Figures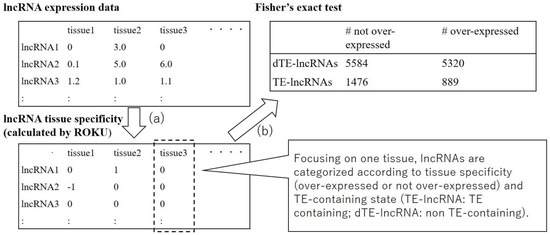 Figure 1
This is an open access article distributed under the
Creative Commons Attribution License
which permits unrestricted use, distribution, and reproduction in any medium, provided the original work is properly cited (CC BY 4.0).

Share & Cite This Article
MDPI and ACS Style
Chishima, T.; Iwakiri, J.; Hamada, M. Identification of Transposable Elements Contributing to Tissue-Specific Expression of Long Non-Coding RNAs. Genes 2018, 9, 23.
Note that from the first issue of 2016, MDPI journals use article numbers instead of page numbers. See further details here.
Related Articles
Comments
[Return to top]