Functional Analysis of the rs774872314, rs116171003, rs200231898 and rs201107751 Polymorphisms in the Human
RORγT

Gene Promoter Region

1

Laboratory of TranscriptionalRegulation, Institute of MedicalBiology, PolishAcademy of Sciences, 93-232 Lodz, Poland

2

BiobankLab, Department of MolecularBiophysics, Faculty of Biology and Environmental Protection, University of Lodz, 90-237 Lodz, Poland

3

MycobacteriumGenetics and Physiology Unit, Institute of MedicalBiology, PolishAcademy of Sciences, 93-232 Lodz, Poland

4

Laboratory of Cellular Immunology, Institute of MedicalBiology, PolishAcademy of Sciences, 93-232 Lodz, Poland

*

Author to whom correspondence should be addressed.

Academic Editor: Santiago Rodriguez

Received: 20 March 2017 / Revised: 12 April 2017 / Accepted: 13 April 2017 / Published: 21 April 2017
Abstract
RAR-related orphan receptor gamma RORγT, a tissue-specific isoform of the
RORC
gene, plays a critical role in the development of naive CD4+ cells into fully differentiated Th17 lymphocytes. Th17 lymphocytes are part of the host defense against numerous pathogens and are also involved in the pathogenesis of inflammatory diseases, including autoimmune disorders. In this study, we functionally examined four naturally occurring polymorphisms located within one of the previously identified GC-boxes in the promoter region of the gene. The single nucleotide polymorphisms (SNPs) rs774872314, rs116171003 and rs201107751 negatively influenced the activity of the
RORγT
promoter in a gene reporter system and eliminated or reduced Sp1 and Sp2 transcription factor binding, as evidenced by the electrophoretic mobility shift assay (EMSA) technique. Furthermore, we investigated the frequency of these SNPs in the Polish population and observed the presence of rs116171003 at a frequency of 3.42%. Thus, our results suggest that polymorphisms within the
RORγT
promoter occurring at significant rates in populations affect promoter activity. This might have phenotypic effects in immune systems, which is potentially significant for implicating pathogenetic mechanisms under certain pathological conditions, such as autoimmune diseases and/or primary immunodeficiencies (e.g., immunoglobulin E (IgE) syndrome).
View Full-Text
►

▼

Figures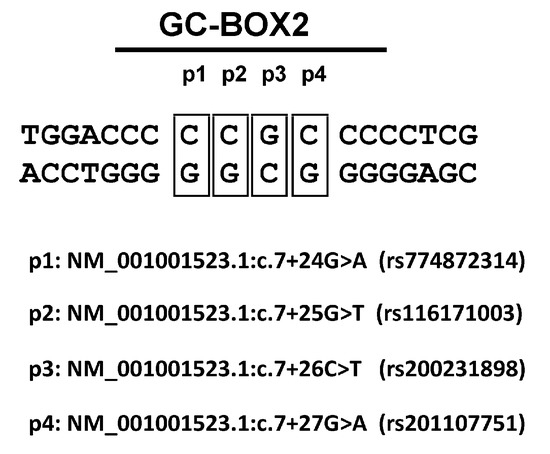 Figure 1
This is an open access article distributed under the
Creative Commons Attribution License
which permits unrestricted use, distribution, and reproduction in any medium, provided the original work is properly cited (CC BY 4.0).

Share & Cite This Article
MDPI and ACS Style
Ratajewski, M.; Słomka, M.; Karaś, K.; Sobalska-Kwapis, M.; Korycka-Machała, M.; Sałkowska, A.; Dziadek, J.; Strapagiel, D.; Dastych, J. Functional Analysis of the rs774872314, rs116171003, rs200231898 and rs201107751 Polymorphisms in the Human RORγT Gene Promoter Region. Genes 2017, 8, 126.
Note that from the first issue of 2016, MDPI journals use article numbers instead of page numbers. See further details here.
Related Articles
Comments
[Return to top]