Shedding Light on a Secretive Tertiary Urodelean Relict: Hynobiid Salamanders (
Paradactylodon persicus

s.l.) from Iran, Illuminated by Phylogeographic, Developmental, and Transcriptomic Data

1

Leibniz-Institute of Freshwater Ecology and Inland Fisheries (IGB), Müggelseedamm 301, D-12587 Berlin, Germany

2

Department of Biology, Faculty of Sciences, Shahid Chamran University of Ahvaz, Ahvaz 61357-43135, Iran

3

Department of Evolutionary Biology and Conservation of Vertebrates, Wroclaw University, Sienkiewicza 21, 50-335 Wroclaw, Poland

4

Evolutionary Genetics Department, Leibniz-Institute for Zoo and Wildlife Research, Alfred-Kowalke-Str. 17, 10315 Berlin, Germany

5

Department of Biology, College of Sciences, Shiraz University, Shiraz 71467-13565, Iran

6

School of Biological Sciences, Flinders University, Adelaide, SA 5001, Australia

7

Independent Researcher, Spangenbergstraße 81, D-06295 Eisleben, Germany

8

Zoologische Staatssammlung, Münchhausenstraße 21, 81247 München, Germany

9

Department of Biology, Faculty of Sciences, Golestan University, Gorgan 49136-15759, Iran

*

Author to whom correspondence should be addressed.

Received: 17 March 2019 / Revised: 10 April 2019 / Accepted: 11 April 2019 / Published: 18 April 2019
Abstract
The Hyrcanian Forests present a unique Tertiary relict ecosystem, covering the northern Elburz and Talysh Ranges (Iran, Azerbaijan), a poorly investigated, unique biodiversity hotspot with many cryptic species. Since the 1970s, two nominal species of Urodela, Hynobiidae,
Batrachuperus
(later:
Paradactylodon
) have been described:
Paradactylodon persicus
from northwestern and
P. gorganensis
from northeastern Iran. Although
P. gorganensis
has been involved in studies on phylogeny and development, there is little data on the phylogeography, systematics, and development of the genus throughout the Hyrcanian Forests; genome-wide resources have been entirely missing. Given the huge genome size of hynobiids, making whole genome sequencing hardly affordable, we aimed to publish the first transcriptomic resources for
Paradactylodon
from an embryo and a larva (9.17 Gb RNA sequences; assembled to 78,918 unigenes). We also listed 32 genes involved in vertebrate sexual development and sex determination. Photographic documentation of the development from egg sacs across several embryonal and larval stages until metamorphosis enabled, for the first time, comparison of the ontogeny with that of other hynobiids and new histological and transcriptomic insights into early gonads and timing of their differentiation. Transcriptomes from central Elburz, next-generation sequencing (NGS) libraries of archival DNA of topotypic
P. persicus
, and GenBank-sequences of eastern
P. gorganensis
allowed phylogenetic analysis with three mitochondrial genomes, supplemented by PCR-amplified mtDNA-fragments from 17 museum specimens, documenting <2% uncorrected intraspecific genetic distance. Our data suggest that these rare salamanders belong to a single species
P. persicus
s.l. Humankind has a great responsibility to protect this species and the unique biodiversity of the Hyrcanian Forest ecosystems.
View Full-Text
►

▼

Figures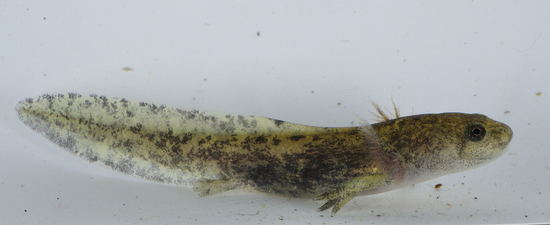 Graphical abstract
This is an open access article distributed under the
Creative Commons Attribution License
which permits unrestricted use, distribution, and reproduction in any medium, provided the original work is properly cited (CC BY 4.0).

Share & Cite This Article
MDPI and ACS Style
Stöck, M.; Fakharzadeh, F.; Kuhl, H.; Rozenblut-Kościsty, B.; Leinweber, S.; Patel, R.; Ebrahimi, M.; Voitel, S.; Schmidtler, J.F.; Kami, H.G.; Ogielska, M.; Förster, D.W. Shedding Light on a Secretive Tertiary Urodelean Relict: Hynobiid Salamanders (Paradactylodon persicus s.l.) from Iran, Illuminated by Phylogeographic, Developmental, and Transcriptomic Data. Genes 2019, 10, 306.
Note that from the first issue of 2016, MDPI journals use article numbers instead of page numbers. See further details here.
Related Articles
Comments
[Return to top]