Azathioprine Biotransformation in Young Patients with Inflammatory Bowel Disease: Contribution of Glutathione-S Transferase M1 and A1 Variants
1
Centro di Riferimento Oncologico, IRCCS, 33081 Aviano, Italy
2
Institute for Maternal and Child Health IRCCS Burlo Garofolo, 34137 Trieste, Italy
3
Department of Life Sciences, University of Trieste, 34127 Trieste, Italy
4
Department of Medical, Surgical and Health Sciences, University of Trieste, 34149 Trieste, Italy
5
Sanitary Services Agency 1, 34129 Trieste, Italy
*
Author to whom correspondence should be addressed.
Received: 19 February 2019 / Revised: 1 April 2019 / Accepted: 1 April 2019 / Published: 4 April 2019
Abstract
The contribution of candidate genetic variants involved in azathioprine biotransformation on azathioprine efficacy and pharmacokinetics in 111 young patients with inflammatory bowel disease was evaluated. Azathioprine doses, metabolites thioguanine-nucleotides (TGN) and methylmercaptopurine-nucleotides (MMPN) and clinical effects were assessed after at least 3 months of therapy. Clinical efficacy was defined as disease activity score below 10. Candidate genetic variants (
TPMT
rs1142345, rs1800460, rs1800462,
GSTA1
rs3957357,
GSTM1
, and
GSTT1
deletion) were determined by polymerase chain reaction (PCR) assays and pyrosequencing. Statistical analysis was performed using linear mixed effects models for the association between the candidate variants and the pharmacological variables (azathioprine doses and metabolites). Azathioprine metabolites were measured in 257 samples (median 2 per patient, inter-quartile range IQR 1-3). Clinical efficacy at the first evaluation available resulted better in ulcerative colitis than in Crohn's disease patients (88.0% versus 52.5% responders,
p
= 0.0003, linear mixed effect model, LME). TGN concentration and the ratio TGN/dose at the first evaluation were significantly higher in responder.
TPMT
rs1142345 variant (4.8% of patients) was associated with increased TGN (LME
p
= 0.0042), TGN/dose ratio (LME
p
< 0.0001), decreased azathioprine dose (LME
p
= 0.0087), and MMPN (LME
p
= 0.0011).
GSTM1
deletion (58.1% of patients) was associated with a 18.5% decrease in TGN/dose ratio (LME
p
= 0.041) and 30% decrease in clinical efficacy (LME
p
= 0.0031).
GSTA1
variant (12.8% of patients) showed a trend (
p
= 0.046, LME) for an association with decreased clinical efficacy; however, no significant effect on azathioprine pharmacokinetics could be detected. In conclusion, GSTs variants are associated with azathioprine efficacy and pharmacokinetics.
View Full-Text
►

▼

Figures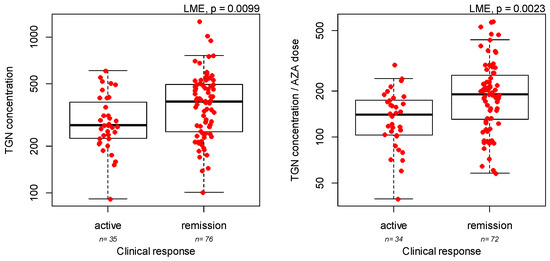 Figure 1
This is an open access article distributed under the
Creative Commons Attribution License
which permits unrestricted use, distribution, and reproduction in any medium, provided the original work is properly cited (CC BY 4.0).

Share & Cite This Article
MDPI and ACS Style
Lucafò, M.; Stocco, G.; Martelossi, S.; Favretto, D.; Franca, R.; Malusà, N.; Lora, A.; Bramuzzo, M.; Naviglio, S.; Cecchin, E.; Toffoli, G.; Ventura, A.; Decorti, G. Azathioprine Biotransformation in Young Patients with Inflammatory Bowel Disease: Contribution of Glutathione-S Transferase M1 and A1 Variants. Genes 2019, 10, 277.
Note that from the first issue of 2016, MDPI journals use article numbers instead of page numbers. See further details here.
Related Articles
Comments
[Return to top]