Genome-Wide Assessment of Avocado Germplasm Determined from Specific Length Amplified Fragment Sequencing and Transcriptomes: Population Structure, Genetic Diversity, Identification, and Application of Race-Specific Markers
1
Haikou Experimental Station, Chinese Academy of Tropical Agricultural Sciences, Haikou 570102, China
2
Tianjin Derit Seed Industry Co. Ltd., Tianjing 300384, China
3
South Subtropical Crops Research Institute, Chinese Academy of Tropical Agricultural Sciences, Zhanjiang 524091, China
4
College of Agriculture, Guangxi Vocational and Technical College, Nanning 530226, China
5
College of Horticulture and Landscape Architecture, Hainan University, Haikou 570228, China
6
Institute of Vegetable, Liaoning Academy of Agricultural Sciences, Shenyang 110161, China
*
Authors to whom correspondence should be addressed.
Received: 29 January 2019 / Revised: 8 March 2019 / Accepted: 8 March 2019 / Published: 13 March 2019
Abstract
Genomic data is a powerful tool. However, the phylogenetic relationships among different ecological races of avocado remain unclear. Here, we used the results from specific length amplified fragment sequencing (SLAF-seq) and transcriptome data to infer the population structure and genetic diversity of 21 avocado cultivars and reconstructed the phylogeny of three ecological races and two interracial hybrids. The results of the three analyses performed (unweighted pair-group methods with arithmetic means (UPGMA) cluster, Principal coordinate analysis (
PCoA
), and STRUCTURE) based on single nucleotide polymorphisms (SNPs) from SLAF-seq all indicated the existence of two populations based on botanical race: Mexican–Guatemalan and West Indian genotype populations. Our results based on SNPs from SLAF-seq indicated that the Mexican and Guatemalan races were more closely related to each other than either was to the West Indian race, which also was confirmed in the UPGMA cluster results based on SNPs from transcriptomic data. SNPs from SLAF-seq provided strong evidence that the Guatemalan, Mexican, and Guatemalan × Mexican hybrid accession possessed higher genetic diversity than the West Indian races and Guatemalan × West Indian hybrid accessions. Six race-specific Kompetitive allele specific PCR (KASP) markers based on SNPs from SLAF-seq were then developed and validated.
View Full-Text
►

▼

Figures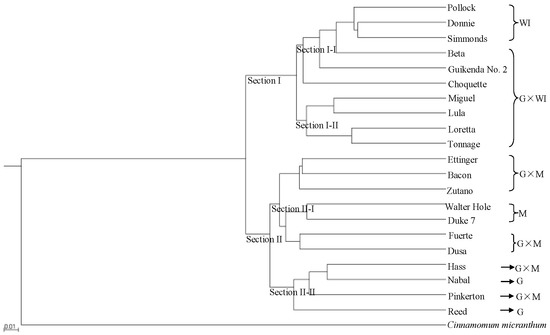 Figure 1
This is an open access article distributed under the
Creative Commons Attribution License
which permits unrestricted use, distribution, and reproduction in any medium, provided the original work is properly cited (CC BY 4.0).

Share & Cite This Article
MDPI and ACS Style
Ge, Y.; Zhang, T.; Wu, B.; Tan, L.; Ma, F.; Zou, M.; Chen, H.; Pei, J.; Liu, Y.; Chen, Z.; Xu, Z.; Wang, T. Genome-Wide Assessment of Avocado Germplasm Determined from Specific Length Amplified Fragment Sequencing and Transcriptomes: Population Structure, Genetic Diversity, Identification, and Application of Race-Specific Markers. Genes 2019, 10, 215.
Note that from the first issue of 2016, MDPI journals use article numbers instead of page numbers. See further details here.
Related Articles
Comments
[Return to top]