Preclinical Evaluation of the Pan-FGFR Inhibitor LY2874455 in FRS2-Amplified Liposarcoma
1
Department of Tumor Biology, Institute of Cancer Research, the Norwegian Radium Hospital, Oslo University Hospital, 0379 Oslo, Norway
2
Norwegian Cancer Genomics Consortium, 0379 Oslo, Norway
3
Centre for Cancer Biomarkers (CCBIO), Department of Clinical Sciences, University of Bergen, 5021 Bergen, Norway
4
KinN Therapeutics AS, 5021 Bergen, Norway
5
Department of Internal Medicine, Hematology Section, Haukeland University Hospital, 5021 Bergen, Norway
6
Genomics Core Facility, Department of Core Facilities, Institute of Cancer Research, the Norwegian Radium Hospital, Oslo University Hospital, 0379 Oslo, Norway
7
Department of Clinical Science, University of Bergen, 5020 Bergen, Norway
*
Author to whom correspondence should be addressed.
Received: 16 January 2019 / Revised: 15 February 2019 / Accepted: 18 February 2019 / Published: 21 February 2019
Abstract
Background:
FGFR inhibition has been proposed as treatment for dedifferentiated liposarcoma (DDLPS) with amplified
FRS2
, but we previously only demonstrated transient cytostatic effects when treating
FRS2
-amplified DDLPS cells with NVP-BGJ398.
Methods:
Effects of the more potent FGFR inhibitor LY2874455 were investigated in three DDLPS cell lines by measuring effects on cell growth and apoptosis
in vitro
and also testing efficacy
in vivo
. Genome, transcriptome and protein analyses were performed to characterize the signaling components in the FGFR pathway.
Results:
LY2874455 induced a stronger, longer-lasting growth inhibitory effect and moderate level of apoptosis for two cell lines. The third cell line, did not respond to FGFR inhibition, suggesting that
FRS2
amplification alone is not sufficient to predict response. Importantly, efficacy of LY2874455 was confirmed
in vivo
, using an independent
FRS2
-amplified DDLPS xenograft model. Expression of
FRS2
was similar in the responding and non-responding cell lines and we could not find any major difference in downstream FGFR signaling. The only FGF expressed by unstimulated non-responding cells was the intracellular ligand FGF11, whereas the responding cell lines expressed extracellular ligand FGF2.
Conclusion:
Our study supports LY2874455 as a better therapy than NVP-BGJ398 for
FRS2
-amplified liposarcoma, and a clinical trial is warranted.
View Full-Text
►

▼

Figures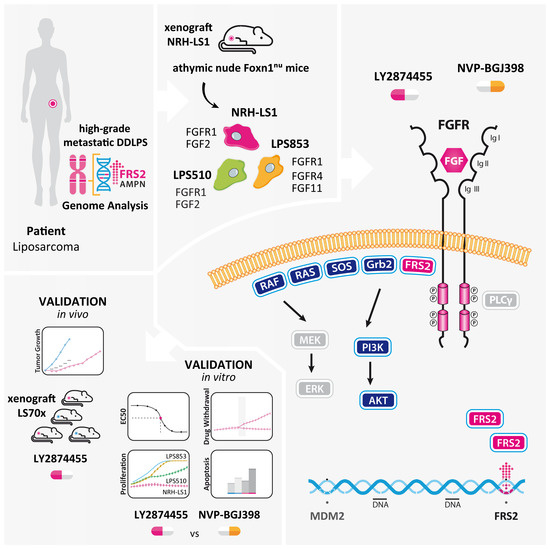 Graphical abstract
This is an open access article distributed under the
Creative Commons Attribution License
which permits unrestricted use, distribution, and reproduction in any medium, provided the original work is properly cited (CC BY 4.0).

Share & Cite This Article
MDPI and ACS Style
Hanes, R.; Munthe, E.; Grad, I.; Han, J.; Karlsen, I.; McCormack, E.; Meza-Zepeda, L.A.; Stratford, E.W.; Myklebost, O. Preclinical Evaluation of the Pan-FGFR Inhibitor LY2874455 in FRS2-Amplified Liposarcoma. Cells 2019, 8, 189.
Note that from the first issue of 2016, MDPI journals use article numbers instead of page numbers. See further details here.
Related Articles
Comments
[Return to top]