Host-Cell Type Dependent Features of Recombinant Human Aquaporin-4 Orthogonal Arrays of Particles—New Insights for Structural and Functional Studies
1
Department of Bioscience, Biotechnologies and Biopharmaceutic, Univ. of Bari "Aldo Moro", 70124 Bari, Italy
2
Fondazione IRCCS Casa Sollievo della Sofferenza, Cancer Stem Cells Unit, 71013 San Giovanni Rotondo (FG), Italy
3
School of Medicine, Basic Medical Sciences, Neuroscience and Sense Organs, Univ. of Bari "Aldo Moro", 70124 Bari, Italy
4
Institute of Biomembranes, Bioenergetics and Molecular Biotechnologies, National Research Council, 70126 Bari, Italy
*
Author to whom correspondence should be addressed.
†
These authors contributed equally to this work.
Received: 27 December 2018 / Revised: 26 January 2019 / Accepted: 1 February 2019 / Published: 2 February 2019
(This article belongs to the Special Issue
Aquaporins
)
Abstract
The CNS plasma-membrane water channel aquaporin-4 (AQP4) is expressed as two major isoforms able to aggregate into supramolecular assemblies known as 'orthogonal arrays of particles' (OAPs). OAP subnanometric features are largely unknown mainly because a method for the expression, isolation, and crystallization of integral human OAPs has not been developed. Here, the human OAP-forming isoform M23-AQP4 was expressed in insect and mammalian cell lines and AQP4 and OAP features evaluated. Native size exclusion chromatography was employed to isolate and analyze authentically folded OAPs, and neuromyelitis optica (NMO)-specific sandwich ELISA was developed to test OAP-integrity. The results demonstrate that in insect cells most AQP4 remains intracellular and unfolded and that OAPs are largely disassembled after the detergent extraction step. In mammalian cells, AQP4 showed regular plasma membrane targeting and OAPs exhibited strong post-extraction stability. Starting from the mammalian cell expression system, we isolated authentically folded OAPs. Together these data suggest a new strategy for expressing and isolating integral recombinant human OAPs and providing new insights into the cell-type dependent OAP-assembly and post-extraction stability, potentially useful to design new approaches for structural and functional studies of OAP and for other plasma membrane proteins organized into supramolecular structures.
View Full-Text
►

▼

Figures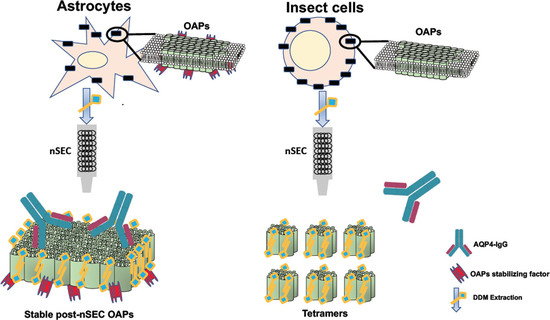 Graphical abstract
This is an open access article distributed under the
Creative Commons Attribution License
which permits unrestricted use, distribution, and reproduction in any medium, provided the original work is properly cited (CC BY 4.0).

Share & Cite This Article
MDPI and ACS Style
Pisani, F.; Simone, L.; Mola, M.G.; De Bellis, M.; Mastrapasqua, M.; Ruggieri, M.; Trojano, M.; Nicchia, G.P.; Svelto, M.; Frigeri, A. Host-Cell Type Dependent Features of Recombinant Human Aquaporin-4 Orthogonal Arrays of Particles—New Insights for Structural and Functional Studies. Cells 2019, 8, 119.
Note that from the first issue of 2016, MDPI journals use article numbers instead of page numbers. See further details here.
Related Articles
Comments
[Return to top]