Paradoxical Role of Matrix Metalloproteinases in Liver Injury and Regeneration after Sterile Acute Hepatic Failure
1
Center for Gastrointestinal Biology, Departamento de Morfologia, Instituto de Ciências Biológicas, Universidade Federal de Minas Gerais, Belo Horizonte, Minas Gerais 31270-901, Brazil
2
Departamento de Biologia Animal, Universidade Federal De Viçosa, Viçosa 36570-900, Brazil
3
Department of Physiology and Pharmacology, University of Calgary, Calgary, AB T2N 4N1, Canada
4
The Hospital for Sick Children, Toronto, ON M5G 0A4, Canada
5
Departamento de Bioquímica e Imunologia, Laboratório de Imunofarmacologia, Universidade Federal de Minas Gerais, Belo Horizonte, Minas Gerais 31270-901, Brazil
6
Ann Romney Center for Neurologic Diseases, Brigham and Women's Hospital, Harvard Medical School, Boston, MA 02115, USA
†
These authors equally contributed to this paper.
*
Author to whom correspondence should be addressed.
Received: 9 November 2018 / Revised: 22 November 2018 / Accepted: 4 December 2018 / Published: 6 December 2018
Abstract
Acetaminophen (APAP) poisoning is one of the leading causes of acute hepatic failure and liver transplantation is often the only lifesaving alternative. During the course of hepatocyte necrosis, an intense accumulation of neutrophils is often observed within the liver microenvironment. Despite the classic idea that neutrophil accumulation in tissues causes collateral tissue damage, there is a growing body of evidence showing that neutrophils can also orchestrate the resolution of inflammation. In this work, drug-induced liver injury was induced by oral administration of APAP and pharmacological intervention was made 12 h after this challenge. Liver injury and repair kinetics were evaluated by a novel combination of enzyme quantifications, ELISA, specific antagonists of neutrophil enzymes and confocal intravital microscopy. We have demonstrated that neutrophil infiltration is not only involved in injury amplification, but also in liver tissue repair after APAP-induced liver injury. In fact, while neutrophil depletion led to reduced hepatic necrosis during APAP poisoning, injury recovery was also delayed in neutropenic mice. The mechanisms underlying the neutrophil reparative role involved rapid degranulation and matrix metalloproteinases (MMPs) activity. Our data highlights the crucial role of neutrophils, in particular for MMPs, in the resolution phase of APAP-induced inflammatory response.
View Full-Text
►

▼

Figures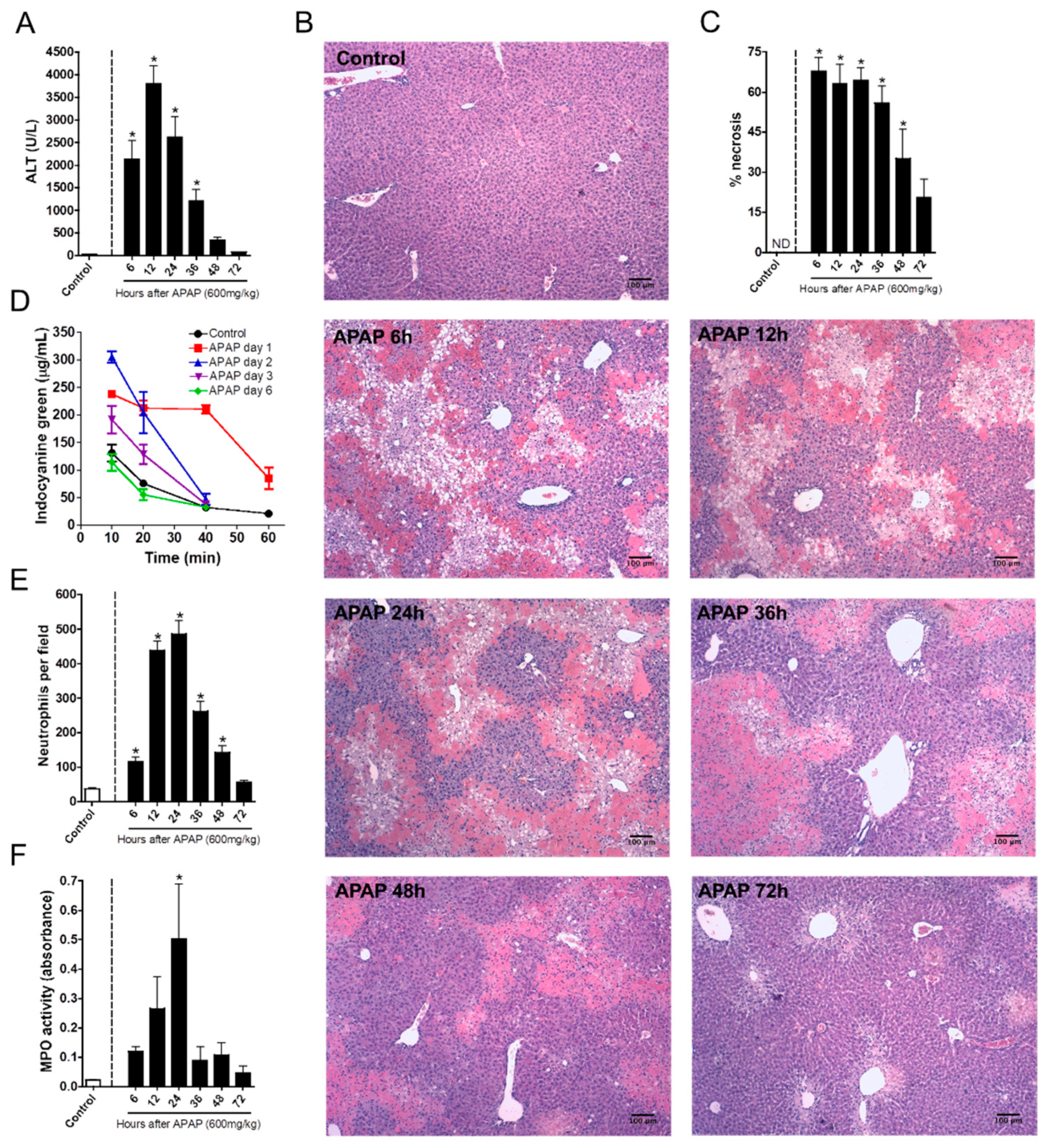 Figure 1
This is an open access article distributed under the
Creative Commons Attribution License
which permits unrestricted use, distribution, and reproduction in any medium, provided the original work is properly cited (CC BY 4.0).

Share & Cite This Article
MDPI and ACS Style
Alvarenga, D.M.; Mattos, M.S.; Lopes, M.E.; Marchesi, S.C.; Araújo, A.M.; Nakagaki, B.N.; Santos, M.M.; David, B.A.; De Souza, V.A.; Carvalho, É.; Sousa Pereira, R.V.; Marques, P.E.; Mafra, K.; De Castro Oliveira, H.M.; De Miranda, C.D.M.; Diniz, A.B.; De Oliveira, T.H.C.; Teixeira, M.M.; Rezende, R.M.; Antunes, M.M.; Menezes, G.B. Paradoxical Role of Matrix Metalloproteinases in Liver Injury and Regeneration after Sterile Acute Hepatic Failure. Cells 2018, 7, 247.
Note that from the first issue of 2016, MDPI journals use article numbers instead of page numbers. See further details here.
Related Articles
Comments
[Return to top]