Theoretical Study of the Electronic and Magnetic Properties and Phase Stability of the Full Heusler Compound Pd2CoAl
1
School of Physical Science and Technology, Southwest University, Chongqing 400715, China
2
Laboratoire de Physique Quantique de la Matière et de Modélisation Mathématique, Université de Mascara, Mascara 29000, Algeria
3
College of Sciences, Hebei North University, Zhangjiakou 075000, China
*
Author to whom correspondence should be addressed.
†
Authors contributed equally.
Received: 30 July 2019 / Revised: 9 August 2019 / Accepted: 13 August 2019 / Published: 14 August 2019
Abstract
Based on first principles calculation, a systematical investigation has been performed to study the electronic, magnetic, dynamic, and mechanical properties of the full Heusler compound Pd
2
CoAl. It is found that the
L
2
1
-type structure is energetically more stable than the
XA
-type due to the lower total energy. The obtained lattice constant in cubic ground state is 6.057 Å, which matches well with previous study. The calculated electronic band structure reveals the metallic nature of Pd
2
CoAl and its total magnetic moment of 1.78 μ
B
is mainly contributed by Co atom from strong spin splitting effect, as indicated with the distinctive distributions of the density of states in two spin directions. Under uniform strains from −5% to +5%, the variation of total magnetic moment has been obtained and it is still caused by the much larger change from Co atom, compared with Pd and Al atoms. The tetragonal structure has further been analyzed and we found that there is possible martensitic phase transformation because the total energy can be further reduced when the cubic structure is varied into the tetragonal one. The large energy difference of 0.165 eV between the tetragonal and cubic phases is found at the c/a ratio of 1.30. The total density of states has been compared between the cubic and tetragonal phases for Pd
2
CoAl and results show tetragonal phase transformation could reduce the states at the Fermi energy level in both directions. In addition, the dynamic and mechanical stabilities have also been evaluated for Pd
2
CoAl in both cubic and tetragonal structures and results confirm that the tetragonal phase shows good stability against the cubic phase, which further verifies that the tetragonal phase transformation is highly expected. In the end, the strong elastic anisotropy in the tetragonal structure has been clearly shown with the calculated directional dependence of the Young's modulus and shear modulus.
View Full-Text
►

▼

Figures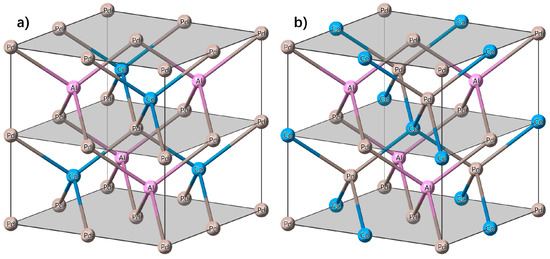 Figure 1
This is an open access article distributed under the
Creative Commons Attribution License
which permits unrestricted use, distribution, and reproduction in any medium, provided the original work is properly cited (CC BY 4.0).

Share & Cite This Article
MDPI and ACS Style
Hao, L.; You, J.; Khenata, R.; Wang, Y.; Wang, X.; Yang, T. Theoretical Study of the Electronic and Magnetic Properties and Phase Stability of the Full Heusler Compound Pd2CoAl. Crystals 2019, 9, 422.
Note that from the first issue of 2016, MDPI journals use article numbers instead of page numbers. See further details here.
Related Articles
Comments
[Return to top]