Quest for Compounds at the Verge of Charge Transfer Instabilities: The Case of Silver(II) Chloride †
1
Center of New Technologies, University of Warsaw, Zwirki i Wigury 93, 02089 Warsaw, Poland
2
Advanced Technologies Research Institute, Faculty of Materials Science and Technology in Trnava, Slovak University of Technology in Bratislava, 917 24 Trnava, Slovakia
3
Institute of Physics, Slovak Academy of Sciences, 845 11 Bratislava, Slovakia
*
Authors to whom correspondence should be addressed.
†
This work is dedicated to the memory of Kazimierz Fajans (1887–1975).
‡
Current Address: Institute of Theoretical Physics, Faculty of Physics, University of Warsaw, 02089 Warsaw, Poland.
Received: 5 July 2019 / Revised: 2 August 2019 / Accepted: 9 August 2019 / Published: 15 August 2019
Abstract
Electron-transfer processes constitute one important limiting factor governing stability of solids. One classical case is that of CuI
2
, which has never been prepared at ambient pressure conditions due to feasibility of charge transfer between metal and nonmetal (CuI
2
→ CuI + ½ I
2
). Sometimes, redox instabilities involve two metal centers, e.g., AgO is not an oxide of divalent silver but rather silver(I) dioxoargentate(III), Ag(I)[Ag(III)O
2
]. Here, we look at the particularly interesting case of a hypothetical AgCl
2
where both types of redox instabilities operate simultaneously. Since standard redox potential of the Ag(II)/Ag(I) redox pair reaches some 2 V versus Normal Hydrogen Electrode (NHE), it might be expected that Ag(II) would oxidize Cl
−
anion with great ease (standard redox potential of the ½ Cl
2
/Cl
−
pair is + 1.36 V versus Normal Hydrogen Electrode). However, ionic Ag(II)Cl
2
benefits from long-distance electrostatic stabilization to a much larger degree than Ag(I)Cl + ½ Cl
2
, which affects relative stability. Moreover, Ag(II) may disproportionate in its chloride, just like it does in an oxide; this is what AuCl
2
does, its formula corresponding in fact to Au(I)[Au(III)Cl
4
]. Formation of polychloride substructure, as for organic derivatives of Cl
3
−
anion, is yet another possibility. All that creates a very complicated potential energy surface with a few chemically distinct minima i.e., diverse polymorphic forms present. Here, results of our theoretical study for AgCl
2
will be presented including outcome of evolutionary algorithm structure prediction method, and the chemical identity of the most stable form will be uncovered together with its presumed magnetic properties. Contrary to previous rough estimates suggesting substantial instability of AgCl
2
, we find that AgCl
2
is only slightly metastable (by 52 meV per formula unit) with respect to the known AgCl and ½ Cl
2
, stable with respect to elements, and simultaneously dynamically (i.e., phonon) stable. Thus, our results point out to conceivable existence of AgCl
2
which should be targeted via non-equilibrium approaches.
View Full-Text
►

▼

Figures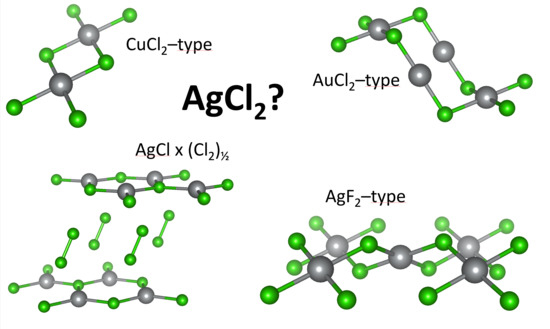 Graphical abstract
This is an open access article distributed under the
Creative Commons Attribution License
which permits unrestricted use, distribution, and reproduction in any medium, provided the original work is properly cited (CC BY 4.0).

Share & Cite This Article
MDPI and ACS Style
Derzsi, M.; Grzelak, A.; Kondratiuk, P.; Tokár, K.; Grochala, W. Quest for Compounds at the Verge of Charge Transfer Instabilities: The Case of Silver(II) Chloride †. Crystals 2019, 9, 423.
Note that from the first issue of 2016, MDPI journals use article numbers instead of page numbers. See further details here.
Related Articles
Comments
[Return to top]