Elasticity of Phases in Fe-Al-Ti Superalloys: Impact of Atomic Order and Anti-Phase Boundaries
1
Institute of Physics of Materials, Czech Academy of Sciences, Žižkova 22, CZ-616 62 Brno, Czech Republic
2
Department of Physical Electronics, Faculty of Science, Masaryk University, Kotlářská 2, CZ-611 37 Brno, Czech Republic
3
Central European Institute of Technology, CEITEC MU, Masaryk University, Kamenice 5, CZ-625 00 Brno, Czech Republic
4
Department of Chemistry, Faculty of Science, Masaryk University, Kotlářská 2, CZ-611 37 Brno, Czech Republic
5
Department of Condensed Matter Physics, Faculty of Science, Masaryk University, Kotlářská 2, CZ-611 37 Brno, Czech Republic
6
Department of Physical Metallurgy and Materials Testing, Franz-Josef-Strasse 18, A-8700 Leoben, Austria
7
Institute of Materials Science and Technology, TU Wien, Getreidemarkt 9, A-1060 Vienna, Austria
8
Institute of Physics, Slovak Academy of Sciences, Dúbravská cesta 9, SK-845 11 Bratislava, Slovakia
9
Max-Planck-Institut für Eisenforschung GmbH, Max-Planck-Str. 1, D-40237 Düsseldorf, Germany
*
Author to whom correspondence should be addressed.
Received: 26 April 2019 / Revised: 4 June 2019 / Accepted: 6 June 2019 / Published: 8 June 2019
Abstract
We combine theoretical and experimental tools to study elastic properties of Fe-Al-Ti superalloys. Focusing on samples with chemical composition Fe
71
Al
22
Ti
7
, we use transmission electron microscopy (TEM) to detect their two-phase superalloy nano-structure (consisting of cuboids embedded into a matrix). The chemical composition of both phases, Fe
66.2
Al
23.3
Ti
10.5
for cuboids and Fe
81
Al
19
(with about 1% or less of Ti) for the matrix, was determined from an Energy-Dispersive X-ray Spectroscopy (EDS) analysis. The phase of cuboids is found to be a rather strongly off-stoichiometric (Fe-rich and Ti-poor) variant of Heusler Fe
2
TiAl intermetallic compound with the L2
1
structure. The phase of the matrix is a solid solution of Al atoms in a ferromagnetic body-centered cubic (bcc) Fe. Quantum-mechanical calculations were employed to obtain an insight into elastic properties of the two phases. Three distributions of chemical species were simulated for the phase of cuboids (A2, B2 and L2
1
) in order to determine a sublattice preference of the excess Fe atoms. The lowest formation energy was obtained when the excess Fe atoms form a solid solution with the Ti atoms at the Ti-sublattice within the Heusler L2
1
phase (L2
1
variant). Similarly, three configurations of Al atoms in the phase of the matrix with different level of order (A2, B2 and D0
3
) were simulated. The computed formation energy is the lowest when all the 1st and 2nd nearest-neighbor Al-Al pairs are eliminated (the D0
3
variant). Next, the elastic tensors of all phases were calculated. The maximum Young's modulus is found to increase with increasing chemical order. Further we simulated an anti-phase boundary (APB) in the L2
1
phase of cuboids and observed an elastic softening (as another effect of the APB, we also predict a significant increase of the total magnetic moment by 140% when compared with the APB-free material). Finally, to validate these predicted trends, a nano-scale dynamical mechanical analysis (nanoDMA) was used to probe elasticity of phases. Consistent with the prediction, the cuboids were found stiffer.
View Full-Text
►

▼

Figures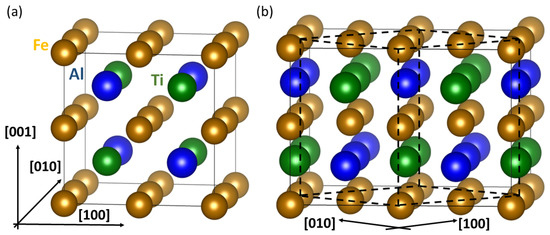 Figure 1
This is an open access article distributed under the
Creative Commons Attribution License
which permits unrestricted use, distribution, and reproduction in any medium, provided the original work is properly cited (CC BY 4.0).

Share & Cite This Article
MDPI and ACS Style
Friák, M.; Buršíková, V.; Pizúrová, N.; Pavlů, J.; Jirásková, Y.; Homola, V.; Miháliková, I.; Slávik, A.; Holec, D.; Všianská, M.; Koutná, N.; Fikar, J.; Janičkovič, D.; Šob, M.; Neugebauer, J. Elasticity of Phases in Fe-Al-Ti Superalloys: Impact of Atomic Order and Anti-Phase Boundaries. Crystals 2019, 9, 299.
Note that from the first issue of 2016, MDPI journals use article numbers instead of page numbers. See further details here.
Related Articles
Comments
[Return to top]