Effect of Rare-Earth Element Oxides on Diamond Crystallization in Mg-Based Systems
1
Sobolev Institute of Geology and Mineralogy SB RAS, Koptyug ave. 3, 630090 Novosibirsk, Russia
2
Department of Geology and Geophysics, Novosibirsk State University, 630090 Novosibirsk, Russia
*
Author to whom correspondence should be addressed.
Received: 14 May 2019 / Revised: 4 June 2019 / Accepted: 10 June 2019 / Published: 11 June 2019
Abstract
Diamond crystallization in Mg-R
2
O
3
-C systems (R = Nd, Sm, Eu, Tb, Dy, Ho, Er, Tm, and Yb) was studied at 7.8 GPa and 1800 °C. It was found that rare-earth oxide additives in an amount of 10 wt % did not significantly affect both the degree of graphite-to-diamond conversion and crystal morphology relative to the Mg-C system. The effect of higher amounts of rare-earth oxide additives on diamond crystallization was studied for a Mg-Sm
2
O
3
-C system with a Sm
2
O
3
content varied from 0 to 50 wt %. It was established that with an increase in the Sm
2
O
3
content in the growth system, the degree of graphite-to-diamond conversion decreased from 80% at 10% Sm
2
O
3
to 0% at 40% Sm
2
O
3
. At high Sm
2
O
3
contents (40 and 50 wt %), instead of diamond, mass crystallization of metastable graphite was established. The observed changes in the degree of the graphite-to-diamond conversion, the changeover of diamond crystallization to the crystallization of metastable graphite, and the changes in diamond crystal morphology with increasing the Sm
2
O
3
content attested the inhibiting effect of rare-earth oxides on diamond crystallization processes in the Mg-Sm-O-C system. The crystallized diamonds were studied by a suite of optical spectroscopy techniques, and the major characteristics of their defect and impurity structures were revealed. For diamond crystals produced with 10 wt % and 20 wt % Sm
2
O
3
additives, a specific photoluminescence signal comprising four groups of lines centered at approximately 580, 620, 670, and 725 nm was detected, which was tentatively assigned to emission characteristic of Sm
3+
ions.
View Full-Text
►

▼

Figures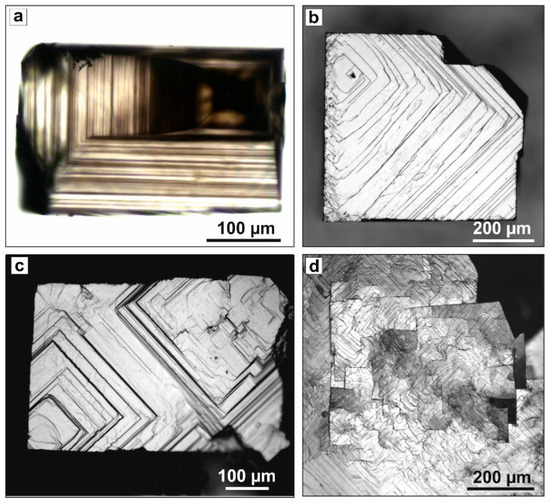 Figure 1
This is an open access article distributed under the
Creative Commons Attribution License
which permits unrestricted use, distribution, and reproduction in any medium, provided the original work is properly cited (CC BY 4.0).

Share & Cite This Article
MDPI and ACS Style
Palyanov, Y.N.; Borzdov, Y.M.; Khokhryakov, A.F.; Kupriyanov, I.N. Effect of Rare-Earth Element Oxides on Diamond Crystallization in Mg-Based Systems. Crystals 2019, 9, 300.
Note that from the first issue of 2016, MDPI journals use article numbers instead of page numbers. See further details here.
Related Articles
Comments
[Return to top]