Filling Tricompartmental Ligands with GdIII and ZnII Ions: Some Structural and MRI Studies
1
Department of Inorganic Chemistry, Faculty of Chemistry, Campus Vida., Universidade de Santiago de Compostela, E 15782 Santiago de Compostela, Spain
2
Instituto de Investigaciones Sanitarias (IDIS), Grupo de Física de Coloides y Polímeros, Departamento de Física de Partículas, Universidade de Santiago de Compostela, E 15782 Santiago de Compostela, Spain
*
Author to whom correspondence should be addressed.
Received: 25 September 2018 / Revised: 12 November 2018 / Accepted: 14 November 2018 / Published: 16 November 2018
Abstract
Here we report the synthesis and characterization of a mononuclear gadolinium complex (
Gd
) and two heteronuclear Zn-Gd complexes (
ZnGd
and
Zn2Gd
), which contain two similar three-armed ligands that display an external compartment suitable for lanthanoid ions, and two internal compartments adequate for zinc (II) ions [H
3
L′ = (2-(3-formyl-2-hydroxy-5-methyl phenyl)-1,3-bis[4 -(3-formyl-2-hydroxy-5-methylphenyl)-3-azabut-3-enyl]-1,3-imidazolidine; H
3
L = 2-(5-bromo-2-hydroxy-3-methoxyphenyl)-1,3-bis[4-(5-bromo-2-hydroxy-3-methoxyphenyl)-3-azabut-3-enyl]-1,3-imidazolidine]. The synthetic methods used were varied, but the use of a metalloligand, [Zn
2
(L)AcO], as starting material was the key factor to obtain the heterotrinuclear complex
Zn2Gd
. The structure of the precursor dinuclear zinc complex is mostly preserved in this complex, since it is based on a compact [Zn
2
Ln(L)(OH)(H
2
O)]
3+
residue, with a µ
3
-OH bridge between the three metal centers, which are almost forming an isosceles triangle. The asymmetric spatial arrangement of other ancillary ligands leads to chirality, what contrasts with the totally symmetric mononuclear gadolinium complex
Gd
. These features were confirmed by the crystal structures of both complexes. Despite the presence of the bulky compartmental Schiff base ligand, the chiral heterotrinuclear complex forms an intricate network which is predominately expanded in two dimensions, through varied H-bonds that connect not only the ancillary ligands, but also the nitrate counterions and some solvated molecules. In addition, some preliminary magnetic resonance imaging (MRI) studies have been made to determine the relaxivities of the three gadolinium complexes, with apparently improved
T
1
and
T
2
relaxivities with increasing zinc nuclearity, since both transversal and longitudinal relaxivities appear to enhance in the sequence
Gd
<
ZnGd
<
Zn2Gd
.
View Full-Text
►

▼

Figures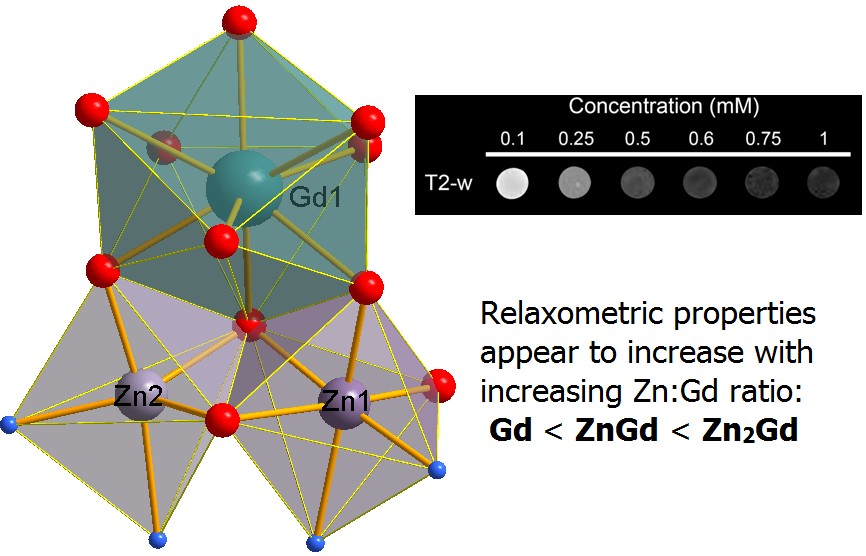 Graphical abstract
This is an open access article distributed under the
Creative Commons Attribution License
which permits unrestricted use, distribution, and reproduction in any medium, provided the original work is properly cited (CC BY 4.0).

Share & Cite This Article
MDPI and ACS Style
Corredoira-Vázquez, J.; Fondo, M.; Sanmartín-Matalobos, J.; Taboada, P.; García-Deibe, A.M. Filling Tricompartmental Ligands with GdIII and ZnII Ions: Some Structural and MRI Studies. Crystals 2018, 8, 431.
Note that from the first issue of 2016, MDPI journals use article numbers instead of page numbers. See further details here.
Related Articles
Comments
[Return to top]