Structural Characterization of Febuxostat/
l

-Pyroglutamic Acid Cocrystal Using Solid-State 13C-NMR and Investigational Study of Its Water Solubility

1

College of Pharmacy, CHA University, Sungnam 13844, Korea

2

R&D Center, J2H biotech, Ansan 15426, Korea

3

College of Pharmacy, Kyungpook National University, Daegu 41566, Korea

*

Authors to whom correspondence should be addressed.

†

These authors contributed equally to this work.

Academic Editors: Srinivasulu Aitipamula and Reginald Tan

Received: 31 October 2017 / Revised: 4 December 2017 / Accepted: 5 December 2017 / Published: 8 December 2017
Abstract
Febuxostat (FB) is a poorly water-soluble drug that belongs to BCS class II. The drug is employed for the treatment of inflammatory disease arthritis urica (gout), and the free base, FB form-A, is most preferred for drug formulation. In order to achieve a goal of improving the water solubility of FB form-A, this study was carried out using the cocrystallization technique called the liquid-assisted grinding method to produce FB cocrystals. Here, five amino acids containing amine (NH), oxygen (O), and hydroxyl (OH) functional groups, and possessing difference of pKa less than 3 with FB, were selected as coformers. Then, solvents including methanol, ethanol, isopropyl alcohol, n-hexane, dichloromethane, and acetone were used for the cocrystal screening. As a result, a cocrystal was obtained when acetone and
l
-pyroglutamic acid (PG) of 0.5 eq. were employed as solvent and coformer, respectively. The ratio of 2:1, which is the ratio of FB to PG within FB-PG cocrystal, was predicted by means of solid-state CP/MAS
13
C-NMR, solution-state NMR (
1
H,
13
C, and 2D) and FT-IR. Moreover, Powder X-ray Diffraction (PXRD), Differential Scanning Calorimetry (DSC), and Thermogravimetric Analysis (TGA) were used to investigate the characteristics of FB-PG cocrystal. In addition, comparative solubility tests between FB-PG cocrystal and FB form-A were conducted in deionized water and under simulated gastrointestinal pH (1.2, 4, and 6.8) conditions. The result revealed that FB-PG cocrystal has a solubility of four-fold higher than FB form-A in deionized water and two-fold and five-fold greater than FB form-A at simulated gastrointestinal pH 1.2 and pH 4, respectively. Besides, solubilities of FB-PG cocrystal and FB form-A at pH 6.8 were similar to the results measured in deionized water. Therefore, it is postulated that FB-PG cocrystal has a potential overcoming the limitations related to the low aqueous solubility of FB form-A. Accordingly, FB-PG cocrystal is suggested as an alternative active pharmaceutical ingredient of the currently used FB form-A.
View Full-Text
►

▼

Figures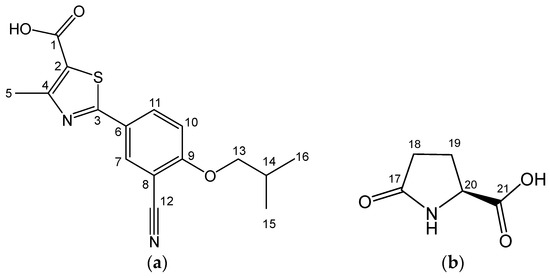 Figure 1
This is an open access article distributed under the
Creative Commons Attribution License
which permits unrestricted use, distribution, and reproduction in any medium, provided the original work is properly cited (CC BY 4.0).

Share & Cite This Article
MDPI and ACS Style
An, J.-H.; Lim, C.; Ryu, H.C.; Kim, J.S.; Kim, H.M.; Kiyonga, A.N.; Park, M.; Suh, Y.-G.; Park, G.H.; Jung, K. Structural Characterization of Febuxostat/l-Pyroglutamic Acid Cocrystal Using Solid-State 13C-NMR and Investigational Study of Its Water Solubility. Crystals 2017, 7, 365.
Note that from the first issue of 2016, MDPI journals use article numbers instead of page numbers. See further details here.
Related Articles
Comments
[Return to top]