Dibenzothiophene Hydrodesulfurization over P-CoMo on Sol-Gel Alumina Modified by La Addition. Effect of Rare-Earth Content
1
Instituto Mexicano del Petróleo, Eje Central Lázaro Cárdenas 152, San Bartolo Atepehuacan, G.A. Madero, Cd. de México 07730, México
2
Facultad de Ciencias Químicas-Centro de Investigación en Recursos Energéticos y Sustentables, Universidad Veracruzana, Campus Coatzacoalcos, Av. Universidad km. 7.5, Col. Santa Isabel, Coatzacoalcos, Veracruz 96538, México
3
Universidad Autónoma del Estado de México. Centro Conjunto de Investigación en Química Sustentable, km. 14.5 Carretera Toluca-Atlacomulco, Toluca, Estado de México 50200, México
4
Departamento de Biociencias e Ingeniería, Centro Interdisciplinario de Investigaciones y Estudios en Medio Ambiente y Desarrollo (CIIEMAD), Instituto Politécnico Nacional, Ciudad de México C.P. 07340, México
*
Author to whom correspondence should be addressed.
Received: 11 March 2019 / Revised: 1 April 2019 / Accepted: 9 April 2019 / Published: 13 April 2019
Abstract
Alumina-lanthana (La at 1, 3, or 5 wt%) supports were prepared by sol-gel from Al alkoxide sol where La(NO
3
)
3
was added. Annealed (550 °C) xerogels were characterized by N
2
physisorption, thermal analysis (TG-DTA), X-ray diffraction (XRD), scanning electron microscopy- energy dispersive spectroscopy (SEM-EDS), CO
2
-adsorption studied in IR region, Raman and ultraviolet-vis (UV-vis) spectroscopies. The texture of amorphous binary matrices of high La dispersion was adequate to applications in catalysts for middle distillates hydrodesulfurization (HDS). Generally, the amount and strength of surface basic sites increased with La content in solids. Mo (at 2.8 at. nm
−2
) and Co (at Co/(Co+Mo) = 0.3) were deposited over carriers by one-pot simultaneous impregnation in the presence of PO
4
3−
(P
2
O
5
/(NiO+MoO
3
) = 0.2 mass ratio). Calcined (400 °C) Co-Mo-P impregnated precursors had decreased basicity as to that of corresponding carriers, suggesting strong La-deposited species interaction. As La content in carriers increased Mo=O Raman stretching vibrations shifted to lower wave-numbers (949 to 935 cm
−1
) suggesting octahedral molybdates coordination change to tetrahedral. Although La at the lowest concentration (1 wt%) enhanced dibenzothiophene, HDS (~38% higher as to the Al
2
O
3
-supported formulation) desulfurization was significantly diminished at augmented content. Presence of hardly sulfidable tetrahedral Mo originated during impregnation at basic conditions in pores of La-modified carriers seemed to dictate observed behavior. Rare earth content in formulations enhanced selectivity to biphenyl.
View Full-Text
►

▼

Figures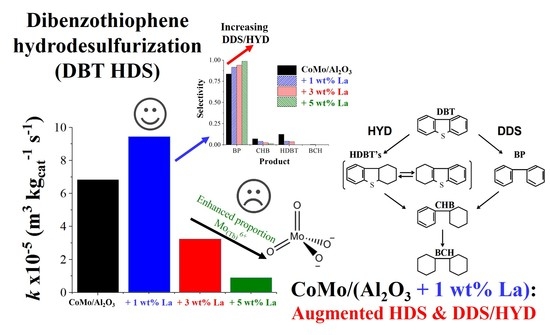 Graphical abstract
This is an open access article distributed under the
Creative Commons Attribution License
which permits unrestricted use, distribution, and reproduction in any medium, provided the original work is properly cited (CC BY 4.0).

Share & Cite This Article
MDPI and ACS Style
Escobar, J.; Barrera, M.C.; Valente, J.S.; Solís-Casados, D.A.; Santes, V.; Terrazas, J.E.; Fouconnier, B.A. Dibenzothiophene Hydrodesulfurization over P-CoMo on Sol-Gel Alumina Modified by La Addition. Effect of Rare-Earth Content. Catalysts 2019, 9, 359.
Note that from the first issue of 2016, MDPI journals use article numbers instead of page numbers. See further details here.
Related Articles
Comments
[Return to top]