Heterometallic CoIIIZnII Schiff Base Catalyst for Mild Hydroxylation of C(sp3)–H Bonds of Unactivated Alkanes: Evidence for Dual Mechanism Controlled by the Promoter
1
Centro de Química Estrutural, Instituto Superior Técnico, Universidade de Lisboa, Av. Rovisco Pais, 1049-001 Lisboa, Portugal
2
Department of Chemistry, Taras Shevchenko National University of Kyiv, 64/13 Volodymyrska str., Kyiv 01601, Ukraine
3
School of Molecular Sciences, M310, University of Western Australia, Perth, WA 6009, Australia
*
Authors to whom correspondence should be addressed.
Received: 29 January 2019 / Revised: 12 February 2019 / Accepted: 13 February 2019 / Published: 26 February 2019
Abstract
The novel Schiff base complex [Co
III
Zn
II
L
3
Cl
2
]·CH
3
OH (
1
) was synthesized by interaction of zinc powder, cobalt(II) chloride and methanol solution of the pre-formed HL in air (HL is the product of condensation of
o
-vanillin and methylamine) and characterized by IR, UV-Vis and NMR spectroscopy, ESI-MS and single crystal X-ray diffraction analysis. In the heterometallic core of
1
the two metal centers are bridged by deprotonated phenoxy groups of the L
−
ligands with the cobalt-zinc separation of 3.123 Å. Catalytic investigations demonstrated a pronounced activity of
1
towards mild alkane oxidation with
m
-chloroperbenzoic acid (
m
-CPBA) as an oxidant and
cis
-1,2-dimethylcyclohexane (
cis
-1,2-DMCH) as the model substrate. The influence of the nature of different promoting agents of various acidities (from HOTf to pyridine) on the catalytic process was studied in detail and a pronounced activity of
1
in the presence of nitric acid promoter was found, also showing a high retention of stereoconfiguration of the substrate (>99% for
cis
-1,2-DMCH). The best achieved yield of tertiary
cis
-alcohol based on the oxidant was 61%, with a turnover number (TON) of 198 for nitric acid as promoter. The
18
O-incorporations into the alcohols when the reactions were performed under
18
O
2
atmosphere using acetic and nitric acid promoters, suggest that the
cis
-1,2-DMCH hydroxylation proceeds by two distinct pathways, a non-stereoselective and a stereoselective one (with and without involvement of a long-lived free carbon radical, respectively). The former dominates in the case of acetic acid promoter and the latter is realized in the case of HNO
3
promoter.
View Full-Text
►

▼

Figures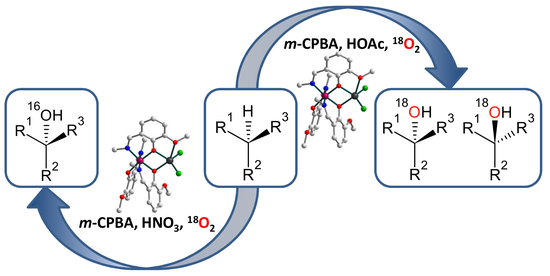 Graphical abstract
This is an open access article distributed under the
Creative Commons Attribution License
which permits unrestricted use, distribution, and reproduction in any medium, provided the original work is properly cited (CC BY 4.0).

Share & Cite This Article
MDPI and ACS Style
Nesterova, O.V.; Kasyanova, K.V.; Buvaylo, E.A.; Vassilyeva, O.Y.; Skelton, B.W.; Nesterov, D.S.; Pombeiro, A.J. Heterometallic CoIIIZnII Schiff Base Catalyst for Mild Hydroxylation of C(sp3)–H Bonds of Unactivated Alkanes: Evidence for Dual Mechanism Controlled by the Promoter. Catalysts 2019, 9, 209.
Note that from the first issue of 2016, MDPI journals use article numbers instead of page numbers. See further details here.
Related Articles
Comments
[Return to top]