Radiative and Non-Radiative Recombination Pathways in Mixed-Phase TiO2 Nanotubes for PEC Water-Splitting
1
Regional Centre of Advanced Technologies and Materials, Faculty of Science, Palacký University Olomouc, 17. listopadu 1192/12, 771 46 Olomouc, Czech Republic
2
Department of Materials Science and Engineering, University of Erlangen-Nuremberg, Martensstrasse 7, D-91058 Erlangen, Germany
*
Authors to whom correspondence should be addressed.
Received: 22 January 2019 / Revised: 18 February 2019 / Accepted: 19 February 2019 / Published: 23 February 2019
Abstract
Anatase and rutile mixed-phase TiO
2
with an ideal ratio has been proven to significantly enhance photoelectrochemical (PEC) activity in water-splitting applications due to suppressing the electron–hole recombination. However, the mechanism of this improvement has not been satisfactory described yet. The PEC water oxidation (oxygen evolution) at the interface of TiO
2
photoanode and electrolyte solution is determined by the fraction of the photogenerated holes that reach the solution and it is defined as the hole transfer efficiency. The surface and bulk recombination processes in semiconductor photoanodes majorly influence the hole transfer efficiency. In this work, we study the hole transfer process involved in mixed-phase TiO
2
nanotube arrays/solution junction using intensity-modulated photocurrent and photovoltage spectroscopy (IMPS and IMVS); then, we correlate the obtained hole transfer rate constants to (photo)electrochemical impedance spectroscopy (PEIS) measurements. The results suggest that the enhanced performance of the TiO
2
mixed-phase is due to the improved hole transfer rate across the TiO
2
/liquid interface as well as to the decrease in the surface trap recombination of the holes.
View Full-Text
►

▼

Figures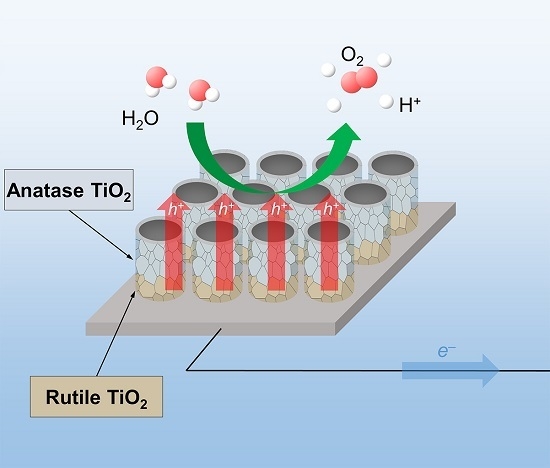 Graphical abstract
This is an open access article distributed under the
Creative Commons Attribution License
which permits unrestricted use, distribution, and reproduction in any medium, provided the original work is properly cited (CC BY 4.0).

Share & Cite This Article
MDPI and ACS Style
Yalavarthi, R.; Naldoni, A.; Kment, Š.; Mascaretti, L.; Kmentová, H.; Tomanec, O.; Schmuki, P.; Zbořil, R. Radiative and Non-Radiative Recombination Pathways in Mixed-Phase TiO2 Nanotubes for PEC Water-Splitting. Catalysts 2019, 9, 204.
Note that from the first issue of 2016, MDPI journals use article numbers instead of page numbers. See further details here.
Related Articles
Comments
[Return to top]