Pyrene-Based Conjugated Polymer/Bi2MoO6 Z-Scheme Hybrids: Facile Construction and Sustainable Enhanced Photocatalytic Performance in Ciprofloxacin and Cr(VI) Removal under Visible Light Irradiation
1
College of Science, Huazhong Agricultural University, Wuhan 430070, China
2
Key Laboratory of Environment Correlative Dietology, Ministry of Education, Wuhan 430070, China
*
Author to whom correspondence should be addressed.
Received: 11 April 2018 / Revised: 27 April 2018 / Accepted: 27 April 2018 / Published: 1 May 2018
Abstract
The search for appropriate materials with favorable staggered energy band arrangements is important and is a great challenge in order to fabricate Z-scheme photocatalysts with high activity in visible light. In this study, we demonstrated a facile and feasible strategy to construct highly active organic–inorganic Z-scheme hybrids (P-BMO) with linear pyrene-based conjugated polymer (P17-E) and Bi
2
MoO
6
, via an in-situ palladium-catalyzed cross-coupling reaction. The characterization results revealed C-O chemical bond formed at the heterointerface between P17-E and Bi
2
MoO
6
after in-situ polycondensation and endowed the hybrids with observably improved photogenerated carries transfer capabilities. Visible, light-driven photocatalytic removal of ciprofloxacin and Cr(VI) were significantly enhanced after the incorporation of P17-E into Bi
2
MoO
6
, whether with the morphology of nanosheets, nanobelts, or microspheres. Moreover, these P-BMO hybrids were also found to exhibit excellent sustainable photocatalytic performance after four runs of photocatalytic evaluation tests, suggesting their high activity and stability. To better eliminate the redox ability enhancement of P-BMO, a reasonable Z-scheme electrons transferring mechanism between P17-E and Bi
2
MoO
6
was proposed and proved by the determination of •O
2
–
and •OH and Pt nanoparticles photodeposition experiments. This work might provide a viable source and insight into the design of Z-scheme photocatalysts with excellent redox ability for environmental remediation.
View Full-Text
►

▼

Figures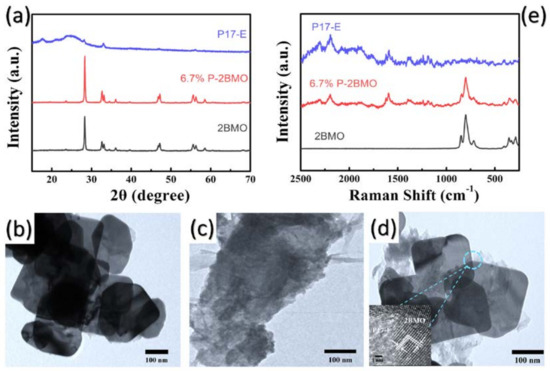 Figure 1
This is an open access article distributed under the
Creative Commons Attribution License
which permits unrestricted use, distribution, and reproduction in any medium, provided the original work is properly cited (CC BY 4.0).

Share & Cite This Article
MDPI and ACS Style
Yang, X.; Xiang, Y.; Wang, X.; Li, S.; Chen, H.; Ding, X. Pyrene-Based Conjugated Polymer/Bi2MoO6 Z-Scheme Hybrids: Facile Construction and Sustainable Enhanced Photocatalytic Performance in Ciprofloxacin and Cr(VI) Removal under Visible Light Irradiation. Catalysts 2018, 8, 185.
Note that from the first issue of 2016, MDPI journals use article numbers instead of page numbers. See further details here.
Related Articles
Comments
[Return to top]