Low-Dimensional ReS2/C Composite as Effective Hydrodesulfurization Catalyst
1
Programa Institucional de Fomento a la Investigación, Desarrollo e Innovación (PIDi) Universidad Tecnológica Metropolitana, Ignacio Valdivieso 2409, San Joaquín 8940577, Santiago, Chile
2
Departamento de Química, Universidad Tecnológica Metropolitana, Las Palmeras 3360, Ñuñoa, Santiago, Chile
3
Centro de Nanociencia y Nanotecnología, Universidad Nacional Autónoma de México, Ensenada 22860, Baja California, Mexico
4
Centro de Investigaciones Costeras de la Universidad de Atacama, Universidad de Atacama, Copayapu 485, Copiapó, Chile
5
Departamento de Física de Materiales, Centro de Investigación Materiales Avanzados S.C., Chihuahua 31136, Mexico
6
Center for the Development of Nanoscience and Nanotechnology, CEDENNA, Av. Ecuador 3493, Santiago, Chile
7
Departamento de Química, Facultad de Ciencias, Universidad de Chile, Las Palmeras 3425, Santiago, Chile
*
Author to whom correspondence should be addressed.
Received: 30 October 2017 / Revised: 29 November 2017 / Accepted: 29 November 2017 / Published: 5 December 2017
Abstract
Single-layer, ultrasmall ReS
2
nanoplates embedded in amorphous carbon were synthesized from a hydrothermal treatment involving ammonium perrhenate, thiourea, tetraoctylammonium bromide, and further annealing. The rhenium disulfide, obtained as a low dimensional carbon composite (ReS
2
/C), was tested in the hydrodesulfurization of light hydrocarbons, using 3-methylthiophene as the model molecule, and showed enhanced catalytic activity in comparison with a sulfide CoMo/γ-Al
2
O
3
catalyst. The ReS
2
/C composite was characterized by X-ray diffraction (XRD), Raman spectroscopy, N
2
adsorption–desorption isotherms, scanning electron microscopy (SEM), scanning transmission electron microscopy (STEM), energy-dispersive X-ray spectroscopy (EDS), and X-ray photoelectron spectroscopy (XPS). The improved catalytic performance of this ReS
2
/C composite may be ascribed to the presence of a non-stoichiometric sulfur species (ReS
2−x
), the absence of stacking along the
c
-axis, and the ultra-small basal planes, which offer a higher proportion of structural sulfur defects at the edge of the layers, known as a critical parameter for hydrodesulfurization catalytic processes.
View Full-Text
►

▼

Figures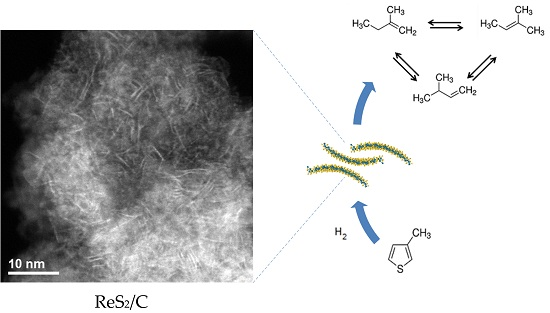 Graphical abstract
This is an open access article distributed under the
Creative Commons Attribution License
which permits unrestricted use, distribution, and reproduction in any medium, provided the original work is properly cited (CC BY 4.0).

Share & Cite This Article
MDPI and ACS Style
Aliaga, J.A.; Zepeda, T.; Araya, J.F.; Paraguay-Delgado, F.; Benavente, E.; Alonso-Núñez, G.; Fuentes, S.; González, G. Low-Dimensional ReS2/C Composite as Effective Hydrodesulfurization Catalyst. Catalysts 2017, 7, 377.
Note that from the first issue of 2016, MDPI journals use article numbers instead of page numbers. See further details here.
Related Articles
Comments
[Return to top]