Guanidine Hydrochloride/ZnI2 as Heterogeneous Catalyst for Conversion of CO2 and Epoxides to Cyclic Carbonates under Mild Conditions
1
The Academy of Fundamental and Interdisciplinary Science, Harbin Institute of Technology, Harbin 150080, China
2
School of Life Science and Technology, Harbin Institute of Technology, Harbin 150080, China
3
State Key Laboratory of Urban Water Resource and Environment, Harbin Institute of Technology, Harbin 150080, China
*
Author to whom correspondence should be addressed.
Academic Editors: Masahiko Arai and Fengyu Zhao
Received: 24 December 2014 / Accepted: 9 February 2015 / Published: 11 February 2015
Abstract
In this article, the combination of guanidine hydrochloride with co-catalyst ZnI
2
proved to be a highly efficient heterogeneous catalyst for the environmentally benign, solvent-free synthesis of cyclic carbonates under mild reaction conditions. The effects of different co-catalysts as well as reaction parameters including catalyst loadings, CO
2
pressure, reaction temperature, and reaction time on the coupling reaction of CO
2
to propylene oxide were thoroughly investigated. With the molar ratio of guanidine hydrochloride to ZnI
2
at 5:1, excellent yield (94%) and selectivity (≥99%) of propylene carbonate were obtained under 100 °C and at 1 MPa for 1.5 h. Additionally, ZnI
2
could be recycled, but because of the washing loss of guanidine hydrochloride, there was a slight decrease in the yield of propylene carbonate. Gratifyingly, the activity of the catalytic system could be restored by adding additional 20 mol% of fresh guanidine hydrochloride, thus exhibiting excellent recyclability of the ZnI
2
catalyst. Moreover, the binary catalysts were also versatile when using other epoxides for CO
2
cycloaddition. A possible reaction mechanism was proposed wherein guanidine hydrochloride plays a dual role in activating CO
2
and epoxide, and ZnI
2
activated epoxide, simultaneously. The synergistic effect of guanidine hydrochloride and ZnI
2
ensure the reaction proceeds effectively.
View Full-Text
►

▼

Figures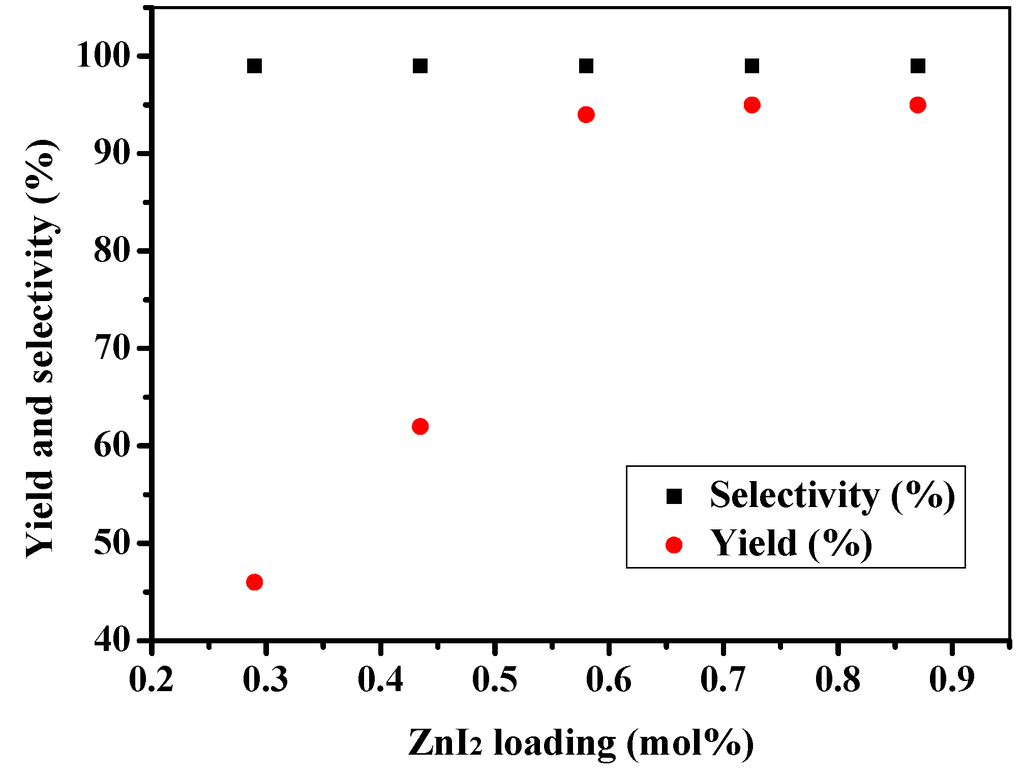 Figure 1
This is an open access article distributed under the
Creative Commons Attribution License
which permits unrestricted use, distribution, and reproduction in any medium, provided the original work is properly cited (CC BY 4.0).

Share & Cite This Article
MDPI and ACS Style
Liu, B.; Liu, M.; Liang, L.; Sun, J. Guanidine Hydrochloride/ZnI2 as Heterogeneous Catalyst for Conversion of CO2 and Epoxides to Cyclic Carbonates under Mild Conditions. Catalysts 2015, 5, 119-130.
Related Articles
Comments
[Return to top]