Genome-Wide Comparison of the Target Genes of the Reactive Oxygen Species and Non-Reactive Oxygen Species Constituents of Cold Atmospheric Plasma in Cancer Cells
1
Department of Life Science, Dongguk University-Seoul, Goyang 10326, Korea
2
Plasma Bioscience Research Center, Kwangwoon University, Seoul 01897, Korea
*
Author to whom correspondence should be addressed.
†
These authors contributed equally to this work.
Received: 14 August 2020 / Revised: 11 September 2020 / Accepted: 14 September 2020 / Published: 16 September 2020
Simple Summary
Cold atmospheric plasma is being applied to treat cancer by virtue of its preferential anti-proliferative effect on cancer cells over normal cells. This study aimed to systemically determine the distribution of target genes regulated by the reactive oxygen species and non-reactive oxygen species constituents of the plasma. After analyzing genome-wide expression data for a leukemia and a melanoma cancer cell line from a public database followed by experimental approaches, PTGER3 and HSPA6 genes were found regulated by the non-reactive oxygen species and non-reactive nitrogen species constituents of the plasma in the cancer cells. This study could contribute to elucidate the molecular mechanism how each physicochemical constituent of the plasma induces the specific molecular changes in cancer cells.
Cold atmospheric plasma (CAP) can induce cancer cell death. The majority of gene regulation studies have been biased towards reactive oxygen species (ROS) among the physicochemical components of CAP. The current study aimed to systemically determine the distribution of target genes regulated by the ROS and non-ROS constituents of CAP. Genome-wide expression data from a public database, which were obtained after treating U937 leukemia and SK-mel-147 melanoma cells with CAP or H
2
O
2
, were analyzed, and gene sets regulated by either or both of them were identified. The results showed 252 and 762 genes in H
2
O
2
-treated U937 and SK-mel-147 cells, respectively, and 112 and 843 genes in CAP-treated U937 and SK-mel-147 cells, respectively, with expression changes higher than two-fold. Notably, only four and two genes were regulated by H
2
O
2
and CAP in common, respectively, indicating that non-ROS constituents were responsible for the regulation of the majority of CAP-regulated genes. Experiments using ROS and nitrogen oxide synthase (NOS) inhibitors demonstrated the ROS- and reactive nitrogen species (RNS)-independent regulation of PTGER3 and HSPA6 when U937 cancer cells were treated with CAP. Taken together, this study identified CAP-specific genes regulated by constituents other than ROS or RNS and could contribute to the annotation of the target genes of specific constituents in CAP.
View Full-Text
►

▼

Show Figures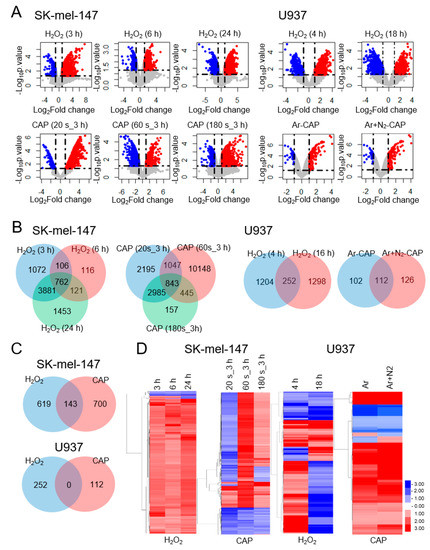 Figure 1
This is an open access article distributed under the
Creative Commons Attribution License
which permits unrestricted use, distribution, and reproduction in any medium, provided the original work is properly cited

MDPI and ACS Style
Ji, H.W.; Kim, H.; Kim, H.W.; Yun, S.H.; Park, J.E.; Choi, E.H.; Kim, S.J. Genome-Wide Comparison of the Target Genes of the Reactive Oxygen Species and Non-Reactive Oxygen Species Constituents of Cold Atmospheric Plasma in Cancer Cells. Cancers 2020, 12, 2640.
Show more citation formats
Show less citations formats
Note that from the first issue of 2016, MDPI journals use article numbers instead of page numbers. See further details
here
.