Modulation of Immune Infiltration of Ovarian Cancer Tumor Microenvironment by Specific Subpopulations of Fibroblasts
1
Indiana University School of Medicine-Bloomington, Indiana University, Bloomington, IN 47405, USA
2
Medical and Molecular Genetics Department, Indiana University School of Medicine, Indianapolis, IN 46202, USA
3
Department of Electrical and Computer Engineering, Purdue University, West Lafayette, IN 47907, USA
4
Melvin and Bren Simon Comprehensive Cancer Center, Indiana University, Indianapolis, IN 46202, USA
*
Authors to whom correspondence should be addressed.
Received: 14 October 2020 / Revised: 20 October 2020 / Accepted: 24 October 2020 / Published: 29 October 2020
Simple Summary
The ovarian cancer tumor microenvironment is made up of ovarian cancer cells along with a milieu of proteins and normal cells, including fibroblasts, immune cells, endothelial cells, pericytes and adipocytes. The noncancer components also play an important role in determining the fate of the tumor and exhibit a lot of heterogeneity. In this study, we have used a deconvolution algorithm to identify four different fibroblast subpopulations and multiple immune cell types, from bulk RNA-seq data of ovarian cancer primary tumors, metastases and normal omentum. We report the prevalence of specific fibroblast subtypes that determine the tumor-immune microenvironment. Our study can potentially help provide a template for identification of potential combination therapies to enhance the efficacy of ovarian cancer immunotherapies.
Tumor immune infiltration plays a key role in the progression of solid tumors, including ovarian cancer, and immunotherapies are rapidly emerging as effective treatment modalities. However, the role of cancer-associated fibroblasts (CAFs), a predominant stromal constituent, in determining the tumor-immune microenvironment and modulating efficacy of immunotherapies remains poorly understood. We have conducted an extensive bioinformatic analysis of our and other publicly available ovarian cancer datasets (GSE137237, GSE132289 and GSE71340), to determine the correlation of fibroblast subtypes within the tumor microenvironment (TME) with the characteristics of tumor-immune infiltration. We identified (1) four functional modules of CAFs in ovarian cancer that are associated with the TME and metastasis of ovarian cancer, (2) immune-suppressive function of the collagen 1,3,5-expressing CAFs in primary ovarian cancer and omental metastases, and (3) consistent positive correlations between the functional modules of CAFs with anti-immune response genes and negative correlation with pro-immune response genes. Our study identifies a specific fibroblast subtype, fibroblast functional module (FFM)2, in the ovarian cancer tumor microenvironment that can potentially modulate a tumor-promoting immune microenvironment, which may be detrimental toward the effectiveness of ovarian cancer immunotherapies.
View Full-Text
►

▼

Show Figures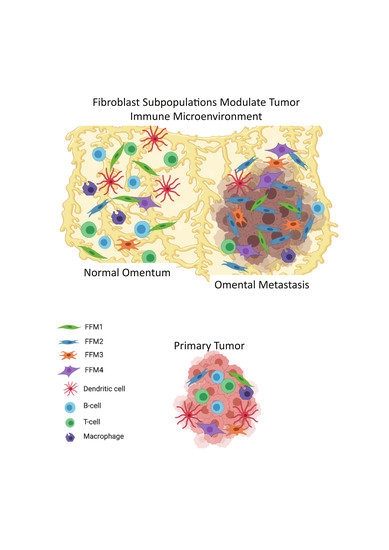 Graphical abstract
This is an open access article distributed under the
Creative Commons Attribution License
which permits unrestricted use, distribution, and reproduction in any medium, provided the original work is properly cited

MDPI and ACS Style
Wang, J.; Cheng, F.H.C.; Tedrow, J.; Chang, W.; Zhang, C.; Mitra, A.K. Modulation of Immune Infiltration of Ovarian Cancer Tumor Microenvironment by Specific Subpopulations of Fibroblasts. Cancers 2020, 12, 3184.
Show more citation formats
Show less citations formats
Note that from the first issue of 2016, MDPI journals use article numbers instead of page numbers. See further details
here
.