RAD51-Mediated DNA Homologous Recombination Is Independent of
PTEN

Mutational Status

1

Department of Pharmacology and Therapeutics, University of Manitoba, Winnipeg, MB R3E 0T6, Canada

2

Research Institute in Oncology and Hematology, CancerCare Manitoba, Winnipeg, MB R3E 0V9, Canada

3

Telethon Kids Institute, Perth Children's Hospital, 15 Hospital Avenue, Perth, WA 6009, Australia

4

Centre for Child Health Research, University of Western Australia, 15 Hospital Avenue, Perth, WA 6009, Australia

5

Department of Biochemistry and Biomedical Sciences, McMaster University, 1200 Main Street West, Hamilton, ON L8S 4L8, Canada

6

Donnelly Centre, University of Toronto, 160 College St, Toronto, ON M5S 3E1, Canada

7

Neuroscience Research Program, Kleysen Institute for Advanced Medicine, Health Sciences Centre, 710 William Avenue, Winnipeg, MB R3E 0Z3, Canada

8

Department of Surgery, Faculty of Health Sciences, McMaster University, 1200 Main Street West, Hamilton, ON L8S 4L8, Canada

9

Department of Developmental Neurobiology, St Jude Children's Research Hospital, Memphis, TN 38105-3678, USA

10

Department of Genetics, St Jude Children's Research Hospital, Memphis, TN 38105-3678, USA

*

Author to whom correspondence should be addressed.

Received: 9 October 2020

/

Accepted: 20 October 2020

/

Published: 29 October 2020
Simple Summary
PTEN is an important tumor suppressor that is frequently mutated in malignancy. PTEN mutational loss has been associated with reduced RAD51 expression and homologous recombination deficiency (HRD), however; recent studies have failed to recapitulate these findings. Here, we show that RAD51 expression, foci formation and homologous recombination repair activity are unaltered in normal and tumorigenic PTEN-deficient cells and patient samples. Furthermore, we show that PTEN-deficient tumor cell lines do not synergize with the clinical PARP inhibitor olaparib, underscoring a need to discontinue its use in treating patients with PTEN-deficient tumors that do not otherwise exhibit HRD.
PTEN mutation occurs in a variety of aggressive cancers and is associated with poor patient outcomes. Recent studies have linked mutational loss of
PTEN
to reduced RAD51 expression and function, a key factor involved in the homologous recombination (HR) pathway. However, these studies remain controversial, as they fail to establish a definitive causal link to RAD51 expression that is PTEN-dependent, while other studies have not been able to recapitulate the relationship between the PTEN expression and the RAD51/HR function. Resolution of this apparent conundrum is essential due to the clinically-significant implication that PTEN-deficient tumors may be sensitive to poly (ADP-ribose) polymerase (PARP) inhibitors (PARPi) commonly used in the clinical management of
BRCA
-mutated and other HR-deficient (HRD) tumors. Methods: Primary
Pten
-deficient (and corresponding wild-type) mouse embryonic fibroblasts (MEFs) and astrocytes and
PTEN
-null human tumor cell lines and primary cells were assessed for RAD51 expression (via the Western blot analysis) and DNA damage repair analyses (via alkali comet and γH2AX foci assays). RAD51 foci analysis was used to measure HR-dependent DNA repair.
Xrcc2
-deficient MEFs served as an HR-deficient control, while the stable knockdown of
RAD51
(
shRAD51
) served to control for the relative RAD51/HR-mediated repair and the phospho-53BP1 foci analysis served to confirm and measure non-homologous end joining (NHEJ) activity in PTEN-deficient and
shRAD51
-expressing (HRD) lines. Cell proliferation studies were used to measure any potential added sensitivity of
PTEN
-null cells to the clinically-relevant PARPi, olaparib. RAD51 levels and DNA damage response signaling were assessed in PTEN-mutant brain tumor initiating cells (BTICs) derived from primary and recurrent glioblastoma multiforme (GBM) patients, while expression of
RAD51
and its paralogs were examined as a function of the
PTEN
status in the RNA expression datasets isolated from primary GBM tumor specimens and BTICs. Results:
Pten
knockout primary murine cells display unaltered RAD51 expression, endogenous and DNA strand break-induced RAD51 foci and robust DNA repair activity. Defective HR was only observed in the cells lacking
Xrcc2
. Likewise, human glioblastoma multiforme (GBM) cell lines with known PTEN deficiency (U87,
PTEN
-mutated; U251 and U373,
PTEN
-null) show apparent expression of RAD51 and display efficient DNA repair activity. Only GBM cells stably expressing shRNAs against
RAD51
(
shRAD51
) display dysfunctional DNA repair activity and reduced proliferative capacity, which is exacerbated by PARPi treatment. Furthermore, GBM patient-derived BTICs displayed robust RAD51 expression and intact DNA damage response signaling in spite of
PTEN
-inactivating mutations. RNA expression analysis of primary GBM tissue specimens and BTICs demonstrate stable levels of
RAD51
and its paralogs (
RAD51B, RAD51C, RAD51D, XRCC2, XRCC3
, and
DMC1
), regardless of the
PTEN
mutational status. Conclusions: Our findings demonstrate definitively that PTEN loss does not alter the RAD51 expression, its paralogs, or the HR activity. Furthermore, deficiency in PTEN alone is not sufficient to impart enhanced sensitivity to PARPi associated with HRD. This study is the first to unequivocally demonstrate that PTEN deficiency is not linked to the RAD51 expression or the HR activity amongst primary neural and non-neural
Pten
-null cells, PTEN-deficient tumor cell lines, and primary
PTEN
-mutant GBM patient-derived tissue specimens and BTICs.
View Full-Text
►

▼

Show Figures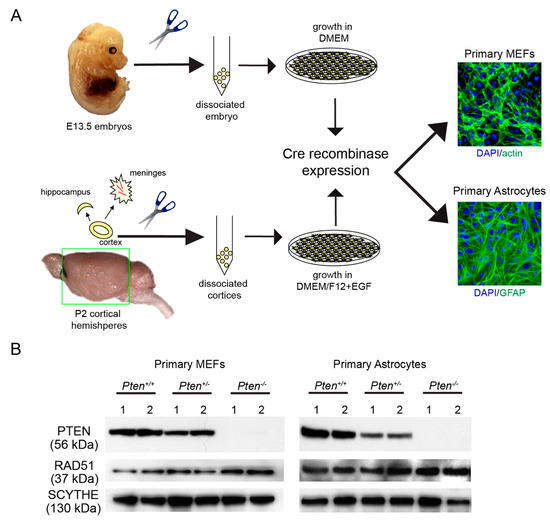 Figure 1
This is an open access article distributed under the
Creative Commons Attribution License
which permits unrestricted use, distribution, and reproduction in any medium, provided the original work is properly cited

MDPI and ACS Style
Sinha, A.; Saleh, A.; Endersby, R.; Yuan, S.H.; Chokshi, C.R.; Brown, K.R.; Kuzio, B.; Kauppinen, T.; Singh, S.K.; Baker, S.J.; McKinnon, P.J.; Katyal, S. RAD51-Mediated DNA Homologous Recombination Is Independent of PTEN Mutational Status. Cancers 2020, 12, 3178. https://doi.org/10.3390/cancers12113178
AMA Style
Sinha A, Saleh A, Endersby R, Yuan SH, Chokshi CR, Brown KR, Kuzio B, Kauppinen T, Singh SK, Baker SJ, McKinnon PJ, Katyal S. RAD51-Mediated DNA Homologous Recombination Is Independent of PTEN Mutational Status. Cancers. 2020; 12(11):3178. https://doi.org/10.3390/cancers12113178
Chicago/Turabian Style
Sinha, Asha, Ali Saleh, Raelene Endersby, Shek H. Yuan, Chirayu R. Chokshi, Kevin R. Brown, Bozena Kuzio, Tiina Kauppinen, Sheila K. Singh, Suzanne J. Baker, Peter J. McKinnon, and Sachin Katyal. 2020. "RAD51-Mediated DNA Homologous Recombination Is Independent of PTEN Mutational Status" Cancers 12, no. 11: 3178. https://doi.org/10.3390/cancers12113178
Note that from the first issue of 2016, MDPI journals use article numbers instead of page numbers. See further details
here
.