Docosahexaenoic Acid Enhances Oxaliplatin-Induced Autophagic Cell Death via the ER Stress/Sesn2 Pathway in Colorectal Cancer
1
Department of Oncology, Korea University Guro Hospital, Korea University College of Medicine, Seoul 08308, Korea
2
Graduate School of Medicine, College of Medicine, Korea University, Seoul 08308, Korea
3
Department of Surgery, Korea University Guro Hospital, Korea University College of Medicine, Seoul 08308, Korea
*
Authors to whom correspondence should be addressed.
†
These authors contributed equally to this work.
Received: 7 May 2019 / Revised: 6 July 2019 / Accepted: 8 July 2019 / Published: 14 July 2019
Abstract
Oxaliplatin is an anticancer drug administered to colorectal cancer (CRC) patients in combination with 5-fluorouracil and antibodies (bevacizumab and cetuximab), thereby significantly improving the survival rate of CRC. However, due to various side effects associated with the above treatment strategy, the need for combinatorial therapeutic strategies has emerged. Based on the demand for new combinatorial therapies and the known antitumor effects of the omega-3 polyunsaturated fatty acid, docosahexaenoic acid (DHA), we investigated the Oxaliplatin and DHA combination for its effect. Our results indicated that DHA further enhanced Oxaliplatin-induced cell viability and autophagic cell death, in vitro and in vivo. Oxaliplatin and DHA also increased the expression of Sestrin 2 (SESN2) and endoplasmic reticulum (ER) stress related C/EBP homologous protein (CHOP). Additionally, treatment with Oxaliplatin and DHA enhanced the binding of CHOP to the promotor region of SESN2, increasing SESN2 expression. These results suggested that DHA enhanced Oxaliplatin-induced reduction in cell viability and increase in autophagy via activating SESN2 and increasing ER stress. Thus, SESN2 may be an effective preclinical target for CRC treatment.
View Full-Text
►

▼

Figures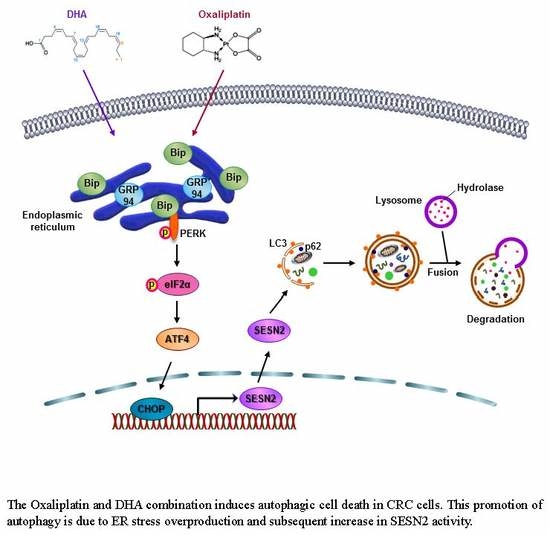 Graphical abstract
This is an open access article distributed under the
Creative Commons Attribution License
which permits unrestricted use, distribution, and reproduction in any medium, provided the original work is properly cited (CC BY 4.0).

Share & Cite This Article
MDPI and ACS Style
Jeong, S.; Kim, D.Y.; Kang, S.H.; Yun, H.K.; Kim, J.L.; Kim, B.R.; Park, S.H.; Na, Y.J.; Jo, M.J.; Jeong, Y.A.; Kim, B.G.; Lee, D.-H.; Oh, S.C. Docosahexaenoic Acid Enhances Oxaliplatin-Induced Autophagic Cell Death via the ER Stress/Sesn2 Pathway in Colorectal Cancer. Cancers 2019, 11, 982.
Note that from the first issue of 2016, MDPI journals use article numbers instead of page numbers. See further details here.
Related Articles
Comments
[Return to top]