Uncovering Potential Therapeutic Targets in Colorectal Cancer by Deciphering Mutational Status and Expression of Druggable Oncogenes
1
2nd Department of Pediatrics, Semmelweis University, Tűzoltó utca 7-9, H-1094 Budapest, Hungary
2
MTA TTK Lendület Cancer Biomarker Research Group, Institute of Enzymology, Hungarian Academy of Sciences, Magyar tudósok körútja 2., H-1117 Budapest, Hungary
3
Center for Gastrointestinal Research & Center for Translational Genomics and Oncology, Baylor Scott & White Research Institute and Charles A. Sammons Cancer Center, 3410 Worth Street, Suite 610, Dallas, TX 75246, USA
4
Department of Molecular Diagnostics, Therapeutics and Translational Oncology, Beckman Research Institute at City of Hope Comprehensive Cancer Center, 1218 S. Fifth Avenue, Monrovia, Suite 2226, CA 91016, USA
5
Department of Specialized Surgeries, Graduate School of Medical and Dental Sciences, Tokyo Medical and Dental University, Tokyo 113-8519, Japan
*
Authors to whom correspondence should be addressed.
†
These authors share equal contribution.
Received: 20 May 2019 / Revised: 28 June 2019 / Accepted: 11 July 2019 / Published: 14 July 2019
Abstract
Background: Numerous driver mutations have been identified in colorectal cancer (CRC), but their relevance to the development of targeted therapies remains elusive. The secondary effects of pathogenic driver mutations on downstream signaling pathways offer a potential approach for the identification of therapeutic targets. We aimed to identify differentially expressed genes as potential drug targets linked to driver mutations. Methods: Somatic mutations and the gene expression data of 582 CRC patients were utilized, incorporating the mutational status of 39,916 and the expression levels of 20,500 genes. To uncover candidate targets, the expression levels of various genes in wild-type and mutant cases for the most frequent disruptive mutations were compared with a Mann–Whitney test. A survival analysis was performed in 2100 patients with transcriptomic gene expression data. Up-regulated genes associated with worse survival were filtered for potentially actionable targets. The most significant hits were validated in an independent set of 171 CRC patients. Results: Altogether, 426 disruptive mutation-associated upregulated genes were identified. Among these, 95 were linked to worse recurrence-free survival (RFS). Based on the druggability filter, 37 potentially actionable targets were revealed. We selected seven genes and validated their expression in 171 patient specimens. The best independently validated combinations were
DUSP4
(
p
= 2.6 × 10
−12
) in
ACVR2A
mutated (7.7%) patients;
BMP4
(
p
= 1.6 × 10
−04
) in
SOX9
mutated (8.1%) patients;
TRIB2
(
p
= 1.35 × 10
−14
) in
ACVR2A
mutated patients;
VSIG4
(
p
= 2.6 × 10
−05
) in
ANK3
mutated (7.6%) patients, and
DUSP4
(
p
= 7.1 × 10
−04
) in
AMER1
mutated (8.2%) patients. Conclusions: The results uncovered potentially druggable genes in colorectal cancer. The identified mutations could enable future patient stratification for targeted therapy.
View Full-Text
►

▼

Figures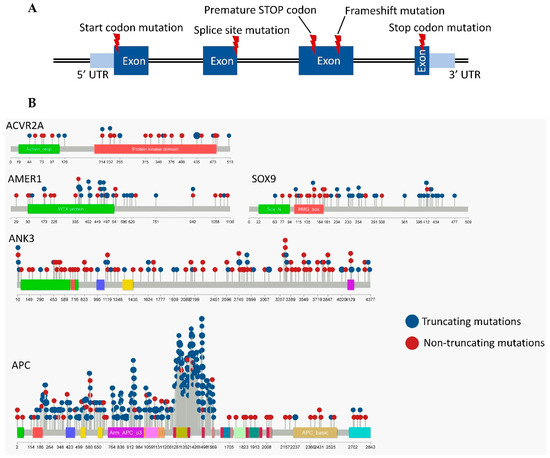 Figure 1
This is an open access article distributed under the
Creative Commons Attribution License
which permits unrestricted use, distribution, and reproduction in any medium, provided the original work is properly cited (CC BY 4.0).

Share & Cite This Article
MDPI and ACS Style
Menyhart, O.; Kakisaka, T.; Pongor, L.S.; Uetake, H.; Goel, A.; Győrffy, B. Uncovering Potential Therapeutic Targets in Colorectal Cancer by Deciphering Mutational Status and Expression of Druggable Oncogenes. Cancers 2019, 11, 983.
Note that from the first issue of 2016, MDPI journals use article numbers instead of page numbers. See further details here.
Related Articles
Comments
[Return to top]