Immunotherapy Associated Pulmonary Toxicity: Biology Behind Clinical and Radiological Features
1
Department of Radiology, University Hospital of Cagliari, 09042 Monserrato (Cagliari), Italy
2
Molecular Immunology Unit, Institut Jules Bordet, Universitè Libre de Bruxelles (ULB), 1000 Brussels, Belgium
3
Clinical and Experimental Hematology, Institute Jules Bordet, Universitè Libre de Bruxelles (ULB), 1000 Brussels, Belgium
4
Department of Medical Oncology and Hematology, Regional Hospital of Aosta, 11100 Aosta, Italy
5
Department of Medical Oncology, University Hospital of Cagliari, 09042 Monserrato (Cagliari), Italy
6
Lung Diagnostic Division, Global Biomedical Technologies, Inc., Roseville, CA 95661, USA
7
AtheroPoint™ LLC, Roseville, CA 95661, USA
8
Department of Oncology, University of Torino, 10043 Orbassano (Torino), Italy
9
Division of Medical Oncology, Experimental Cell Therapy, Candiolo Cancer Institute FPO-IRCCS, 10060 Candiolo (Torino), Italy
*
Author to whom correspondence should be addressed.
Received: 16 January 2019 / Revised: 17 February 2019 / Accepted: 26 February 2019 / Published: 5 March 2019
Abstract
The broader use of immune checkpoint blockade in clinical routine challenges clinicians in the diagnosis and management of side effects which are caused by inflammation generated by the activation of the immune response. Nearly all organs can be affected by immune-related toxicities. However, the most frequently reported are: fatigue, rash, pruritus, diarrhea, nausea/vomiting, arthralgia, decreased appetite and abdominal pain. Although these adverse events are usually mild, reversible and not frequent, an early diagnosis is crucial. Immune-related pulmonary toxicity was most frequently observed in trials of lung cancer and of melanoma patients treated with the combination of the anti-cytotoxic T lymphocyte antigen (CTLA)-4 and the anti-programmed cell death-1 (PD-1) antibodies. The most frequent immune-related adverse event in the lung is represented by pneumonitis due to the development of infiltrates in the interstitium and in the alveoli. Clinical symptoms and radiological patterns are the key elements to be considered for an early diagnosis, rendering the differential diagnosis crucial. Diagnosis of immune-related pneumonitis may imply the temporary or definitive suspension of immunotherapy, along with the start of immuno-suppressive treatments. The aim of this work is to summarize the biological bases, clinical and radiological findings of lung toxicity under immune checkpoint blockade, underlining the importance of multidisciplinary teams for an optimal early diagnosis of this side effect, with the aim to reach an improved patient care.
View Full-Text
►

▼

Figures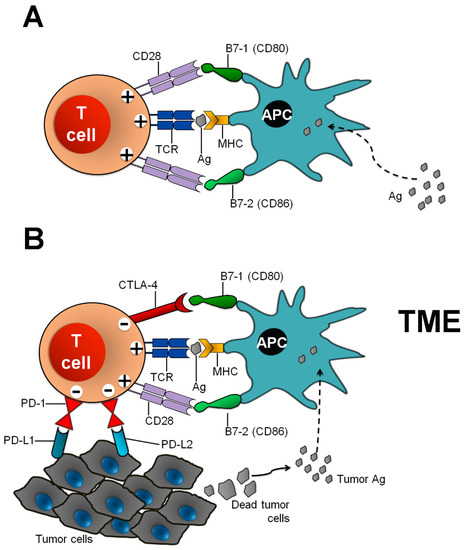 Figure 1
This is an open access article distributed under the
Creative Commons Attribution License
which permits unrestricted use, distribution, and reproduction in any medium, provided the original work is properly cited (CC BY 4.0).

Share & Cite This Article
MDPI and ACS Style
Porcu, M.; De Silva, P.; Solinas, C.; Battaglia, A.; Schena, M.; Scartozzi, M.; Bron, D.; Suri, J.S.; Willard-Gallo, K.; Sangiolo, D.; Saba, L. Immunotherapy Associated Pulmonary Toxicity: Biology Behind Clinical and Radiological Features. Cancers 2019, 11, 305.
Note that from the first issue of 2016, MDPI journals use article numbers instead of page numbers. See further details here.
Related Articles
Comments
[Return to top]