Rapid Induction of Liver Regeneration for Major Hepatectomy (REBIRTH): A Randomized Controlled Trial of Portal Vein Embolisation versus ALPPS Assisted with Radiofrequency
1
Department of Surgery & Cancer, Imperial College London, London W12 0HS, UK
2
Department of Radiology, Imperial College London, London W12 0HS, UK
*
Author to whom correspondence should be addressed.
Received: 22 December 2018 / Revised: 23 February 2019 / Accepted: 26 February 2019 / Published: 4 March 2019
Abstract
To avoid liver insufficiency following major hepatic resection, portal vein embolisation (PVE) is used to induce liver hypertrophy pre-operatively. Associating liver partition with portal vein ligation for staged hepatectomy assisted with radiofrequency (RALPPS) was introduced as an alternative method. A randomized controlled trial comparing PVE with RALPPS for the pre-operative manipulation of liver volume in patients with a future liver remnant volume (FLRV) ≤25% (or ≤35% if receiving preoperative chemotherapy) was conducted. The primary endpoint was increase in size of the FLRV. The secondary endpoints were length of time taken for the volume gain, morbidity, operation length and post-operative liver function. Between July 2015 and October 2017, 57 patients were randomised to RALPPS (n = 29) and PVE (n = 28). The mean percentage of increase in the FLRV was 80.7 ± 13.7% after a median 20 days following RALPPS compared to 18.4 ± 9.8% after 35 days (
p
< 0.001) following PVE. Twenty-four patients after RALPPS and 21 after PVE underwent stage-2 operation. Final resection was achieved in 92.3% and 66.6% patients in RALPPS and PVE, respectively (
p
= 0.007). There was no difference in morbidity, and one 30-day mortality after RALPPS (
p
= 0.991) was reported. RALPPS is more effective than PVE in increasing FLRV and the number of patients for surgical resection.
View Full-Text
►

▼

Figures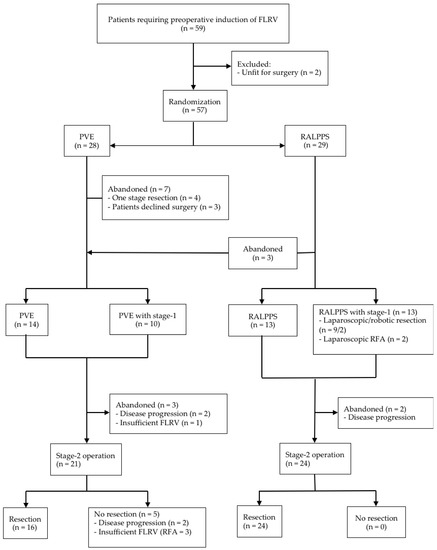 Figure 1
This is an open access article distributed under the
Creative Commons Attribution License
which permits unrestricted use, distribution, and reproduction in any medium, provided the original work is properly cited (CC BY 4.0).

Share & Cite This Article
MDPI and ACS Style
Jiao, L.R.; Fajardo Puerta, A.B.; Gall, T.M.; Sodergren, M.H.; Frampton, A.E.; Pencavel, T.; Nagendran, M.; Habib, N.A.; Darzi, A.; Pai, M.; Thomas, R.; Tait, P. Rapid Induction of Liver Regeneration for Major Hepatectomy (REBIRTH): A Randomized Controlled Trial of Portal Vein Embolisation versus ALPPS Assisted with Radiofrequency. Cancers 2019, 11, 302.
Note that from the first issue of 2016, MDPI journals use article numbers instead of page numbers. See further details here.
Related Articles
Comments
[Return to top]