The Efficacy and Safety of (Neo)Adjuvant Therapy for Gastric Cancer: A Network Meta-analysis
1
Department of Medical Oncology, Cancer Center Amsterdam, Amsterdam University Medical Centers (UMC) location AMC, University of Amsterdam, 1105 AZ Amsterdam, The Netherlands
2
Department of Radiotherapy, Cancer Center Amsterdam, Amsterdam University Medical Centers (UMC) location AMC, University of Amsterdam, 1105 AZ Amsterdam, The Netherlands
3
Department of Surgery, Cancer Center Amsterdam, Amsterdam University Medical Centers (UMC) location AMC, University of Amsterdam, 1105 AZ Amsterdam, The Netherlands
*
Author to whom correspondence should be addressed.
Received: 29 November 2018 / Revised: 5 January 2019 / Accepted: 5 January 2019 / Published: 11 January 2019
Abstract
Background
: Alternatives in treatment-strategies exist for resectable gastric cancer. Our aims were: (1) to assess the benefit of perioperative, neoadjuvant and adjuvant treatment-strategies and (2) to determine the optimal adjuvant regimen for gastric cancer treated with curative intent.
Methods
: PubMed, EMBASE, CENTRAL, and ASCO/ESMO conferences were searched up to August 2017 for randomized-controlled-trials on the curative treatment of resectable gastric cancer. We performed two network-meta-analyses (NMA). NMA-1 compared perioperative, neoadjuvant and adjuvant strategies only if there was a direct comparison. NMA-2 compared different adjuvant chemo(radio)therapy regimens, after curative resection. Overall-survival (OS) and disease-free-survival (DFS) were analyzed using random-effects NMA on the hazard ratio (HR)-scale and calculated as combined HRs and 95% credible intervals (95% CrIs).
Results
: NMA-1 consisted of 9 direct comparisons between strategies for OS (14 studies,
n
= 4187 patients). NMA-2 consisted of 16 direct comparisons between adjuvant chemotherapy/chemoradiotherapy regimens for OS (37 studies,
n
= 10,761) and 14 for DFS (30 studies,
n
= 9714 patients). Compared to taxane-based-perioperative-chemotherapy, surgery-alone (HR = 0.58, 95% CrI = 0.38–0.91) and perioperative-chemotherapy regimens without a taxane (HR = 0.79, 95% CrI = 0.58–1.15) were inferior in OS. After curative-resection, the doublet oxaliplatin-fluoropyrimidine (for one-year) was the most efficacious adjuvant regimen in OS (HR = 0.47, 95% CrI = 0.28–0.80).
Conclusions
: For resectable gastric cancer, (1) taxane-based perioperative-chemotherapy was the most promising treatment strategy; and (2) adjuvant oxaliplatin-fluoropyrimidine was the most promising regimen after curative resection. More research is warranted to confirm or reproach these findings.
View Full-Text
►

▼

Figures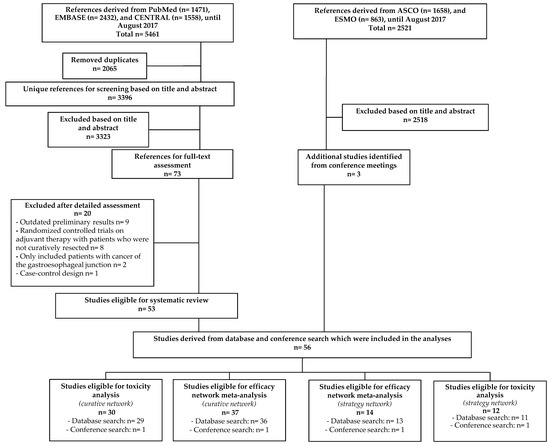 Figure 1
This is an open access article distributed under the
Creative Commons Attribution License
which permits unrestricted use, distribution, and reproduction in any medium, provided the original work is properly cited (CC BY 4.0).

Share & Cite This Article
MDPI and ACS Style
van den Ende, T.; ter Veer, E.; Machiels, M.; Mali, R.M.A.; Abe Nijenhuis, F.A.; de Waal, L.; Laarman, M.; Gisbertz, S.S.; Hulshof, M.C.C.M.; van Oijen, M.G.H.; van Laarhoven, H.W.M. The Efficacy and Safety of (Neo)Adjuvant Therapy for Gastric Cancer: A Network Meta-analysis. Cancers 2019, 11, 80.
Note that from the first issue of 2016, MDPI journals use article numbers instead of page numbers. See further details here.
Related Articles
Comments
[Return to top]