Prognostic Biomarkers in Pancreatic Cancer: Avoiding Errata When Using the TCGA Dataset
1
Programme Cartes d'Identité des Tumeurs (CIT), Ligue Nationale Contre le Cancer, 75014 Paris, France
2
INSERM U1149, Beaujon University Hospital, 92110 Clichy, France
3
Department of Pathology, Beaujon-Bichat University Hospital - Paris Diderot University, 100 Bvd Gal Leclerc, 92110 Clichy, France
*
Author to whom correspondence should be addressed.
Received: 4 December 2018 / Revised: 4 January 2019 / Accepted: 16 January 2019 / Published: 21 January 2019
Abstract
Data from the Cancer Genome Atlas (TCGA) are now easily accessible through web-based platforms with tools to assess the prognostic value of molecular alterations. Pancreatic tumors have heterogeneous biology and aggressiveness ranging from the deadly adenocarcinoma (PDAC) to the better prognosis, neuroendocrine tumors. We assessed the availability of the pancreatic cancer TCGA data (TCGA_PAAD) from several repositories and investigated the nature of each sample and how non-PDAC samples impact prognostic biomarker studies. While the clinical and genomic data (
n
= 185) were fairly consistent across all repositories, RNAseq profiles varied from 176 to 185. As a result, 35 RNAseq profiles (18.9%) corresponded to a normal, inflamed pancreas or non-PDAC neoplasms. This information was difficult to obtain. By considering gene expression data as continuous values, the expression of the 5312 and 4221 genes were significantly associated with the progression-free and overall survival respectively. Considering the cohort was not curated, only 4 and 14, respectively, had prognostic value in the PDAC-only cohort. Similarly, mutations in key genes or well-described miRNA lost their prognostic significance in the PDAC-only cohort. Therefore, we propose a web-based application to assess biomarkers in the curated TCGA_PAAD dataset. In conclusion, TCGA_PAAD curation is critical to avoid important biological and clinical biases from non-PDAC samples.
View Full-Text
►

▼

Figures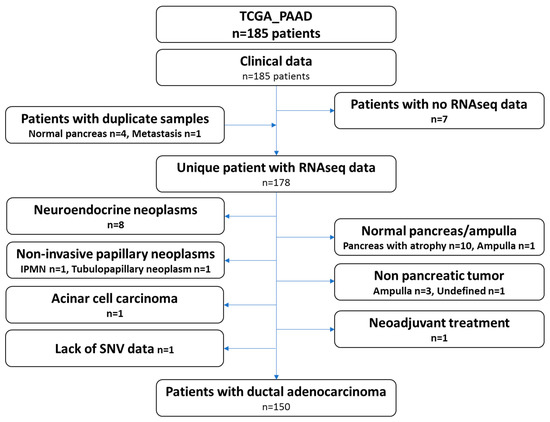 Figure 1
This is an open access article distributed under the
Creative Commons Attribution License
which permits unrestricted use, distribution, and reproduction in any medium, provided the original work is properly cited (CC BY 4.0).

Share & Cite This Article
MDPI and ACS Style
Nicolle, R.; Raffenne, J.; Paradis, V.; Couvelard, A.; de Reynies, A.; Blum, Y.; Cros, J. Prognostic Biomarkers in Pancreatic Cancer: Avoiding Errata When Using the TCGA Dataset. Cancers 2019, 11, 126.
Note that from the first issue of 2016, MDPI journals use article numbers instead of page numbers. See further details here.
Related Articles
Comments
[Return to top]